Abstract
Haplotype-resolved genome sequencing enables the accurate interpretation of medically relevant genetic variation, deep inferences regarding population history and non-invasive prediction of fetal genomes. We describe an approach for genome-wide haplotyping based on contiguity-preserving transposition (CPT-seq) and combinatorial indexing. Tn5 transposition is used to modify DNA with adaptor and index sequences while preserving contiguity. After DNA dilution and compartmentalization, the transposase is removed, resolving the DNA into individually indexed libraries. The libraries in each compartment, enriched for neighboring genomic elements, are further indexed via PCR. Combinatorial 96-plex indexing at both the transposition and PCR stage enables the construction of phased synthetic reads from each of the nearly 10,000 'virtual compartments'. We demonstrate the feasibility of this method by assembling >95% of the heterozygous variants in a human genome into long, accurate haplotype blocks (N50 = 1.4–2.3 Mb). The rapid, scalable and cost-effective workflow could enable haplotype resolution to become routine in human genome sequencing.
Relevant articles
Open Access articles citing this article.
Charlotte Gustafsson

,

Julia Hauenstein

…

Robert Månsson

BMC Genomics Open Access 17 April 2023

Yun Li

,

Zheng Huang

…

Lan Jiang

Genome Biology Open Access 06 April 2023

Ying Lei

,

Mengnan Cheng

…

Xun Xu

Nature Communications Open Access 08 November 2022
Access options
Subscribe to this journal
Receive 12 print issues and online access
$209.00 per year
only $17.42 per issue
Rent or buy this article
Prices vary by article type
from$1.95
to$39.95
Prices may be subject to local taxes which are calculated during checkout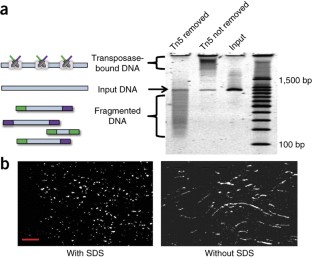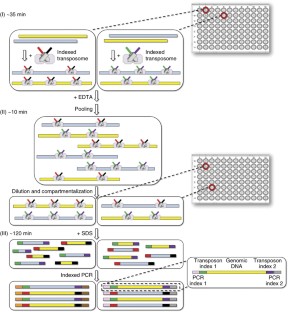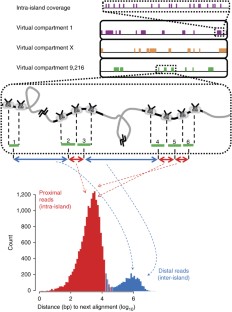 Accession codes
Primary accessions
BioProject
References
Bansal, V. et al. The next phase in human genetics. Nat. Biotechnol. 29, 38–39 (2011).

Tewhey, R. et al. The importance of phase information for human genomics. Nat. Rev. Genet. 12, 215–223 (2011).

Fan, H.C. et al. Non-invasive prenatal measurement of the fetal genome. Nature 487, 320–324 (2012).

Kitzman, J.O. et al. Noninvasive whole-genome sequencing of a human fetus. Sci. Transl. Med. 4, 137ra76 (2012).

Sabeti, P.C. et al. Detecting recent positive selection in the human genome from haplotype structure. Nature 419, 832–837 (2002).

Adey, A. et al. The haplotype-resolved genome and epigenome of the aneuploid HeLa cancer cell line. Nature 500, 207–211 (2013).

Tishkoff, S.A. et al. Global patterns of linkage disequilibrium at the CD4 locus and modern human origins. Science 271, 1380–1387 (1996).

Kong, A. et al. Detection of sharing by descent, long-range phasing and haplotype imputation. Nat. Genet. 40, 1068–1075 (2008).

Hosomichi, K. et al. Phase-defined complete sequencing of the HLA genes by next-generation sequencing. BMC Genomics 14, 355 (2013).

Browning, S.R. & Browning, B.L. Haplotype phasing: existing methods and new developments. Nat. Rev. Genet. 12, 703–714 (2011).

Bansal, V. et al. An MCMC algorithm for haplotype assembly from whole-genome sequence data. Genome Res. 18, 1336–1346 (2008).

He, D. et al. Optimal algorithms for haplotype assembly from whole-genome sequence data. Bioinformatics 26, i183–i190 (2010).

Kaper, F. et al. Whole-genome haplotyping by dilution, amplification, and sequencing. Proc. Natl. Acad. Sci. USA 110, 5552–5557 (2013).

Kitzman, J.O. et al. Haplotype-resolved genome sequencing of a Gujarati Indian individual. Nat. Biotechnol. 29, 59–63 (2011).

Peters, B.A. et al. Accurate whole-genome sequencing and haplotyping from 10 to 20 human cells. Nature 487, 190–195 (2012).

Fan, H.C. et al. Whole-genome molecular haplotyping of single cells. Nat. Biotechnol. 29, 51–57 (2011).

Levy, S. et al. The diploid genome sequence of an individual human. PLoS Biol. 5, e254 (2007).

Duitama, J. et al. Fosmid-based whole genome haplotyping of a HapMap trio child: evaluation of single individual haplotyping techniques. Nucleic Acids Res. 40, 2041–2053 (2012).

Suk, E.K. et al. A comprehensively molecular haplotype-resolved genome of a European individual. Genome Res. 21, 1672–1685 (2011).

Lo, C. et al. On the design of clone-based haplotyping. Genome Biol. 14, R100 (2013).

Geraci, F. A comparison of several algorithms for the single individual SNP haplotyping reconstruction problem. Bioinformatics 26, 2217–2225 (2010).

Caruccio, N. Preparation of next-generation sequencing libraries using Nextera technology: simultaneous DNA fragmentation and adaptor tagging by in vitro transposition. Methods Mol. Biol. 733, 241–255 (2011).

Adey, A. et al. Rapid, low-input, low-bias construction of shotgun fragment libraries by high-density in vitro transposition. Genome Biol. 11, R119 (2010).

Erlich, Y. et al. DNA Sudoku—harnessing high-throughput sequencing for multiplexed specimen analysis. Genome Res. 19, 1243–1253 (2009).

Duitama, J. et al. in Proc. 1st ACM Int. Conf. Bioinformatics Comput. Biol. 160–169 (ACM (Association for Computing Machinery), New York, 2010).

Kuleshov, V. et al. Whole-genome haplotyping using long reads and statistical methods. Nat. Biotechnol. 32, 261–266 (2014).

Abecasis, G.R. et al. A map of human genome variation from population-scale sequencing. Nature 467, 1061–1073 (2010).

Conrad, D.F. et al. Variation in genome-wide mutation rates within and between human families. Nat. Genet. 43, 712–714 (2011).

Kamphans, T. et al. Filtering for compound heterozygous sequence variants in non-consanguineous pedigrees. PLoS ONE 8, e70151 (2013).

Bentley, D.R. et al. Accurate whole human genome sequencing using reversible terminator chemistry. Nature 456, 53–59 (2008).

Lo, C. et al. Strobe sequence design for haplotype assembly. BMC Bioinformatics 12 (suppl. 1), S24 (2011).

Fu, A.Y. et al. A microfabricated fluorescence-activated cell sorter. Nat. Biotechnol. 17, 1109–1111 (1999).

Hua, Z. et al. Multiplexed real-time polymerase chain reaction on a digital microfluidic platform. Anal. Chem. 82, 2310–2316 (2010).

Adey, A. et al., long-range sequence information for de novo genome assembly via transposase contiguity. Genome Res. 10.1101/gr.178319.114 (19 October 2014)

Li, H. & Durbin, R. Fast and accurate short read alignment with Burrows-Wheeler transform. Bioinformatics 25, 1754–1760 (2009).
Acknowledgements
We are thankful to J. Bruand, F. Zhang and A. Kia for help with the data analysis. We are also thankful to I. Goryshin, N. Caruccio and R. Vaidyanathan for discussions at different stages of the project. We also thank S. Norberg, J. Zhang, J. Bernd, T. McSherry, T. Le, P. Diep and G. Roberts for performing sequencing, helping with custom recipes and supporting data transfer. J.S. was supported by grant HG006283 from the National Human Genome Research Institute. A.A. and J.O.K. were supported by graduate research fellowship DGE-0718124 from the National Science Foundation.
Ethics declarations
Competing interests
S.A., D.P., L.C., E.K., T.R., C.T., N.P., K.V., M.R., K.L.G. and F.J.S. declare competing financial interests in the form of stock ownership and paid employment by Illumina, Inc.
Integrated supplementary information
Supplementary information
Supplementary Figures 1–11 and Supplementary Tables 1–3. (PDF 1199 kb)
Transposon sequences and sequencing primers. (XLSX 10 kb)
Source code files. (ZIP 242 kb)
About this article
Cite this article
Amini, S., Pushkarev, D., Christiansen, L. et al. Haplotype-resolved whole-genome sequencing by contiguity-preserving transposition and combinatorial indexing. Nat Genet 46, 1343–1349 (2014). https://doi.org/10.1038/ng.3119
Received:

Accepted:

Published:

Issue Date:

DOI: https://doi.org/10.1038/ng.3119