Abstract
The pacemaking activity of specialized tissues in the heart and gut results in lifelong rhythmic contractions. Here we describe a new syndrome characterized by Chronic Atrial and Intestinal Dysrhythmia, termed CAID syndrome, in 16 French Canadians and 1 Swede. We show that a single shared homozygous founder mutation in SGOL1, a component of the cohesin complex, causes CAID syndrome. Cultured dermal fibroblasts from affected individuals showed accelerated cell cycle progression, a higher rate of senescence and enhanced activation of TGF-β signaling. Karyotypes showed the typical railroad appearance of a centromeric cohesion defect. Tissues derived from affected individuals displayed pathological changes in both the enteric nervous system and smooth muscle. Morpholino-induced knockdown of sgol1 in zebrafish recapitulated the abnormalities seen in humans with CAID syndrome. Our findings identify CAID syndrome as a novel generalized dysrhythmia, suggesting a new role for SGOL1 and the cohesin complex in mediating the integrity of human cardiac and gut rhythm.
Relevant articles
Open Access articles citing this article.
Nika Schuermans

,

Dimitri Hemelsoet

…

Tessa Kerre

Orphanet Journal of Rare Diseases Open Access 23 May 2022

Donghai Liu

,

Andrew Taehun Song

…

Stanley Nattel

Nature Communications Open Access 05 May 2021

Amy Marie Holland

,

Ana Carina Bon-Frauches

…

Werend Boesmans

Cellular and Molecular Life Sciences Open Access 26 March 2021
Access options
Subscribe to Journal
Get full journal access for 1 year
$79.00
only $6.58 per issue
All prices are NET prices.
VAT will be added later in the checkout.
Tax calculation will be finalised during checkout.
Buy article
Get time limited or full article access on ReadCube.
$32.00
All prices are NET prices.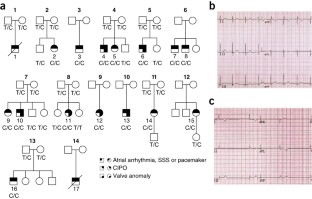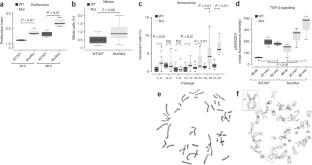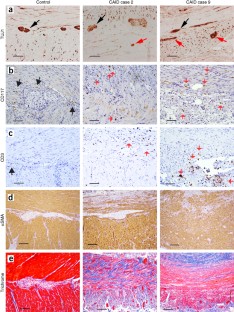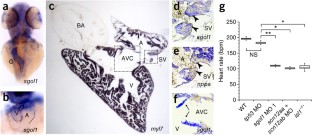 Accession codes
Accessions
NCBI Reference Sequence
References
Rodriguez, R.D. & Schocken, D.D. Update on sick sinus syndrome, a cardiac disorder of aging. Geriatrics 45, 26–30, 33–36 (1990).

Benson, D.W. et al. Congenital sick sinus syndrome caused by recessive mutations in the cardiac sodium channel gene (SCN5A). J. Clin. Invest. 112, 1019–1028 (2003).

Laish-Farkash, A. et al. A novel mutation in the HCN4 gene causes symptomatic sinus bradycardia in Moroccan Jews. J. Cardiovasc. Electrophysiol. 21, 1365–1372 (2010).

Milanesi, R., Baruscotti, M., Gnecchi-Ruscone, T. & DiFrancesco, D. Familial sinus bradycardia associated with a mutation in the cardiac pacemaker channel. N. Engl. J. Med. 354, 151–157 (2006).

Schulze-Bahr, E. et al. Pacemaker channel dysfunction in a patient with sinus node disease. J. Clin. Invest. 111, 1537–1545 (2003).

Holm, H. et al. A rare variant in MYH6 is associated with high risk of sick sinus syndrome. Nat. Genet. 43, 316–320 (2011).

Mohler, P.J. et al. Ankyrin-B mutation causes type 4 long-QT cardiac arrhythmia and sudden cardiac death. Nature 421, 634–639 (2003).

Mohler, P.J. et al. A cardiac arrhythmia syndrome caused by loss of ankyrin-B function. Proc. Natl. Acad. Sci. USA 101, 9137–9142 (2004).

Gargiulo, A. et al. Filamin A is mutated in X-linked chronic idiopathic intestinal pseudo-obstruction with central nervous system involvement. Am. J. Hum. Genet. 80, 751–758 (2007).

Deglincerti, A. et al. A novel locus for syndromic chronic idiopathic intestinal pseudo-obstruction maps to chromosome 8q23-q24. Eur. J. Hum. Genet. 15, 889–897 (2007).

Siva, N. 1000 Genomes project. Nat. Biotechnol. 26, 256 (2008).

Purcell, S. et al. PLINK: a tool set for whole-genome association and population-based linkage analyses. Am. J. Hum. Genet. 81, 559–575 (2007).

Seelow, D., Schuelke, M., Hildebrandt, F. & Nürnberg, P. HomozygosityMapper—an interactive approach to homozygosity mapping. Nucleic Acids Res. 37, W593–W599 (2009).

Bouchard, G., Roy, R., Casgrain, B. & Hubert, M. Population files and database management: the BALSAC database and the INGRES/INGRID system. Hist. Mes. 4, 39–57 (1989).

Thompson, E.A. Identity by descent: variation in meiosis, across genomes, and in populations. Genetics 194, 301–326 (2013).

Gramley, F. et al. Atrial fibrosis and atrial fibrillation: the role of the TGF-β1 signaling pathway. Int. J. Cardiol. 143, 405–413 (2010).

Fu, M., Lui, V.C.H., Sham, M.H., Pachnis, V. & Tam, P.K.H. Sonic hedgehog regulates the proliferation, differentiation, and migration of enteric neural crest cells in gut. J. Cell Biol. 166, 673–684 (2004).

Sukegawa, A. et al. The concentric structure of the developing gut is regulated by Sonic hedgehog derived from endodermal epithelium. Development 127, 1971–1980 (2000).

Tessadori, F. et al. Identification and functional characterization of cardiac pacemaker cells in zebrafish. PLoS ONE 7, e47644 (2012).

Pater, E. et al. Distinct phases of cardiomyocyte differentiation regulate growth of the zebrafish heart. Development 136, 1633–1641 (2009).

Kline, A.D. et al. Cornelia de Lange syndrome: clinical review, diagnostic and scoring systems, and anticipatory guidance. Am. J. Med. Genet. A. 143A, 1287–1296 (2007).

Gillis, L.A. et al. NIPBL mutational analysis in 120 individuals with Cornelia de Lange syndrome and evaluation of genotype-phenotype correlations. Am. J. Hum. Genet. 75, 610–623 (2004).

Deardorff, M.A. et al. RAD21 mutations cause a human cohesinopathy. Am. J. Hum. Genet. 90, 1014–1027 (2012).

Deardorff, M.A. et al. HDAC8 mutations in Cornelia de Lange syndrome affect the cohesin acetylation cycle. Nature 489, 313–317 (2012).

Musio, A. et al. X-linked Cornelia de Lange syndrome owing to SMC1L1 mutations. Nat. Genet. 38, 528–530 (2006).

van der Lelij, P. et al. Warsaw breakage syndrome, a cohesinopathy associated with mutations in the XPD helicase family member DDX11/ChlR1. Am. J. Hum. Genet. 86, 262–266 (2010).

Caburet, S. et al. Mutant cohesin in premature ovarian failure. N. Engl. J. Med. 370, 943–949 (2014).

Yamagishi, Y., Sakuno, T., Shimura, M. & Watanabe, Y. Heterochromatin links to centromeric protection by recruiting shugoshin. Nature 455, 251–255 (2008).

Heijman, J., Dewenter, M., El-Armouche, A. & Dobrev, D. Function and regulation of serine/threonine phosphatases in the healthy and diseased heart. J. Mol. Cell. Cardiol. 64, 90–98 (2013).

Schmidt, D. et al. A CTCF-independent role for cohesin in tissue-specific transcription. Genome Res. 20, 578–588 (2010).

Li, H. et al. The Sequence Alignment/Map format and SAMtools. Bioinformatics 25, 2078–2079 (2009).

Li, H. & Durbin, R. Fast and accurate short read alignment with Burrows-Wheeler transform. Bioinformatics 25, 1754–1760 (2009).

Flicek, P. et al. Ensembl 2012. Nucleic Acids Res. 40, D84–D90 (2012).

International HapMap Consortium. The International HapMap Project. Nature 426, 789–796 (2003).

Gabriel, S.B. et al. The structure of haplotype blocks in the human genome. Science 296, 2225–2229 (2002).

Rajeevan, H. et al. ALFRED: an allele frequency database for microevolutionary studies. Evol. Bioinform. Online 1, 1–10 (2005).

Labuda, M. et al. Linkage disequilibrium analysis in young populations: pseudo-vitamin D–deficiency rickets and the founder effect in French Canadians. Am. J. Hum. Genet. 59, 633–643 (1996).

Labuda, D., Zietkiewicz, E. & Labuda, M. The genetic clock and the age of the founder effect in growing populations: a lesson from French Canadians and Ashkenazim. Am. J. Hum. Genet. 61, 768–771 (1997).

Glessner, J.T., Li, J. & Hakonarson, H. ParseCNV integrative copy number variation association software with quality tracking. Nucleic Acids Res. 41, e64 (2013).

Subirana, I., Diaz-Uriarte, R., Lucas, G. & Gonzalez, J.R. CNVassoc: association analysis of CNV data using R. BMC Med. Genomics 4, 47 (2011).

MacCluer, J.W., VandeBerg, J.L., Read, B. & Ryder, O.A. Pedigree analysis by computer simulation. Zoo Biol. 5, 147–160 (1986).

Itahana, K., Campisi, J. & Dimri, G.P. Methods to detect biomarkers of cellular senescence: the senescence-associated β-galactosidase assay. Methods Mol. Biol. 371, 21–31 (2007).

Notarnicola, C. et al. The RNA-binding protein RBPMS2 regulates development of gastrointestinal smooth muscle. Gastroenterology 143, 687–697 (2012).

Rouleau, C., Matécki, S., Kalfa, N., Costes, V. & de Santa Barbara, P. Activation of MAP kinase (ERK1/2) in human neonatal colonic enteric nervous system. Neurogastroenterol. Motil. 21, 207–214 (2009).

Westerfield, M. The Zebrafish Book: A Guide for the Laboratory Use of Zebrafish Danio (Brachydanio) rerio (University of Oregon Press, Eugene, Oregon, USA, 2000).

Thisse, C. & Thisse, B. High-resolution in situ hybridization to whole-mount zebrafish embryos. Nat. Protoc. 3, 59–69 (2008).

Moorman, A.F., Houweling, A.C., de Boer, P.A. & Christoffels, V.M. Sensitive nonradioactive detection of mRNA in tissue sections: novel application of the whole-mount in situ hybridization protocol. J. Histochem. Cytochem. 49, 1–8 (2001).

Chopra, S.S. et al. Voltage-gated sodium channels are required for heart development in zebrafish. Circ. Res. 106, 1342–1350 (2010).
Acknowledgements
We are deeply indebted to all participating families and patients. We thank L. Gosselin, L. L'Écuyer, M.-F. Boudreault, C. Faure, F. LeDeist, L. D'Aoust and the McGill Genome Québec Innovation Centre (D. Vincent) for expert assistance. We gratefully acknowledge the contribution of all referring physicians and supporting staff to this project. We would like to thank J. Marcadier (clinical coordinator) and C. Beaulieu (project manager) for their contributions to the infrastructure of the FORGE Canada Consortium. The FORGE (Finding of Rare Disease Genes) Consortium Steering Committee includes Kym Boycott (University of Ottawa), Jan Friedman (University of British Columbia), Jacques Michaud (Université de Montréal), François Bernier (University of Calgary), Michael Brudno (University of Toronto), Bridget Fernandez (Memorial University), Bartha Knoppers (McGill University) and Steve Scherer (University of Toronto). FORGE Canada was funded by the Canadian government through Genome Canada, the Canadian Institutes of Health Research and the Ontario Genomics Institute (OGI-049). Additional funding was provided by Génome Québec, Genome British Columbia, Foundation Nussia and André Aisenstadt, La Fondation du Grand défi Pierre Lavoie, Fondation CHU Sainte-Justine, Fondation Leducq, Association des Pseudo Obstructions Intestinales Chroniques (France), the Netherlands Organization for Scientific Research (NWO) and ZonMw (91212086). G.A. holds a Senior Scholarship from the Fonds de Recherche du Québec–Santé and holds the Banque Nationale Research Chair in Cardiovascular Genetics. We thank G. Rouleau for sharing whole-exome data for control purposes and M. Samuels for critical reading of the manuscript.
Ethics declarations
Competing interests
The authors declare no competing financial interests.
Additional information
Membership of the Steering Committee for the Consortium is given in the Acknowledgments
Integrated supplementary information
Supplementary information
About this article
Cite this article
Chetaille, P., Preuss, C., Burkhard, S. et al. Mutations in SGOL1 cause a novel cohesinopathy affecting heart and gut rhythm. Nat Genet 46, 1245–1249 (2014). https://doi.org/10.1038/ng.3113
Received:

Accepted:

Published:

Issue Date:

DOI: https://doi.org/10.1038/ng.3113