Abstract
Here we report the discovery of recurrent mutations concentrated at an ultraviolet signature hotspot in KNSTRN, which encodes a kinetochore protein, in 19% of cutaneous squamous cell carcinomas (SCCs). Cancer-associated KNSTRN mutations, most notably those encoding p.Ser24Phe, disrupt chromatid cohesion in normal cells, occur in SCC precursors, correlate with increased aneuploidy in primary tumors and enhance tumorigenesis in vivo. These findings suggest a role for KNSTRN mutagenesis in SCC development.
Access options
Subscribe to Journal
Get full journal access for 1 year
$209.00
only $17.42 per issue
All prices are NET prices.
VAT will be added later in the checkout.
Rent or Buy article
Get time limited or full article access on ReadCube.
from$8.99
All prices are NET prices.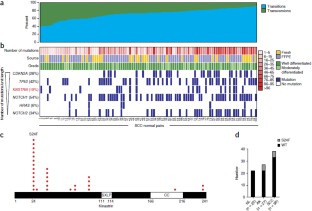 Accession codes
Accessions
NCBI Reference Sequence
References
1

Lomas, A., Leonardi-Bee, J. & Bath-Hextall, F. Br. J. Dermatol. 166, 1069–1080 (2012).

2

Durinck, S. et al. Cancer Discov. 1, 137–143 (2011).

3

Fang, L., Seki, A. & Fang, G. Cell Cycle 8, 2819–2827 (2009).

4

Vogelstein, B. et al. Science 339, 1546–1558 (2013).

5

Dunsch, A.K., Linnane, E., Barr, F.A. & Gruneberg, U. J. Cell Biol. 192, 959–968 (2011).

6

Davoli, T. et al. Cell 155, 948–962 (2013).

7

Zack, T.I. et al. Nat. Genet. 45, 1134–1140 (2013).

8

Biesterfeld, S., Pennings, K., Grussendorf-Conen, E.I. & Böcking, A. Br. J. Dermatol. 133, 557–560 (1995).

9

Ziegler, A. et al. Nature 372, 773–776 (1994).

10

Ziegler, A. et al. Proc. Natl. Acad. Sci. USA 90, 4216–4220 (1993).

11

Kretz, M. et al. Genes Dev. 26, 338–343 (2012).

12

Liu, X., Jian, X. & Boerwinkle, E. Hum. Mutat. 34, E2393–E2402 (2013).

13

Li, H. & Durbin, R. Bioinformatics 25, 1754–1760 (2009).

14

McKenna, A. et al. Genome Res. 20, 1297–1303 (2010).

15

Koboldt, D.C. et al. Bioinformatics 25, 2283–2285 (2009).

16

Deng, X. BMC Bioinformatics 12, 267 (2011).

17

DePristo, M.A. et al. Nat. Genet. 43, 491–498 (2011).

18

Ng, S.B. et al. Nature 461, 272–276 (2009).
Acknowledgements
We thank J.G. Rheinwald (Dana-Farber/Harvard Cancer Center) for his generous gift of SCC cell lines. We thank A.E. Oro, H.Y. Chang, M. Diehn, M.P. Scott, S.E. Artandi, G.R. Crabtree and T. Waldman as well as A. Zehnder, X. Bao, B.K. Sun, R.J. Flockhart and V. Lopez-Pajares for presubmission review and helpful comments. This work was supported by the US Veterans Affairs Office of Research and Development and by US National Institutes of Health/National Institute of Arthritis and Musculoskeletal and Skin Diseases (NIH/NIAMS) grant AR43799 to P.A.K. C.S.L. is the recipient of career award K08 AR064732 from the NIH/NIAMS. A.S. is supported by NIH/National Institute of General Medical Science (NIGMS) grant GM074728 and American Cancer Society grant 120161-RSG. W.L.J. is the recipient of National Science Foundation (NSF) graduate research fellowship grant DGE-114747.
Ethics declarations
Competing interests
The authors declare no competing financial interests.
Integrated supplementary information
Supplementary information
Supplementary Figures 1–9 (PDF 2225 kb)
Supplementary Tables 1–7 (XLS 2080 kb)
About this article
Cite this article
Lee, C., Bhaduri, A., Mah, A. et al. Recurrent point mutations in the kinetochore gene KNSTRN in cutaneous squamous cell carcinoma. Nat Genet 46, 1060–1062 (2014). https://doi.org/10.1038/ng.3091
Received:

Accepted:

Published:

Issue Date: