Abstract
Inflammasomes are innate immune sensors that respond to pathogen- and damage-associated signals with caspase-1 activation, interleukin (IL)-1β and IL-18 secretion, and macrophage pyroptosis. The discovery that dominant gain-of-function mutations in NLRP3 cause the cryopyrin-associated periodic syndromes (CAPS) and trigger spontaneous inflammasome activation and IL-1β oversecretion led to successful treatment with IL-1–blocking agents1. Herein we report a de novo missense mutation (c.1009A>T, encoding p.Thr337Ser) affecting the nucleotide-binding domain of the inflammasome component NLRC4 that causes early-onset recurrent fever flares and macrophage activation syndrome (MAS). Functional analyses demonstrated spontaneous inflammasome formation and production of the inflammasome-dependent cytokines IL-1β and IL-18, with the latter exceeding the levels seen in CAPS. The NLRC4 mutation caused constitutive caspase-1 cleavage in cells transduced with mutant NLRC4 and increased production of IL-18 in both patient-derived and mutant NLRC4–transduced macrophages. Thus, we describe a new monoallelic inflammasome defect that expands the monogenic autoinflammatory disease spectrum to include MAS and suggests new targets for therapy.
Relevant articles
Open Access articles citing this article.
Marie Schneider

,

Clara Rolfs

…

Uwe Platzbecker

Leukemia Open Access 07 July 2023

Natsumi Inoue

&

Grant S. Schulert

Arthritis Research & Therapy Open Access 25 March 2023

Ziqi Zhang

,

Xue Li

…

Xiawei Wei

Journal of Hematology & Oncology Open Access 17 March 2023
Access options
Subscribe to this journal
Receive 12 print issues and online access
$209.00 per year
only $17.42 per issue
Rent or buy this article
Prices vary by article type
from$1.95
to$39.95
Prices may be subject to local taxes which are calculated during checkout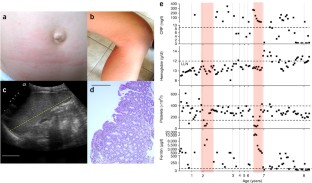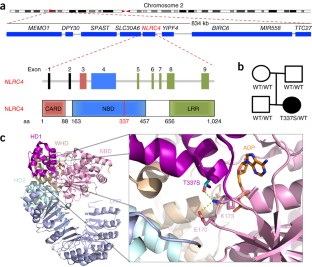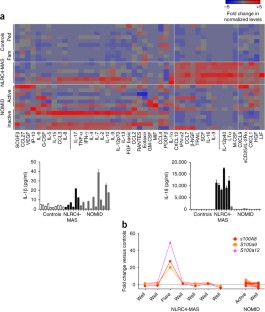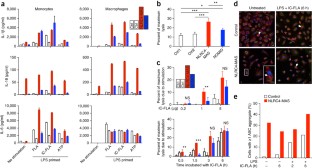 Accession codes
Primary accessions
Gene Expression Omnibus
Referenced accessions
NCBI Reference Sequence
References
Strowig, T., Henao-Mejia, J., Elinav, E. & Flavell, R. Inflammasomes in health and disease. Nature 481, 278–286 (2012).

Hoffman, H.M., Mueller, J.L., Broide, D.H., Wanderer, A.A. & Kolodner, R.D. Mutation of a new gene encoding a putative pyrin-like protein causes familial cold autoinflammatory syndrome and Muckle-Wells syndrome. Nat. Genet. 29, 301–305 (2001).

Ting, J.P. et al. The NLR gene family: a standard nomenclature. Immunity 28, 285–287 (2008).

Wen, H., Miao, E.A. & Ting, J.P. Mechanisms of NOD-like receptor–associated inflammasome activation. Immunity 39, 432–441 (2013).

Faustin, B. et al. Reconstituted NALP1 inflammasome reveals two-step mechanism of caspase-1 activation. Mol. Cell 25, 713–724 (2007).

Hu, Z. et al. Crystal structure of NLRC4 reveals its autoinhibition mechanism. Science 341, 172–175 (2013).

Miao, E.A. et al. Caspase-1–induced pyroptosis is an innate immune effector mechanism against intracellular bacteria. Nat. Immunol. 11, 1136–1142 (2010).

Sanchez, G.A., Almeida de Jesus, A. & Goldbach-Mansky, R. Monogenic autoinflammatory diseases: disorders of amplified danger sensing and cytokine dysregulation. Rheum. Dis. Clin. North Am. 39, 701–734 (2013).

Goldbach-Mansky, R. et al. Neonatal-onset multisystem inflammatory disease responsive to interleukin-1β inhibition. N. Engl. J. Med. 355, 581–592 (2006).

Lachmann, H.J. et al. Use of canakinumab in the cryopyrin-associated periodic syndrome. N. Engl. J. Med. 360, 2416–2425 (2009).

Miceli-Richard, C. et al. CARD15 mutations in Blau syndrome. Nat. Genet. 29, 19–20 (2001).

Martin, T.M. et al. The NOD2 defect in Blau syndrome does not result in excess interleukin-1 activity. Arthritis Rheum. 60, 611–618 (2009).

Zoller, E.E. et al. Hemophagocytosis causes a consumptive anemia of inflammation. J. Exp. Med. 208, 1203–1214 (2011).

Canna, S.W. & Behrens, E.M. Not all hemophagocytes are created equally: appreciating the heterogeneity of the hemophagocytic syndromes. Curr. Opin. Rheumatol. 24, 113–118 (2012).

Horneff, G., Rhouma, A., Weber, C. & Lohse, P. Macrophage activation syndrome as the initial manifestation of tumour necrosis factor receptor 1–associated periodic syndrome (TRAPS). Clin. Exp. Rheumatol. 31, 99–102 (2013).

Pachlopnik Schmid, J. et al. Inherited defects in lymphocyte cytotoxic activity. Immunol. Rev. 235, 10–23 (2010).

Terrell, C.E. & Jordan, M.B. Perforin deficiency impairs a critical immunoregulatory loop involving murine CD8+ T cells and dendritic cells. Blood 121, 5184–5191 (2013).

Schwarz, J.M., Rodelsperger, C., Schuelke, M. & Seelow, D. MutationTaster evaluates disease-causing potential of sequence alterations. Nat. Methods 7, 575–576 (2010).

Kumar, P., Henikoff, S. & Ng, P.C. Predicting the effects of coding non-synonymous variants on protein function using the SIFT algorithm. Nat. Protoc. 4, 1073–1081 (2009).

Adzhubei, I., Jordan, D.M. & Sunyaev, S.R. Predicting functional effect of human missense mutations using PolyPhen-2. Curr. Protoc. Hum. Genet. Chapter 7, Unit 7.20 (2013).

Cooper, G.M. et al. Distribution and intensity of constraint in mammalian genomic sequence. Genome Res. 15, 901–913 (2005).

Romberg, N. et al. Mutation of NLRC4 causes a syndrome of enterocolitis and autoinflammation. Nat. Genet. 10.1038/ng.3066 (14 September 2014).

Sibley, C.H. et al. Sustained response and prevention of damage progression in patients with neonatal-onset multisystem inflammatory disease treated with anakinra: a cohort study to determine three- and five-year outcomes. Arthritis Rheum. 64, 2375–2386 (2012).

Shimizu, M. et al. Distinct cytokine profiles of systemic-onset juvenile idiopathic arthritis–associated macrophage activation syndrome with particular emphasis on the role of interleukin-18 in its pathogenesis. Rheumatology 49, 1645–1653 (2010).

Ichida, H. et al. Clinical manifestations of adult-onset still's disease presenting with erosive arthritis: association with low levels of ferritin and IL-18. Arthritis Care Res. (Hoboken) 10.1002/acr.22194 (7 October 2013).

Mazodier, K. et al. Severe imbalance of IL-18/IL-18BP in patients with secondary hemophagocytic syndrome. Blood 106, 3483–3489 (2005).

Wada, T. et al. Sustained elevation of serum interleukin-18 and its association with hemophagocytic lymphohistiocytosis in XIAP deficiency. Cytokine 65, 74–78 (2014).

Russell, T.D. et al. IL-12 p40 homodimer–dependent macrophage chemotaxis and respiratory viral inflammation are mediated through IL-12 receptor β1. J. Immunol. 171, 6866–6874 (2003).

Fall, N. et al. Gene expression profiling of peripheral blood from patients with untreated new-onset systemic juvenile idiopathic arthritis reveals molecular heterogeneity that may predict macrophage activation syndrome. Arthritis Rheum. 56, 3793–3804 (2007).

Kessel, C., Holzinger, D. & Foell, D. Phagocyte-derived S100 proteins in autoinflammation: putative role in pathogenesis and usefulness as biomarkers. Clin. Immunol. 147, 229–241 (2013).

Tang, B.M., Huang, S.J. & McLean, A.S. Genome-wide transcription profiling of human sepsis: a systematic review. Crit. Care 14, R237 (2010).

Wittkowski, H. et al. S100A12 is a novel molecular marker differentiating systemic-onset juvenile idiopathic arthritis from other causes of fever of unknown origin. Arthritis Rheum. 58, 3924–3931 (2008).

Tenthorey, J.L., Kofoed, E.M., Daugherty, M.D., Malik, H.S. & Vance, R.E. Molecular basis for specific recognition of bacterial ligands by NAIP/NLRC4 inflammasomes. Mol. Cell 54, 17–29 (2014).

Willingham, S.B. et al. Microbial pathogen–induced necrotic cell death mediated by the inflammasome components CIAS1/cryopyrin/NLRP3 and ASC. Cell Host Microbe 2, 147–159 (2007).

Man, S.M. et al. Inflammasome activation causes dual recruitment of NLRC4 and NLRP3 to the same macromolecular complex. Proc. Natl. Acad. Sci. USA 111, 7403–7408 (2014).

Shimizu, M., Nakagishi, Y. & Yachie, A. Distinct subsets of patients with systemic juvenile idiopathic arthritis based on their cytokine profiles. Cytokine 61, 345–348 (2013).

Novick, D., Kim, S., Kaplanski, G. & Dinarello, C.A. Interleukin-18, more than a Th1 cytokine. Semin. Immunol. 25, 439–448 (2013).

Megremis, S.D., Vlachonikolis, I.G. & Tsilimigaki, A.M. Spleen length in childhood with US: normal values based on age, sex, and somatometric parameters. Radiology 231, 129–134 (2004).

Warden, C.D., Yuan, Y.C. & Wu, X. Optimal calculation of RNA-seq fold-change values. Int. J. Comput. Bioinformatics In Silico Model. 2, 285–292 (2013).

Biswas, S.K. & Mantovani, A. Macrophage plasticity and interaction with lymphocyte subsets: cancer as a paradigm. Nat. Immunol. 11, 889–896 (2010).

Pear, W.S. et al. Efficient and rapid induction of a chronic myelogenous leukemia–like myeloproliferative disease in mice receiving P210 bcr/abl-transduced bone marrow. Blood 92, 3780–3792 (1998).
Acknowledgements
The authors are grateful to O. Navarro and G. Somers for assistance with data acquisition and to H. Convery and the patient and her family for assistance with research coordination. This research was supported by the Intramural Research Program of the National Institute of Arthritis and Musculoskeletal and Skin Diseases of the US National Institutes of Health. S.W.C. was also supported by the Arthritis National Research Foundation.
Ethics declarations
Competing interests
The authors declare no competing financial interests.
Integrated supplementary information
Supplementary information
Supplementary Figures 1–9 and Supplementary Note. (PDF 4722 kb)
Supplementary Tables 1–3. (XLSX 28 kb)
About this article
Cite this article
Canna, S., de Jesus, A., Gouni, S. et al. An activating NLRC4 inflammasome mutation causes autoinflammation with recurrent macrophage activation syndrome. Nat Genet 46, 1140–1146 (2014). https://doi.org/10.1038/ng.3089
Received:

Accepted:

Published:

Issue Date:

DOI: https://doi.org/10.1038/ng.3089