Abstract
The cohesin complex is at the heart of many chromosomal activities, including sister chromatid cohesion and transcriptional regulation1,2,3. Cohesin loading onto chromosomes depends on the Scc2–Scc4 cohesin loader complex4,5,6, but the chromatin features that form cohesin loading sites remain poorly understood. Here we show that the RSC chromatin remodeling complex recruits budding yeast Scc2–Scc4 to broad nucleosome-free regions, which the cohesin loader helps to maintain. Consequently, inactivation of either the cohesin loader or the RSC complex has similar effects on nucleosome positioning, gene expression and sister chromatid cohesion. These results show an intimate link between local chromatin structure and higher-order chromosome architecture. Our findings pertain to the similarities between two severe human disorders, Cornelia de Lange syndrome, which is caused by alterations in the human cohesin loader, and Coffin-Siris syndrome, which results from alterations in human RSC complex components7,8,9. Both syndromes can arise from gene misregulation due to related changes in the nucleosome landscape.
Relevant articles
Open Access articles citing this article.
L. Mahrik

,

B. Stefanovie

…

J. J. Palecek

Epigenetics & Chromatin Open Access 16 February 2023

Sofía Muñoz

,

Andrew Jones

…

Frank Uhlmann

Nature Communications Open Access 13 December 2022

Hyelim Jo

,

Taemook Kim

…

Daeyoup Lee

Nature Communications Open Access 04 November 2021
Access options
Subscribe to this journal
Receive 12 print issues and online access
$209.00 per year
only $17.42 per issue
Rent or buy this article
Prices vary by article type
from$1.95
to$39.95
Prices may be subject to local taxes which are calculated during checkout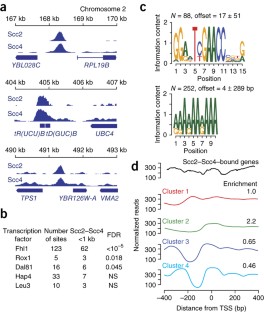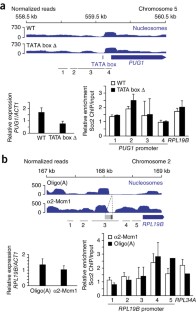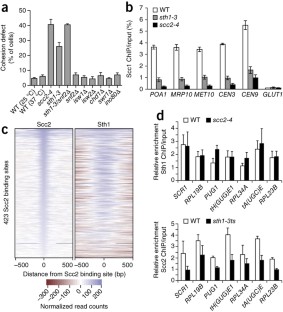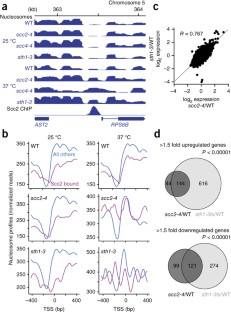 Accession codes
Primary accessions
Gene Expression Omnibus
References
Nasmyth, K. & Haering, C.H. Cohesin: its roles and mechanisms. Annu. Rev. Genet. 43, 525–558 (2009).

Ocampo-Hafalla, M.T. & Uhlmann, F. Cohesin loading and sliding. J. Cell Sci. 124, 685–691 (2011).

Dorsett, D. Cohesin: genomic insights into controlling gene transcription and development. Curr. Opin. Genet. Dev. 21, 199–206 (2011).

Tomonaga, T. et al. Characterization of fission yeast cohesin: essential anaphase proteolysis of Rad21 phosphorylated in the S phase. Genes Dev. 14, 2757–2770 (2000).

Ciosk, R. et al. Cohesin's binding to chromosomes depends on a separate complex consisting of Scc2 and Scc4 proteins. Mol. Cell 5, 243–254 (2000).

Gillespie, P.J. & Hirano, T. Scc2 couples replication licensing to sister chromatid cohesion in Xenopus egg extracts. Curr. Biol. 14, 1598–1603 (2004).

Fryns, J.-P. On the nosology of the Cornelia de Lange and Coffin-Siris syndromes. Clin. Genet. 29, 263–264 (1986).

Krantz, I.D. et al. Cornelia de Lange syndrome is caused by mutations in NIPBL, the human homolog of Drosophila melanogaster Nipped-B. Nat. Genet. 36, 631–635 (2004).

Tsurusaki, Y. et al. Coffin-Siris syndrome is a SWI/SNF complex disorder. Clin. Genet. 85, 548–554 (2014).

Murayama, Y. & Uhlmann, F. Biochemical reconstitution of topological DNA binding by the cohesin ring. Nature 505, 367–371 (2014).

Lengronne, A. et al. Cohesin relocation from sites of chromosomal loading to places of convergent transcription. Nature 430, 573–578 (2004).

D'Ambrosio, C. et al. Identification of cis-acting sites for condensin loading onto budding yeast chromosomes. Genes Dev. 22, 2215–2227 (2008).

Misulovin, Z. et al. Association of cohesin and Nipped-B with transcriptionally active regions of the Drosophila melanogaster genome. Chromosoma 117, 89–102 (2008).

Schmidt, C.K., Brookes, N. & Uhlmann, F. Conserved features of cohesin binding along fission yeast chromosomes. Genome Biol. 10, R52 (2009).

Kagey, M.H. et al. Mediator and cohesin connect gene expression and chromatin architecture. Nature 467, 430–435 (2010).

Lee, T.I. et al. Transcriptional regulatory networks in Saccharomyces cerevisiae. Science 298, 799–804 (2002).

Zhang, H., Roberts, D.N. & Cairns, B.R. Genome-wide dynamics of Htz1, a histone H2A variant that poises repressed/basal promoters for activation through histone loss. Cell 123, 219–231 (2005).

Kasahara, K. et al. Assembly of regulatory factors on rRNA and ribosomal protein genes in Saccharomyces cerevisiae. Mol. Cell. Biol. 27, 6686–6705 (2007).

Pokholok, D.K. et al. Genome-wide map of nucleosome acetylation and methylation in yeast. Cell 122, 517–527 (2005).

Roth, F.P., Hughes, J.D., Estep, P.W. & Church, G.M. Finding DNA regulatory motifs within unaligned noncoding sequences clustered by whole-genome mRNA quantitation. Nat. Biotechnol. 16, 939–945 (1998).

Lee, W. et al. A high-resolution atlas of nucleosome occupancy in yeast. Nat. Genet. 39, 1235–1244 (2007).

Ng, H.H., Robert, F., Young, R.A. & Struhl, K. Genome-wide location and regulated recruitment of the RSC nucleosome-remodeling complex. Genes Dev. 16, 806–819 (2002).

Parnell, T.J., Huff, J.T. & Cairns, B.R. RSC regulates nucleosome positioning at Pol II genes and density at Pol III genes. EMBO J. 27, 100–110 (2008).

Badis, G. et al. A library of yeast transcription factor motifs reveals a widespread function for Rsc3 in targeting nucleosome exclusion at promoters. Mol. Cell 32, 878–887 (2008).

Basehoar, A.D., Zanton, S.J. & Pugh, B.F. Identification and distinct regulation of yeast TATA box–containing genes. Cell 116, 699–709 (2004).

Schawalder, S.B. et al. Growth-regulated recruitment of the essential yeast ribosomal protein gene activator Ifh1. Nature 432, 1058–1061 (2004).

Morohashi, N. et al. Effect of sequence-directed nucleosome disruption on cell-type–specific repression by α2/Mcm1 in the yeast genome. Eukaryot. Cell 5, 1925–1933 (2006).

Hakimi, M.-A. et al. A chromatin remodelling complex that loads cohesin onto human chromosomes. Nature 418, 994–998 (2002).

Baetz, K.K., Krogan, N.J., Emili, A., Greenblatt, J. & Hieter, P. The ctf13–30/CTF13 genomic haploinsufficiency modifier screen identifies the yeast chromatin remodeling complex RSC, which is required for the establishment of sister chromatid cohesion. Mol. Cell. Biol. 24, 1232–1244 (2004).

Huang, J., Hsu, J.-M. & Laurent, B.C. The RSC nucleosome-remodelling complex is required for cohesin's association with chromosome arms. Mol. Cell 13, 739–750 (2004).

Fasulo, B. et al. The Drosophila Mi-2 chromatin-remodeling factor regulates higher-order chromatin structure and cohesin dynamics in vivo. PLoS Genet. 8, e1002878 (2012).

Clapier, C.R. & Cairns, B.R. The biology of chromatin remodeling complexes. Annu. Rev. Biochem. 78, 273–304 (2009).

Du, J., Nasir, I., Benton, B.K., Kladde, M.P. & Laurent, B.C. Sth1p, a Saccharomyces cerevisiae Snf2p/Swi2p homolog, is an essential ATPase in RSC and differs from Snf/Swi in its interactions with histones and chromatin-associated proteins. Genetics 150, 987–1005 (1998).

Liu, J. et al. Transcriptional dysregulation in NIPBL and cohesin mutant human cells. PLoS Biol. 7, e1000119 (2009).

Santen, G.W. et al. Mutations in SWI/SNF chromatin remodeling complex gene ARID1B cause Coffin-Siris syndrome. Nat. Genet. 44, 379–380 (2012).

Takahashi, T.S., Basu, A., Bermudez, V., Hurwitz, J. & Walter, J.C. Cdc7-Drf1 kinase links chromosome cohesion to the initiation of DNA replication in Xenopus egg extracts. Genes Dev. 22, 1894–1905 (2008).

Ocampo-Hafalla, M.T., Katou, Y., Shirahige, K. & Uhlmann, F. Displacement and re-accumulation of centromeric cohesin during transient pre-anaphase centromere splitting. Chromosoma 116, 531–544 (2007).

Wach, A., Brachat, A., Pöhlmann, R. & Philippsen, P. New heterologous modules for classical or PCR-based gene disruptions in Saccharomyces cerevisiae. Yeast 10, 1793–1808 (1994).

Knop, M. et al. Epitope tagging of yeast genes using a PCR-based strategy: more tags and improved practical routines. Yeast 15, 963–972 (1999).

Reid, R.J.D., Sunjevaric, I., Kedacche, M. & Rothstein, R. Efficient PCR-based gene disruption in Saccharomyces strains using intergenic primers. Yeast 19, 319–328 (2002).

Zhong, H., McCord, R. & Vershon, A.K. Identification of target sites of the a2-Mcm1 repressor complex in the yeast genome. Genome Res. 9, 1040–1047 (1999).

Tóth, A. et al. Yeast Cohesin complex requires a conserved protein, Eco1p (Ctf7), to establish cohesion between sister chromatids during DNA replication. Genes Dev. 13, 320–333 (1999).

Rose, M.D., Winston, F. & Hieter, P. Laboratory Course Manual for Methods in Yeast Genetics (Cold Spring Harbor Laboratory Press, Cold Spring Harbor, NY, 1990).

Zhang, Y. et al. Model-based analysis of ChIP-Seq (MACS). Genome Biol. 9, R137 (2008).

Lantermann, A., Strålfors, A., Fagerström-Billai, F., Korber, P. & Ekwall, K. Genome-wide mapping of nucleosome positions in Schizosaccharomyces pombe. Methods 48, 218–225 (2009).

Li, H. & Durbin, R. Fast and accurate short read alignment with Burrows-Wheeler transform. Bioinformatics 25, 1754–1760 (2009).

Gentleman, R.C. et al. Bioconductor: open software development for computational biology and bioinformatics. Genome Biol. 5, R80 (2004).

Irizarry, R.A. et al. Summaries of Affymetrix GeneChip probe level data. Nucleic Acids Res. 31, e15 (2003).

Smyth, G.K. in Bioinformatics and Computational Biology Solutions using R and Bioconductor (eds. Gentleman, R., Carey, V., Dudoit, S., Irizarry, R. & Huber, W.) 397–420 (Springer, New York, 2005).

David, L. et al. A high-resolution map of transcription in the yeast genome. Proc. Natl. Acad. Sci. USA 103, 5320–5325 (2006).

Michaelis, C., Ciosk, R. & Nasmyth, K. Cohesins: Chromosomal proteins that prevent premature separation of sister chromatids. Cell 91, 35–45 (1997).

Chambers, A.L. et al. The INO80 chromatin remodeling complex prevents polyploidy and maintains normal chromatin structure at centromeres. Genes Dev. 26, 2590–2603 (2012).
Acknowledgements
We thank P. Chambers at the Cancer Research UK Genome Variation Laboratory at St. James's University Hospital, Leeds, and N. Matthews from the Advanced Sequencing Facility at the Cancer Research UK London Research Institute for high-throughput sequencing. We thank C. Esnault, A. Lengronne and our laboratory members for discussions and comments on the manuscript. This work was supported by a Beca Postdoctoral del Ministerio de Ciencia y Tecnologia (Spain) and a Marie Curie Intra-European Fellowship (L.L.-S.) and the European Research Council (L.L.-S. and F.U.).
Ethics declarations
Competing interests
The authors declare no competing financial interests.
Integrated supplementary information
Supplementary information
About this article
Cite this article
Lopez-Serra, L., Kelly, G., Patel, H. et al. The Scc2–Scc4 complex acts in sister chromatid cohesion and transcriptional regulation by maintaining nucleosome-free regions. Nat Genet 46, 1147–1151 (2014). https://doi.org/10.1038/ng.3080
Received:

Accepted:

Published:

Issue Date:

DOI: https://doi.org/10.1038/ng.3080