Abstract
The honeybee Apis mellifera has major ecological and economic importance. We analyze patterns of genetic variation at 8.3 million SNPs, identified by sequencing 140 honeybee genomes from a worldwide sample of 14 populations at a combined total depth of 634×. These data provide insight into the evolutionary history and genetic basis of local adaptation in this species. We find evidence that population sizes have fluctuated greatly, mirroring historical fluctuations in climate, although contemporary populations have high genetic diversity, indicating the absence of domestication bottlenecks. Levels of genetic variation are strongly shaped by natural selection and are highly correlated with patterns of gene expression and DNA methylation. We identify genomic signatures of local adaptation, which are enriched in genes expressed in workers and in immune system– and sperm motility–related genes that might underlie geographic variation in reproduction, dispersal and disease resistance. This study provides a framework for future investigations into responses to pathogens and climate change in honeybees.
Access options
Subscribe to Journal
Get full journal access for 1 year
$59.00
only $4.92 per issue
All prices are NET prices.
VAT will be added later in the checkout.
Tax calculation will be finalised during checkout.
Rent or Buy article
Get time limited or full article access on ReadCube.
from$8.99
All prices are NET prices.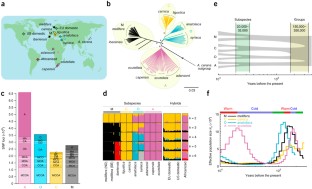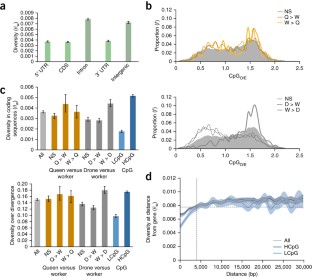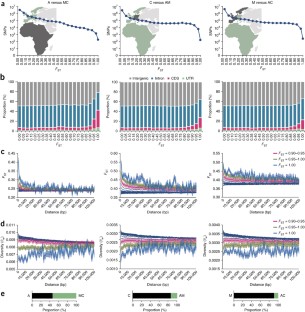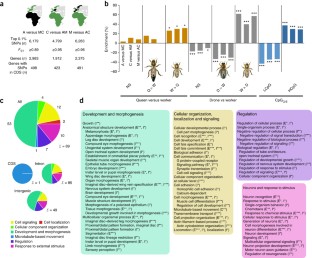 Accession codes
Primary accessions
BioProject
References
1

Gallai, N., Salles, J.-M., Settele, J. & Vaissière, B.E. Economic valuation of the vulnerability of world agriculture confronted with pollinator decline. Ecol. Econ. 68, 810–821 (2009).

2

Neumann, P. & Carreck, N. Honey bee colony losses. J. Apic. Res. 49, 1–6 (2010).

3

Garnery, L., Cornuet, J.M. & Solignac, M. Evolutionary history of the honey bee Apis mellifera inferred from mitochondrial DNA analysis. Mol. Ecol. 1, 145–154 (1992).

4

Arias, M.C. & Sheppard, W.S. Molecular phylogenetics of honey bee subspecies (Apis mellifera L.) inferred from mitochondrial DNA sequence. Mol. Phylogenet. Evol. 5, 557–566 (1996).

5

Ruttner, F. Biogeography and Taxonomy of Honeybees (Springer-Verlag, Berlin, 1988).

6

Hepburn, H.R. & Radloff, S.E. Honeybees of Africa (Springer-Verlag, Berlin, 1998).

7

Whitfield, C.W. et al. Thrice out of Africa: ancient and recent expansions of the honey bee, Apis mellifera. Science 314, 642–645 (2006).

8

Han, F., Wallberg, A. & Webster, M.T. From where did the Western honeybee (Apis mellifera) originate? Ecol. Evol. 2, 1949–1957 (2012).

9

The Honeybee Genome Sequencing Consortium. Insights into social insects from the genome of the honeybee Apis mellifera. Nature 443, 931–949 (2006).

10

Fazier, M. et al. A scientific note on Varroa destructor found in East Africa; threat or opportunity? Apidologie (Celle) 41, 463–465 (2010).

11

Martin, S.J. & Medina, L.M. Africanized honeybees have unique tolerance to Varroa mites. Trends Parasitol. 20, 112–114 (2004).

12

Strauss, U. et al. Seasonal prevalence of pathogens and parasites in the savannah honeybee (Apis mellifera scutellata). J. Invertebr. Pathol. 114, 45–52 (2013).

13

Sammataro, D., Gerson, U. & Needham, G. Parasitic mites of honey bees: life history, implications, and impact. Annu. Rev. Entomol. 45, 519–548 (2000).

14

Dietemann, V., Pirk, C.W.W. & Crewe, R. Is there a need for conservation of honeybees in Africa? Apidologie (Celle) 40, 285–295 (2009).

15

Crane, E. The World History of Beekeeping and Honey Hunting (Routledge, New York, 1999).

16

Harpur, B.A., Minaei, S., Kent, C.F. & Zayed, A. Management increases genetic diversity of honey bees via admixture. Mol. Ecol. 21, 4414–4421 (2012).

17

Scott Schneider, S., DeGrandi-Hoffman, G. & Smith, D.R. The African honey bee: factors contributing to a successful biological invasion. Annu. Rev. Entomol. 49, 351–376 (2004).

18

Beye, M. et al. Exceptionally high levels of recombination across the honey bee genome. Genome Res. 16, 1339–1344 (2006).

19

Moritz, R.F.A., Kraus, F.B., Kryger, P. & Crewe, R.M. The size of wild honeybee populations (Apis mellifera) and its implications for the conservation of honeybees. J. Insect Conserv. 11, 391–397 (2007).

20

Jaffé, R. et al. Estimating the density of honeybee colonies across their natural range to fill the gap in pollinator decline censuses. Conserv. Biol. 24, 583–593 (2010).

21

Baudry, E. et al. Relatedness among honeybees (Apis mellifera) of a drone congregation. Proc. R. Soc. B–Biol. Sci. 265, 2009–2014 (1998).

22

Jaffé, R., Dietemann, V., Crewe, R.M. & Moritz, R.F.A. Temporal variation in the genetic structure of a drone congregation area: an insight into the population dynamics of wild African honeybees (Apis mellifera scutellata). Mol. Ecol. 18, 1511–1522 (2009).

23

Wakeley, J. Coalescent Theory: An Introduction (Roberts & Co. Publishers, Greenwood Village, Colorado, USA, 2009).

24

Li, H. & Durbin, R. Inference of human population history from individual whole-genome sequences. Nature 475, 493–496 (2011).

25

Augustin, L. et al. Eight glacial cycles from an Antarctic ice core. Nature 429, 623–628 (2004).

26

Elango, N., Hunt, B.G., Goodisman, M.A. & Yi, S.V. DNA methylation is widespread and associated with differential gene expression in castes of the honeybee, Apis mellifera. Proc. Natl. Acad. Sci. USA 106, 11206–11211 (2009).

27

Sarda, S., Zeng, J., Hunt, B.G. & Yi, S.V. The evolution of invertebrate gene body methylation. Mol. Biol. Evol. 29, 1907–1916 (2012).

28

Nanty, L. et al. Comparative methylomics reveals gene-body H3K36me3 in Drosophila predicts DNA methylation and CpG landscapes in other invertebrates. Genome Res. 21, 1841–1850 (2011).

29

Lyko, F. et al. The honey bee epigenomes: differential methylation of brain DNA in queens and workers. PLoS Biol. 8, e1000506 (2010).

30

Grozinger, C.M., Fan, Y., Hoover, S.E.R. & Winston, M.L. Genome-wide analysis reveals differences in brain gene expression patterns associated with caste and reproductive status in honey bees (Apis mellifera). Mol. Ecol. 16, 4837–4848 (2007).

31

Zayed, A., Naeger, N.L., Rodriguez-Zas, S.L. & Robinson, G.E. Common and novel transcriptional routes to behavioral maturation in worker and male honey bees. Genes Brain Behav. 11, 253–261 (2012).

32

Sella, G., Petrov, D.A., Przeworski, M. & Andolfatto, P. Pervasive natural selection in the Drosophila genome? PLoS Genet. 5, e1000495 (2009).

33

Harpur, B.A. et al. Population genomics of the honey bee reveals strong signatures of positive selection on worker traits. Proc. Natl. Acad. Sci. USA 111, 2614–2619 (2014).

34

Nässel, D.R. & Winther, A.M.E. Drosophila neuropeptides in regulation of physiology and behavior. Prog. Neurobiol. 92, 42–104 (2010).

35

Woodard, S.H. et al. Genes involved in convergent evolution of eusociality in bees. Proc. Natl. Acad. Sci. USA 108, 7472–7477 (2011).

36

Corona, M. et al. Vitellogenin, juvenile hormone, insulin signaling, and queen honey bee longevity. Proc. Natl. Acad. Sci. USA 104, 7128–7133 (2007).

37

Amdam, G.V. et al. Higher vitellogenin concentrations in honey bee workers may be an adaptation to life in temperate climates. Insectes Soc. 52, 316–319 (2005).

38

Fiumera, A.C., Dumont, B.L. & Clark, A.G. Associations between sperm competition and natural variation in male reproductive genes on the third chromosome of Drosophila melanogaster. Genetics 176, 1245–1260 (2007).

39

Nakayama, M. et al. Drosophila carrying Pex3 or Pex16 mutations are models of Zellweger syndrome that reflect its symptoms associated with the absence of peroxisomes. PLoS ONE 6, e22984 (2011).

40

Hernández-García, R., de la Rúa, P. & Serrano, J. Mating frequency in Apis mellifera iberiensis queens. J. Apic. Res. 48, 121–125 (2009).

41

Franck, P., Koeniger, N., Lahner, G., Crewe, R.M. & Solignac, M. Evolution of extreme polyandry: an estimate of mating frequency in two African honeybee subspecies, Apis mellifera monticola and A.m. scutellata. Insectes Soc. 47, 364–370 (2000).

42

DeGrandi-hoffman, G., Tarpy, D.R. & Schneider, S.S. Patriline composition of worker populations in honeybee (Apis mellifera) colonies headed by queens inseminated with semen from African and European drones. Apidologie (Celle) 34, 111–120 (2003).

43

Fries, I. & Raina, S. American foulbrood and African honey bees (Hymenoptera: Apidae). J. Econ. Entomol. 96, 1641–1646 (2003).

44

Galko, M.J. & Krasnow, M.A. Cellular and genetic analysis of wound healing in Drosophila larvae. PLoS Biol. 2, E239 (2004).

45

McKenna, A. et al. The Genome Analysis Toolkit: a MapReduce framework for analyzing next-generation DNA sequencing data. Genome Res. 20, 1297–1303 (2010).

46

Browning, S.R. & Browning, B.L. Rapid and accurate haplotype phasing and missing-data inference for whole-genome association studies by use of localized haplotype clustering. Am. J. Hum. Genet. 81, 1084–1097 (2007).

47

Saitou, N. & Nei, M. The neighbor-joining method: a new method for reconstructing phylogenetic trees. Mol. Biol. Evol. 4, 406–425 (1987).

48

Watterson, G.A. On the number of segregating sites in genetical models without recombination. Theor. Popul. Biol. 7, 256–276 (1975).

49

Cho, S., Huang, Z.Y., Green, D.R., Smith, D.R. & Zhang, J. Evolution of the complementary sex-determination gene of honey bees: balancing selection and trans-species polymorphisms. Genome Res. 16, 1366–1375 (2006).

50

Katoh, K., Kuma, K., Toh, H. & Miyata, T. MAFFT version 5: improvement in accuracy of multiple sequence alignment. Nucleic Acids Res. 33, 511–518 (2005).

51

Alexander, D.H., Novembre, J. & Lange, K. Fast model-based estimation of ancestry in unrelated individuals. Genome Res. 19, 1655–1664 (2009).

52

Pritchard, J.K., Stephens, M. & Donnelly, P. Inference of population structure using multilocus genotype data. Genetics 155, 945–959 (2000).

53

Lawson, D.J., Hellenthal, G., Myers, S. & Falush, D. Inference of population structure using dense haplotype data. PLoS Genet. 8, e1002453 (2012).

54

Pickrell, J.K. & Pritchard, J.K. Inference of population splits and mixtures from genome-wide allele frequency data. PLoS Genet. 8, e1002967 (2012).

55

Supek, F., Bošnjak, M., Škunca, N. & Šmuc, T. REVIGO summarizes and visualizes long lists of Gene Ontology terms. PLoS ONE 6, e21800 (2011).
Acknowledgements
We thank I. Fries, J. Evans, M. Lodesani, M. Spivak, I. Arvidsson, A. Yusuf and P. Rosenkranz for providing samples. We also thank I. Jonasson, C. Tellgren-Roth, L. Nyberg and the Uppsala Genome Centre for performing the sequencing and mapping. Bioinformatic analyses were performed using resources at the Uppsala Multidisciplinary Center for Advanced Computational Science (UPPMAX). We thank I. Fries, D. Hultmark, A. Eyre-Walker, M. Jakobsson, L. Andersson and K. Lindblad-Toh for helpful discussions and comments on the manuscript. This study was funded by the Swedish Research Council Formas (grant 2010-1295).
Ethics declarations
Competing interests
The authors declare no competing financial interests.
Integrated supplementary information
Supplementary information
Supplementary Figures 1–13, Supplementary Tables 1 and 2, and Supplementary Note. (PDF 3757 kb)
Gene and gene region associations of the top 0.1% most highly differentiated SNPs among honeybee groups in three comparisons (A versus MC, C versus AM, M versus AC). (XLSX 591 kb)
Significantly enriched gene ontology (GO) terms of Drosophila orthologs of honeybee genes associated with the top 0.1% most highly differentiated SNPs. (XLSX 35 kb)
About this article
Cite this article
Wallberg, A., Han, F., Wellhagen, G. et al. A worldwide survey of genome sequence variation provides insight into the evolutionary history of the honeybee Apis mellifera. Nat Genet 46, 1081–1088 (2014). https://doi.org/10.1038/ng.3077
Received:

Accepted:

Published:

Issue Date: