Elucidating the molecular mechanisms responsible for changes in gene expression is important for understanding the evolution of morphological traits. A new study identifies the molecular basis of the association between KITLG and blond hair color, presenting an intriguing example of how a single DNA base-pair change in an upstream regulatory element can cause relatively large and specific downstream changes in phenotype.
This is a preview of subscription content
Access options
Subscribe to Journal
Get full journal access for 1 year
$59.00
only $4.92 per issue
All prices are NET prices.
VAT will be added later in the checkout.
Tax calculation will be finalised during checkout.
Rent or Buy article
Get time limited or full article access on ReadCube.
from$8.99
All prices are NET prices.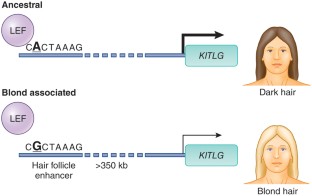 References
1

Edwards, S. et al. Am. J. Hum. Genet. 93, 779–797 (2013).

2

Walsh, S. et al. Forensic Sci. Int. Genet. 7, 98–115 (2013).

3

Guenther, C.A., Tasic, B., Luo, L., Bedell, M.A. & Kingsley, D.M. Nat. Genet. 46, 748–752 (2014).

4

Sulem, P. et al. Nat. Genet. 39, 1443–1452 (2007).

5

Rockman, M.V. Evolution 66, 1–17 (2012).

6

Travisano, M. & Shaw, R.G. Evolution 67, 305–314 (2013).
Ethics declarations
Competing interests
The author declares no competing financial interests.
About this article
Cite this article
Hoekstra, H. The secret of a natural blond. Nat Genet 46, 660–661 (2014). https://doi.org/10.1038/ng.3019