Abstract
Recovery from blood loss requires a greatly enhanced supply of iron to support expanded erythropoiesis. After hemorrhage, suppression of the iron-regulatory hormone hepcidin allows increased iron absorption and mobilization from stores. We identified a new hormone, erythroferrone (ERFE), that mediates hepcidin suppression during stress erythropoiesis. ERFE is produced by erythroblasts in response to erythropoietin. ERFE-deficient mice fail to suppress hepcidin rapidly after hemorrhage and exhibit a delay in recovery from blood loss. ERFE expression is greatly increased in Hbbth3/+ mice with thalassemia intermedia, where it contributes to the suppression of hepcidin and the systemic iron overload characteristic of this disease.
Relevant articles
Open Access articles citing this article.
Mitsuru Tsuge

,

Aya Kodera

…

Hirokazu Tsukahara

BMC Pediatrics Open Access 29 October 2022

Mariarosa Mezzanotte

,

Giorgia Ammirata

…

Antonella Roetto

Scientific Reports Open Access 09 July 2022
Access options
Subscribe to this journal
Receive 12 print issues and online access
$189.00 per year
only $15.75 per issue
Rent or buy this article
Get just this article for as long as you need it
$39.95
Prices may be subject to local taxes which are calculated during checkout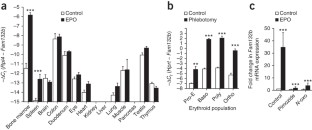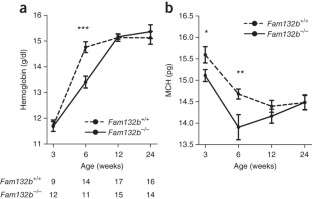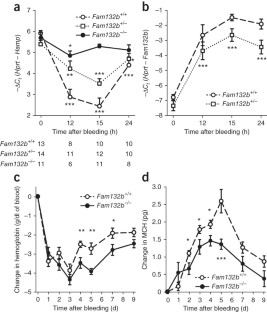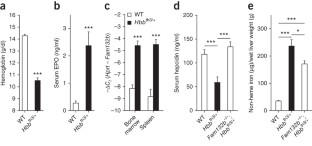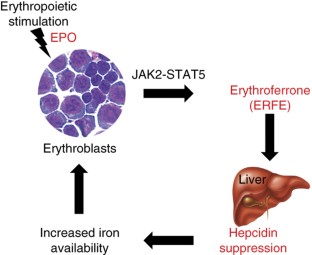 Accession codes
Primary accessions
Gene Expression Omnibus
NCBI Reference Sequence
Referenced accessions
NCBI Reference Sequence
References
Finch, C. Regulators of iron balance in humans. Blood 84, 1697–1702 (1994).

Ganz, T. & Nemeth, E. Hepcidin and iron homeostasis. Biochim. Biophys. Acta 1823, 1434–1443 (2012).

Nicolas, G. et al. The gene encoding the iron regulatory peptide hepcidin is regulated by anemia, hypoxia, and inflammation. J. Clin. Invest. 110, 1037–1044 (2002).

Pak, M., Lopez, M.A., Gabayan, V., Ganz, T. & Rivera, S. Suppression of hepcidin during anemia requires erythropoietic activity. Blood 108, 3730–3735 (2006).

Vokurka, M., Krijt, J., Sulc, K. & Necas, E. Hepcidin mRNA levels in mouse liver respond to inhibition of erythropoiesis. Physiol. Res. 55, 667–674 (2006).

Ashby, D.R. et al. Erythropoietin administration in humans causes a marked and prolonged reduction in circulating hepcidin. Haematologica 95, 505–508 (2010).

Ramos, P. et al. Iron metabolism and ineffective erythropoiesis in β-thalassemia mouse models. Ann. NY Acad. Sci. 1202, 24–30 (2010).

Tanno, T. et al. Identification of TWSG1 as a second novel erythroid regulator of hepcidin expression in murine and human cells. Blood 114, 181–186 (2009).

Tanno, T. et al. High levels of GDF15 in thalassemia suppress expression of the iron regulatory protein hepcidin. Nat. Med. 13, 1096–1101 (2007).

Casanovas, G. et al. The murine growth differentiation factor 15 is not essential for systemic iron homeostasis in phlebotomized mice. Haematologica 98, 444–447 (2013).

Theurl, I. et al. Growth differentiation factor 15 in anaemia of chronic disease, iron deficiency anaemia and mixed type anaemia. Br. J. Haematol. 148, 449–455 (2010).

Waalen, J., von Löhneysen, K., Lee, P., Xu, X. & Friedman, J.S. Erythropoietin, GDF15, IL6, hepcidin and testosterone levels in a large cohort of elderly individuals with anaemia of known and unknown cause. Eur. J. Haematol. 87, 107–116 (2011).

Meynard, D. et al. Lack of the bone morphogenetic protein BMP6 induces massive iron overload. Nat. Genet. 41, 478–481 (2009).

Andriopoulos, B. Jr. et al. BMP6 is a key endogenous regulator of hepcidin expression and iron metabolism. Nat. Genet. 41, 482–487 (2009).

Kautz, L. et al. Iron regulates phosphorylation of Smad1/5/8 and gene expression of Bmp6, Smad7, Id1, and Atoh8 in the mouse liver. Blood 112, 1503–1509 (2008).

Seldin, M.M., Peterson, J.M., Byerly, M.S., Wei, Z. & Wong, G.W. Myonectin (CTRP15), a novel myokine that links skeletal muscle to systemic lipid homeostasis. J. Biol. Chem. 287, 11968–11980 (2012).

Socolovsky, M. Molecular insights into stress erythropoiesis. Curr. Opin. Hematol. 14, 215–224 (2007).

Porpiglia, E., Hidalgo, D., Koulnis, M., Tzafriri, A.R. & Socolovsky, M. Stat5 signaling specifies basal versus stress erythropoietic responses through distinct binary and graded dynamic modalities. PLoS Biol. 10, e1001383 (2012).

Tang, T. et al. A mouse knockout library for secreted and transmembrane proteins. Nat. Biotechnol. 28, 749–755 (2010).

Gardenghi, S. et al. Hepcidin as a therapeutic tool to limit iron overload and improve anemia in β-thalassemic mice. J. Clin. Invest. 120, 4466–4477 (2010).

Peyssonnaux, C. et al. Regulation of iron homeostasis by the hypoxia-inducible transcription factors (HIFs). J. Clin. Invest. 117, 1926–1932 (2007).

Pinto, J.P. et al. Erythropoietin mediates hepcidin expression in hepatocytes through EPOR signaling and regulation of C/EBPα. Blood 111, 5727–5733 (2008).

Liu, Q., Davidoff, O., Niss, K. & Haase, V.H. Hypoxia-inducible factor regulates hepcidin via erythropoietin-induced erythropoiesis. J. Clin. Invest. 122, 4635–4644 (2012).

Merryweather-Clarke, A.T. et al. Global gene expression analysis of human erythroid progenitors. Blood 117, e96–e108 (2011).

Díaz, V. et al. Liver iron modulates hepcidin expression during chronically elevated erythropoiesis in mice. Hepatology 58, 2122–2132 (2013).

Pippard, M.J., Warner, G.T., Callender, S.T. & Weatherall, D.J. Iron absorption and loading in β-thalassemia intermedia. Lancet 2, 819–821 (1979).

Papanikolaou, G. et al. Hepcidin in iron overload disorders. Blood 105, 4103–4105 (2005).

Centis, F. et al. The importance of erythroid expansion in determining the extent of apoptosis in erythroid precursors in patients with β-thalassemia major. Blood 96, 3624–3629 (2000).

Kattamis, A. et al. The effects of erythropoetic activity and iron burden on hepcidin expression in patients with thalassemia major. Haematologica 91, 809–812 (2006).

Origa, R. et al. Liver iron concentrations and urinary hepcidin in β-thalassemia. Haematologica 92, 583–588 (2007).

Nai, A. et al. Deletion of TMPRSS6 attenuates the phenotype in a mouse model of β-thalassemia. Blood 119, 5021–5029 (2012).

Guo, S. et al. Reducing TMPRSS6 ameliorates hemochromatosis and β-thalassemia in mice. J. Clin. Invest. 123, 1531–1541 (2013).

Schmidt, P.J. et al. An RNAi therapeutic targeting Tmprss6 decreases iron overload in Hfe−/− mice and ameliorates anemia and iron overload in murine β-thalassemia intermedia. Blood 121, 1200–1208 (2013).

Goodnough, L.T., Nemeth, E. & Ganz, T. Detection, evaluation, and management of iron-restricted erythropoiesis. Blood 116, 4754–4761 (2010).

Fleming, R.E. et al. Targeted mutagenesis of the murine transferrin receptor-2 gene produces hemochromatosis. Proc. Natl. Acad. Sci. USA 99, 10653–10658 (2002).

Huang, F.W., Pinkus, J.L., Pinkus, G.S., Fleming, M.D. & Andrews, N.C. A mouse model of juvenile hemochromatosis. J. Clin. Invest. 115, 2187–2191 (2005).

Ramos, E. et al. Minihepcidins prevent iron overload in a hepcidin-deficient mouse model of severe hemochromatosis. Blood 120, 3829–3836 (2012).

Pfaffl, M.W., Horgan, G.W. & Dempfle, L. Relative expression software tool (REST) for group-wise comparison and statistical analysis of relative expression results in real-time PCR. Nucleic Acids Res. 30, e36 (2002).

Van Handel, B. et al. The first trimester human placenta is a site for terminal maturation of primitive erythroid cells. Blood 116, 3321–3330 (2010).

Latour, C. et al. Testosterone perturbs systemic iron balance through activation of epidermal growth factor receptor signaling in the liver and repression of hepcidin. Hepatology 59, 683–694 (2014).

Hod, E.A. et al. Validation and preclinical correlation of a new sandwich ELISA for measuring murine hepcidin. Blood 120, abstract 2100 (ASH Annual Meeting Abstract) (2012).

Goodnough, J.B., Ramos, E., Nemeth, E. & Ganz, T. Inhibition of hepcidin transcription by growth factors. Hepatology 56, 291–299 (2012).
Acknowledgements
The authors thank V. Gabayan for her invaluable work with mouse breeding. Flow cytometry was performed in the University of California, Los Angeles (UCLA) Jonsson Comprehensive Cancer Center (JCCC) and the Center for AIDS Research Flow Cytometry Core Facility, which is supported by US National Institutes of Health (NIH) awards CA-16042 and AI-28697 and by the JCCC, the UCLA AIDS Institute and the David Geffen School of Medicine at UCLA. The UCLA Vector Core is supported by the JCCC from US NIH grant P30-CA-016042 and the CURE: Digestive Disease Research Core Center from US NIH grant P30-DK-041301. This research was supported by US NIH grant R01-DK-065029 to T.G. and grants R01-DK-090554 and 5R01-DK-095112 to S.R. and by the American Society of Hematology scholar award to L.K.
Ethics declarations
Competing interests
E.N. and T.G. are shareholders and scientific advisors of Intrinsic LifeSciences and Merganser Biotech and are consultants for Xenon Pharmaceuticals. S.R. receives laboratory support from Isis, Bayer and Merganser Biotech and is a shareholder of Merganser Biotech. The remaining authors declare no competing financial interests.
Integrated supplementary information
Supplementary information
Supplementary Table 2 and Supplementary Figures 1–15 (PDF 1607 kb)
Mouse Fam132b promoter analysis 3k. (XLSX 91 kb)
About this article
Cite this article
Kautz, L., Jung, G., Valore, E. et al. Identification of erythroferrone as an erythroid regulator of iron metabolism. Nat Genet 46, 678–684 (2014). https://doi.org/10.1038/ng.2996
Received:

Accepted:

Published:

Issue Date:

DOI: https://doi.org/10.1038/ng.2996