Abstract
Biphenotypic sinonasal sarcoma (SNS) is a newly described tumor of the nasal and paranasal areas. Here we report a recurrent chromosomal translocation in SNS, t(2;4)(q35;q31.1), resulting in a PAX3-MAML3 fusion protein that is a potent transcriptional activator of PAX3 response elements. The SNS phenotype is characterized by aberrant expression of genes involved in neuroectodermal and myogenic differentiation, closely simulating the developmental roles of PAX3.
Relevant articles
Open Access articles citing this article.
Mario Turri-Zanoni

,

Giacomo Gravante

&

Paolo Castelnuovo

Current Oncology Reports Open Access 20 January 2022

Endocrine Pathology Open Access 25 March 2021
Access options
Subscribe to Journal
Get full journal access for 1 year
$79.00
only $6.58 per issue
All prices are NET prices.
VAT will be added later in the checkout.
Tax calculation will be finalised during checkout.
Buy article
Get time limited or full article access on ReadCube.
$32.00
All prices are NET prices.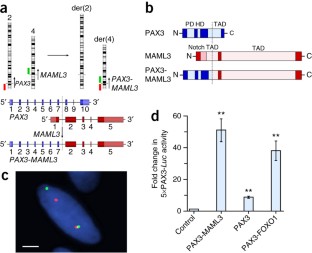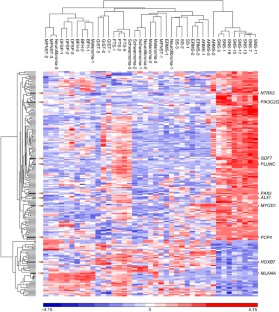 References
Lewis, J.T. et al. Am. J. Surg. Pathol. 36, 517–525 (2012).

Galili, N. et al. Nat. Genet. 5, 230–235 (1993).

Wang, Q. et al. J. Cell. Mol. Med. 12, 2281–2294 (2008).

Maulbecker, C.C. & Gruss, P. EMBO J. 12, 2361–2367 (1993).

Lang, D. et al. Nature 433, 884–887 (2005).

Medic, S. & Ziman, M. Crit. Rev. Biochem. Mol. Biol. 44, 85–97 (2009).

Nakazaki, H. et al. Dev. Biol. 316, 510–523 (2008).

Epstein, D.J., Vogan, K.J., Trasler, D.G. & Gros, P. Proc. Natl. Acad. Sci. USA 90, 532–536 (1993).

Tassabehji, M. et al. Hum. Mol. Genet. 3, 1069–1074 (1994).

Baldwin, C.T., Hoth, C.F., Amos, J.A., da-Silva, E.O. & Milunsky, A. Nature 355, 637–638 (1992).

Asher, J.H. Jr., Sommer, A., Morell, R. & Friedman, T.B. Hum. Mutat. 7, 30–35 (1996).

Schecterson, L.C. & Bothwell, M. Dev. Neurobiol. 70, 332–338 (2010).

Knezevich, S.R., McFadden, D.E., Tao, W., Lim, J.F. & Sorensen, P.H. Nat. Genet. 18, 184–187 (1998).

Medic, S., Rizos, H. & Ziman, M. Biochem. Biophys. Res. Commun. 411, 832–837 (2011).

Yokoyama, S. & Asahara, H. Cell. Mol. Life Sci. 68, 1843–1849 (2011).

Lin, S.E., Oyama, T., Nagase, T., Harigaya, K. & Kitagawa, M. J. Biol. Chem. 277, 50612–50620 (2002).

McElhinny, A.S., Li, J.L. & Wu, L. Oncogene 27, 5138–5147 (2008).

Tonon, G. et al. Nat. Genet. 33, 208–213 (2003).

Chen, Z. et al. Oncogene doi:10.1038/onc.2013.348 (26 August 2013).

Gil, Z. et al. Cancer Genet. Cytogenet. 145, 139–143 (2003).

Li, H. & Durbin, R. Bioinformatics 25, 1754–1760 (2009).

Asmann, Y.W. et al. Nucleic Acids Res. 39, e100 (2011).

Medeiros, F. et al. Genes Chromosom. Cancer 46, 981–990 (2007).

Westendorf, J.J. et al. Mol. Cell. Biol. 18, 322–333 (1998).
Acknowledgements
The authors thank A. Maran, K.L. Shogren, S.L. Segovis, J.L. Herrick and X. Li for logistical support in the performance of several of these experiments. We also express gratitude to L. Jin, M.R. Erickson-Johnson, B.R. Evers, C.W. Roth, R.N. Wehrs, A.R. Seys and M.L. Lonzo for technical support in the Molecular Anatomic Pathology Laboratory and Cytogenetics Laboratory, to T.J. Flotte and L.A. Gross in the Pathology Resource Core Laboratory, to K.C. Halling and M.E. Brown for administration support, to T.L. Schmidt for secretarial assistance and to T.A. Bennett for editorial assistance. We also thank C.P. Kolbert and B.W. Eckloff at the Gene Expression Core and the Sequencing Core at the Mayo Medical Genome Facility for providing transcriptome sequencing and gene expression profiling services. This work was supported by Mayo Clinic DLMP 2012/13 Research Grants and by US National Institutes of Health grant T32 CA148073.
Ethics declarations
Competing interests
The authors declare no competing financial interests.
Integrated supplementary information
Supplementary information
About this article
Cite this article
Wang, X., Bledsoe, K., Graham, R. et al. Recurrent PAX3-MAML3 fusion in biphenotypic sinonasal sarcoma. Nat Genet 46, 666–668 (2014). https://doi.org/10.1038/ng.2989
Received:

Accepted:

Published:

Issue Date:

DOI: https://doi.org/10.1038/ng.2989