Abstract
Incidence and mortality for sex-unspecific cancers are higher among men, a fact that is largely unexplained1,2. Furthermore, age-related loss of chromosome Y (LOY) is frequent in normal hematopoietic cells3,4, but the phenotypic consequences of LOY have been elusive5,6,7,8,9,10. From analysis of 1,153 elderly men, we report that LOY in peripheral blood was associated with risks of all-cause mortality (hazards ratio (HR) = 1.91, 95% confidence interval (CI) = 1.17–3.13; 637 events) and non-hematological cancer mortality (HR = 3.62, 95% CI = 1.56–8.41; 132 events). LOY affected at least 8.2% of the subjects in this cohort, and median survival times among men with LOY were 5.5 years shorter. Association of LOY with risk of all-cause mortality was validated in an independent cohort (HR = 3.66) in which 20.5% of subjects showed LOY. These results illustrate the impact of post-zygotic mosaicism on disease risk, could explain why males are more frequently affected by cancer and suggest that chromosome Y is important in processes beyond sex determination. LOY in blood could become a predictive biomarker of male carcinogenesis.
Relevant articles
Open Access articles citing this article.
Aivars Cīrulis

,

Bengt Hansson

&

Jessica K. Abbott

BMC Biology Open Access 06 July 2022

Raheleh Heydari

,

Zohreh Jangravi

…

Anna Meyfour

Cell & Bioscience Open Access 04 January 2022

Moeen Riaz

,

Jonas Mattisson

…

Paul Lacaze

Cell & Bioscience Open Access 12 December 2021
Access options
Subscribe to Journal
Get full journal access for 1 year
$79.00
only $6.58 per issue
All prices are NET prices.
VAT will be added later in the checkout.
Tax calculation will be finalised during checkout.
Buy article
Get time limited or full article access on ReadCube.
$32.00
All prices are NET prices.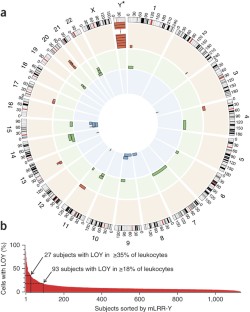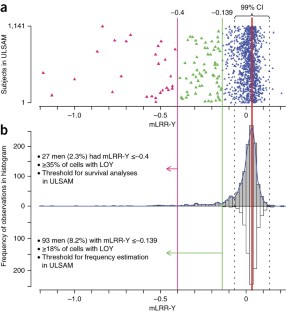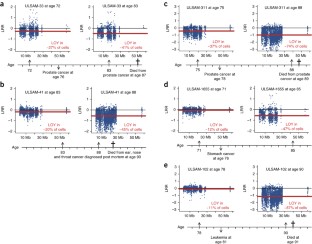 References
Cook, M.B., McGlynn, K.A., Devesa, S.S., Freedman, N.D. & Anderson, W.F. Sex disparities in cancer mortality and survival. Cancer Epidemiol. Biomarkers Prev. 20, 1629–1637 (2011).

Edgren, G., Liang, L., Adami, H.O. & Chang, E.T. Enigmatic sex disparities in cancer incidence. Eur. J. Epidemiol. 27, 187–196 (2012).

Jacobs, P.A., Brunton, M., Court Brown, W.M., Doll, R. & Goldstein, H. Change of human chromosome count distribution with age: evidence for a sex differences. Nature 197, 1080–1081 (1963).

Pierre, R.V. & Hoagland, H.C. Age-associated aneuploidy: loss of Y chromosome from human bone marrow cells with aging. Cancer 30, 889–894 (1972).

Nowinski, G.P. et al. The frequency of aneuploidy in cultured lymphocytes is correlated with age and gender but not with reproductive history. Am. J. Hum. Genet. 46, 1101–1111 (1990).

United Kingdom Cancer Cytogenetics Group. Loss of the Y chromosome from normal and neoplastic bone marrows. United Kingdom Cancer Cytogenetics Group (UKCCG). Genes Chromosom. Cancer 5, 83–88 (1992).

Wiktor, A. et al. Clinical significance of Y chromosome loss in hematologic disease. Genes Chromosom. Cancer 27, 11–16 (2000).

Wong, A.K. et al. Loss of the Y chromosome: an age-related or clonal phenomenon in acute myelogenous leukemia/myelodysplastic syndrome? Arch. Pathol. Lab. Med. 132, 1329–1332 (2008).

Wiktor, A.E., Van Dyke, D.L., Hodnefield, J.M., Eckel-Passow, J. & Hanson, C.A. The significance of isolated Y chromosome loss in bone marrow metaphase cells from males over age 50 years. Leuk. Res. 35, 1297–1300 (2011).

Jacobs, P.A. et al. Male breast cancer, age and sex chromosome aneuploidy. Br. J. Cancer 108, 959–963 (2013).

Forsberg, L.A. et al. Age-related somatic structural changes in the nuclear genome of human blood cells. Am. J. Hum. Genet. 90, 217–228 (2012).

Jacobs, K.B. et al. Detectable clonal mosaicism and its relationship to aging and cancer. Nat. Genet. 44, 651–658 (2012).

Schick, U.M. et al. Confirmation of the reported association of clonal chromosomal mosaicism with an increased risk of incident hematologic cancer. PLoS ONE 8, e59823 (2013).

Forsberg, L.A., Absher, D. & Dumanski, J.P. Non-heritable genetics of human disease: spotlight on post-zygotic genetic variation acquired during lifetime. J. Med. Genet. 50, 1–10 (2013).

Laurie, C.C. et al. Detectable clonal mosaicism from birth to old age and its relationship to cancer. Nat. Genet. 44, 642–650 (2012).

de Carvalho, C.M. & Santos, F.R. Human Y-chromosome variation and male dysfunction. J. Mol. Genet. Med. 1, 63–75 (2005).

Hughes, J.F. & Rozen, S. Genomics and genetics of human and primate Y chromosomes. Annu. Rev. Genomics Hum. Genet. 13, 83–108 (2012).

Lemos, B., Araripe, L.O. & Hartl, D.L. Polymorphic Y chromosomes harbor cryptic variation with manifold functional consequences. Science 319, 91–93 (2008).

Lemos, B., Branco, A.T. & Hartl, D.L. Epigenetic effects of polymorphic Y chromosomes modulate chromatin components, immune response, and sexual conflict. Proc. Natl. Acad. Sci. USA 107, 15826–15831 (2010).

Vijayakumar, S. et al. Detection of recurrent copy number loss at Yp11.2 involving TSPY gene cluster in prostate cancer using array-based comparative genomic hybridization. Cancer Res. 66, 4055–4064 (2006).

Zhang, L.J., Shin, E.S., Yu, Z.X. & Li, S.B. Molecular genetic evidence of Y chromosome loss in male patients with hematological disorders. Chin. Med. J. (Engl.) 120, 2002–2005 (2007).

Bianchi, N.O. Y chromosome structural and functional changes in human malignant diseases. Mutat. Res. 682, 21–27 (2009).

Veiga, L.C.S., Bergamo, N.A., Reis, P.P., Kowalski, L.P. & Rogatto, S.R. Loss of Y-chromosome does not correlate with age at onset of head and neck carcinoma: a case-control study. Braz. J. Med. Biol. Res. 45, 172–178 (2012).

Duijf, P.H., Schultz, N. & Benezra, R. Cancer cells preferentially lose small chromosomes. Int. J. Cancer 132, 2316–2326 (2013).

Eisenberg, M.L., Betts, P., Herder, D., Lamb, D.J. & Lipshultz, L.I. Increased risk of cancer among azoospermic men. Fertil. Steril. 100, 681–685 (2013).

Vijayakumar, S. et al. The human Y chromosome suppresses the tumorigenicity of PC-3, a human prostate cancer cell line, in athymic nude mice. Genes Chromosom. Cancer 44, 365–372 (2005).

Dunn, G.P., Bruce, A.T., Ikeda, H., Old, L.J. & Schreiber, R.D. Cancer immunoediting: from immunosurveillance to tumor escape. Nat. Immunol. 3, 991–998 (2002).

Vial, T. & Descotes, J. Immunosuppressive drugs and cancer. Toxicology 185, 229–240 (2003).

Vajdic, C.M. & van Leeuwen, M.T. Cancer incidence and risk factors after solid organ transplantation. Int. J. Cancer 125, 1747–1754 (2009).

Hedstrand, H. A study of middle-aged men with particular reference to risk factors for cardiovascular disease. Ups. J. Med. Sci. Suppl. 19, 1–61 (1975).

Lind, L., Fors, N., Hall, J., Marttala, K. & Stenborg, A. A comparison of three different methods to evaluate endothelium-dependent vasodilation in the elderly: the Prospective Investigation of the Vasculature in Uppsala Seniors (PIVUS) study. Arterioscler. Thromb. Vasc. Biol. 25, 2368–2375 (2005).

Olshen, A.B., Venkatraman, E.S., Lucito, R. & Wigler, M. Circular binary segmentation for the analysis of array-based DNA copy number data. Biostatistics 5, 557–572 (2004).

Krzywinski, M. et al. Circos: an information aesthetic for comparative genomics. Genome Res. 19, 1639–1645 (2009).

Sheather, S. & Jones, M. A reliable data-based bandwidth selection method for kernel density estimation. J. R. Stat. Soc. Ser. A Stat. Soc. 53, 683–690 (1991).

González, J.R. et al. A fast and accurate method to detect allelic genomic imbalances underlying mosaic rearrangements using SNP array data. BMC Bioinformatics 12, 166 (2011).

Pique-Regi, R., Caceres, A. & Gonzalez, J.R. R-Gada: a fast and flexible pipeline for copy number analysis in association studies. BMC Bioinformatics 11, 380 (2010).

Pique-Regi, R. et al. Sparse representation and Bayesian detection of genome copy number alterations from microarray data. Bioinformatics 24, 309–318 (2008).

Rodríguez-Santiago, B. et al. Mosaic uniparental disomies and aneuploidies as large structural variants of the human genome. Am. J. Hum. Genet. 87, 129–138 (2010).

Boeva, V. et al. Control-FREEC: a tool for assessing copy number and allelic content using next-generation sequencing data. Bioinformatics 28, 423–425 (2012).

R Development Core Team. R: A Language and Environment for Statistical Computing (Vienna, 2010).
Acknowledgements
We thank G. Arnqvist and K. Lindblad-Toh for advice and F. Steele for review of the manuscript. This study was sponsored by funding from the Olle Enqvist Byggmästare Foundation to L.A.F. and by the Swedish Cancer Society, the Swedish Research Council, the Swedish Heart-Lung Foundation and funding from Sci-Life-Lab-Uppsala to J.P.D. Genotyping and next-generation sequencing were performed by the SNP&SEQ Technology Platform in Uppsala, Sweden, and were supported by Wellcome Trust grants WT098017, WT064890 and WT090532 and by Uppsala University, Uppsala University Hospital, the Swedish Research Council and the Swedish Heart-Lung Foundation. The SNP&SEQ Technology Platform is part of the Science for Life Laboratory at Uppsala University and is supported as national infrastructure by the Swedish Research Council. C.M.L. is a Wellcome Trust Research Career Development Fellow (grant 086596/Z/08/Z). A.P.M. is a Wellcome Trust Senior Research Fellow (grants WT098017, WT090532 and WT064890).
Ethics declarations
Competing interests
L.A.F. and J.P.D. have filed for a patent at The Swedish Patent and Registration Office protecting the commercial applications of LOY for the assessment of cancer risk.
Integrated supplementary information
Supplementary information
About this article
Cite this article
Forsberg, L., Rasi, C., Malmqvist, N. et al. Mosaic loss of chromosome Y in peripheral blood is associated with shorter survival and higher risk of cancer. Nat Genet 46, 624–628 (2014). https://doi.org/10.1038/ng.2966
Received:

Accepted:

Published:

Issue Date:

DOI: https://doi.org/10.1038/ng.2966