Abstract
Angiosarcoma is an aggressive malignancy that arises spontaneously or secondarily to ionizing radiation or chronic lymphoedema1. Previous work has identified aberrant angiogenesis, including occasional somatic mutations in angiogenesis signaling genes, as a key driver of angiosarcoma1. Here we employed whole-genome, whole-exome and targeted sequencing to study the somatic changes underpinning primary and secondary angiosarcoma. We identified recurrent mutations in two genes, PTPRB and PLCG1, which are intimately linked to angiogenesis. The endothelial phosphatase PTPRB, a negative regulator of vascular growth factor tyrosine kinases, harbored predominantly truncating mutations in 10 of 39 tumors (26%). PLCG1, a signal transducer of tyrosine kinases, encoded a recurrent, likely activating p.Arg707Gln missense variant in 3 of 34 cases (9%). Overall, 15 of 39 tumors (38%) harbored at least one driver mutation in angiogenesis signaling genes. Our findings inform and reinforce current therapeutic efforts to target angiogenesis signaling in angiosarcoma.
Relevant articles
Open Access articles citing this article.
Mrinal M. Gounder

,

Narasimhan P. Agaram

…

Dexter X. Jin

Nature Communications Open Access 15 June 2022

Tianwen Li

,

Zhipeng Yang

…

Zhifeng Shi

Laboratory Investigation Open Access 25 October 2021

Michael J. Wagner

,

Yasmin A. Lyons

…

Anil K. Sood

Scientific Reports Open Access 30 April 2021
Access options
Subscribe to Journal
Get full journal access for 1 year
$79.00
only $6.58 per issue
All prices are NET prices.
VAT will be added later in the checkout.
Tax calculation will be finalised during checkout.
Buy article
Get time limited or full article access on ReadCube.
$32.00
All prices are NET prices.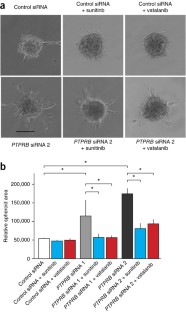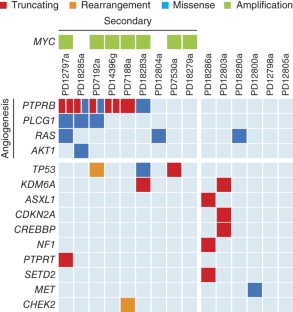 References
Young, R.J., Brown, N.J., Reed, M.W., Hughes, D. & Woll, P.J. Angiosarcoma. Lancet Oncol. 11, 983–991 (2010).

Fachinger, G., Deutsch, U. & Risau, W. Functional interaction of vascular endothelial-protein-tyrosine phosphatase with the angiopoietin receptor Tie-2. Oncogene 18, 5948–5953 (1999).

Winderlich, M. et al. VE-PTP controls blood vessel development by balancing Tie-2 activity. J. Cell Biol. 185, 657–671 (2009).

Bamford, S. et al. The COSMIC (Catalogue of Somatic Mutations in Cancer) database and website. Br. J. Cancer 91, 355–358 (2004).

Guo, T. et al. Consistent MYC and FLT4 gene amplification in radiation-induced angiosarcoma but not in other radiation-associated atypical vascular lesions. Genes Chromosom. Cancer 50, 25–33 (2011).

Dominguez, M.G. et al. Vascular endothelial tyrosine phosphatase (VE-PTP)-null mice undergo vasculogenesis but die embryonically because of defects in angiogenesis. Proc. Natl. Acad. Sci. USA 104, 3243–3248 (2007).

Bäumer, S. et al. Vascular endothelial cell–specific phosphotyrosine phosphatase (VE-PTP) activity is required for blood vessel development. Blood 107, 4754–4762 (2006).

Broermann, A. et al. Dissociation of VE-PTP from VE-cadherin is required for leukocyte extravasation and for VEGF-induced vascular permeability in vivo. J. Exp. Med. 208, 2393–2401 (2011).

Carra, S. et al. Ve-ptp modulates vascular integrity by promoting adherens junction maturation. PLoS ONE 7, e51245 (2012).

Hayashi, M. et al. VE-PTP regulates VEGFR2 activity in stalk cells to establish endothelial cell polarity and lumen formation. Nat. Commun. 4, 1672 (2013).

Li, Z. et al. Embryonic stem cell tumor model reveals role of vascular endothelial receptor tyrosine phosphatase in regulating Tie2 pathway in tumor angiogenesis. Proc. Natl. Acad. Sci. USA 106, 22399–22404 (2009).

Mellberg, S. et al. Transcriptional profiling reveals a critical role for tyrosine phosphatase VE-PTP in regulation of VEGFR2 activity and endothelial cell morphogenesis. FASEB J. 23, 1490–1502 (2009).

Nawroth, R. et al. VE-PTP and VE-cadherin ectodomains interact to facilitate regulation of phosphorylation and cell contacts. EMBO J. 21, 4885–4895 (2002).

Nottebaum, A.F. et al. VE-PTP maintains the endothelial barrier via plakoglobin and becomes dissociated from VE-cadherin by leukocytes and by VEGF. J. Exp. Med. 205, 2929–2945 (2008).

Saharinen, P., Eklund, L., Pulkki, K., Bono, P. & Alitalo, K. VEGF and angiopoietin signaling in tumor angiogenesis and metastasis. Trends Mol. Med. 17, 347–362 (2011).

Zhou, Q. et al. A hypermorphic missense mutation in PLCG2, encoding phospholipase Cγ2, causes a dominantly inherited autoinflammatory disease with immunodeficiency. Am. J. Hum. Genet. 91, 713–720 (2012).

Everett, K.L. et al. Characterization of phospholipase Cγ enzymes with gain-of-function mutations. J. Biol. Chem. 284, 23083–23093 (2009).

Ombrello, M.J. et al. Cold urticaria, immunodeficiency, and autoimmunity related to PLCG2 deletions. N. Engl. J. Med. 366, 330–338 (2012).

Bunney, T.D. et al. Structural and functional integration of the PLCγ interaction domains critical for regulatory mechanisms and signaling deregulation. Structure 20, 2062–2075 (2012).

Covassin, L.D. et al. A genetic screen for vascular mutants in zebrafish reveals dynamic roles for Vegf/Plcg1 signaling during artery development. Dev. Biol. 329, 212–226 (2009).

Lawson, N.D., Mugford, J.W., Diamond, B.A. & Weinstein, B.M. Phospholipase Cγ-1 is required downstream of vascular endothelial growth factor during arterial development. Genes Dev. 17, 1346–1351 (2003).

Liao, H.J. et al. Absence of erythrogenesis and vasculogenesis in Plcg1-deficient mice. J. Biol. Chem. 277, 9335–9341 (2002).

Antonescu, C.R. et al. KDR activating mutations in human angiosarcomas are sensitive to specific kinase inhibitors. Cancer Res. 69, 7175–7179 (2009).

Behjati, S. et al. Distinct H3F3A and H3F3B driver mutations define chondroblastoma and giant cell tumor of bone. Nat. Genet. 45, 1479–1482 (2013).

Tarpey, P.S. et al. Frequent mutation of the major cartilage collagen gene COL2A1 in chondrosarcoma. Nat. Genet. 45, 923–926 (2013).

Li, H. & Durbin, R. Fast and accurate long-read alignment with Burrows-Wheeler transform. Bioinformatics 26, 589–595 (2010).

Ye, K., Schulz, M.H., Long, Q., Apweiler, R. & Ning, Z. Pindel: a pattern growth approach to detect break points of large deletions and medium sized insertions from paired-end short reads. Bioinformatics 25, 2865–2871 (2009).

Trapnell, C., Pachter, L. & Salzberg, S.L. TopHat: discovering splice junctions with RNA-Seq. Bioinformatics 25, 1105–1111 (2009).

Trapnell, C. et al. Transcript assembly and quantification by RNA-Seq reveals unannotated transcripts and isoform switching during cell differentiation. Nat. Biotechnol. 28, 511–515 (2010).

Van Loo, P. et al. Allele-specific copy number analysis of tumors. Proc. Natl. Acad. Sci. USA 107, 16910–16915 (2010).

Greenman, C., Wooster, R., Futreal, P.A., Stratton, M.R. & Easton, D.F. Statistical analysis of pathogenicity of somatic mutations in cancer. Genetics 173, 2187–2198 (2006).
Acknowledgements
We thank M. Taylor and R. Leek for sample preparation. We are grateful to the patients for participating in the research and to the clinicians and support staff involved in their care from the Oxford University Hospitals NHS Trust, the University of Texas MD Anderson Cancer Center Sarcoma Program and the London Sarcoma Service. This work was supported by funding from the Wellcome Trust (grant reference 077012/Z/05/Z). The material was obtained from the Royal National Orthopaedic Hospital Musculoskeletal Research Program and Biobank and from the Oxford Radcliffe Biobank. Support was provided to A.M.F. by the National Institute for Health Research, the University College London Hospital Biomedical Research Centre and the Cancer Research UK University College London Experimental Cancer Medicine Centre. Support was provided to A.H. by Cancer Research UK, the Oxford Biomedical Research Centre and the Breast Cancer Research Foundation. P.J.C. is personally funded through a Wellcome Trust Senior Clinical Research Fellowship (grant reference WT088340MA). P.V.L. is a postdoctoral researcher of the Research Foundation–Flanders (FWO). H.K.M.V. is supported by the Norwegian Radium Hospital's Foundation. S.B. is funded through the Wellcome Trust PhD Programme for Clinicians. P.A.F. is supported by the Cancer Prevention Research Institute of Texas and the Welch Foundation.
Ethics declarations
Competing interests
C.B. is an employee of Pfizer.
Integrated supplementary information
Supplementary information
About this article
Cite this article
Behjati, S., Tarpey, P., Sheldon, H. et al. Recurrent PTPRB and PLCG1 mutations in angiosarcoma. Nat Genet 46, 376–379 (2014). https://doi.org/10.1038/ng.2921
Received:

Accepted:

Published:

Issue Date:

DOI: https://doi.org/10.1038/ng.2921