Abstract
Although mitochondrial DNA (mtDNA) is prone to mutation and few mtDNA repair mechanisms exist1, crippling mitochondrial mutations are exceedingly rare2. Recent studies have demonstrated strong purifying selection in the mouse female germline3,4. However, the mechanisms underlying positive selection of healthy mitochondria remain to be elucidated. We visualized mtDNA replication during Drosophila melanogaster oogenesis, finding that mtDNA replication commenced before oocyte determination during the late germarium stage and was dependent on mitochondrial fitness. We isolated a temperature-sensitive lethal mtDNA allele, mt:CoIT300I, which resulted in reduced mtDNA replication in the germarium at the restrictive temperature. Additionally, the frequency of the mt:CoIT300I allele in heteroplasmic flies was decreased, both during oogenesis and over multiple generations, at the restrictive temperature. Furthermore, we determined that selection against mt:CoIT300I overlaps with the timing of selective replication of mtDNA in the germarium. These findings establish a previously uncharacterized developmental mechanism for the selective amplification of wild-type mtDNA, which may be evolutionarily conserved to limit the transmission of deleterious mutations.
Relevant articles
Open Access articles citing this article.
Reproductive Biology and Endocrinology Open Access 17 March 2023

Martin Lang

,

Anne Grünewald

…

Irene Pichler

Cellular and Molecular Life Sciences Open Access 05 May 2022

Sunjoo Joo

,

Thamali Kariyawasam

…

Jae-Hyeok Lee

Nature Communications Open Access 03 March 2022
Access options
Subscribe to this journal
Receive 12 print issues and online access
$189.00 per year
only $15.75 per issue
Rent or buy this article
Get just this article for as long as you need it
$39.95
Prices may be subject to local taxes which are calculated during checkout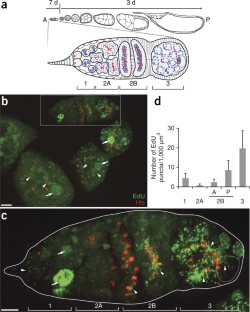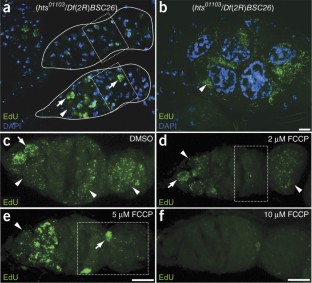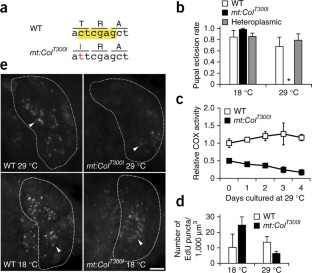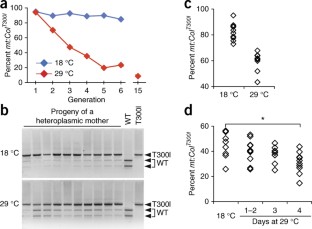 References
Wallace, D.C. A mitochondrial paradigm of metabolic and degenerative diseases, aging, and cancer: a dawn for evolutionary medicine. Annu. Rev. Genet. 39, 359–407 (2005).

Rand, D.M. Mitigating mutational meltdown in mammalian mitochondria. PLoS Biol. 6, e35 (2008).

Fan, W. et al. A mouse model of mitochondrial disease reveals germline selection against severe mtDNA mutations. Science 319, 958–962 (2008).

Stewart, J.B. et al. Strong purifying selection in transmission of mammalian mitochondrial DNA. PLoS Biol. 6, e10 (2008).

de Cuevas, M., Lilly, M.A. & Spradling, A.C. Germline cyst formation in Drosophila. Annu. Rev. Genet. 31, 405–428 (1997).

Horwitz, H.B. & Holt, C.E. Specific inhibition by ethidium bromide of mitochondrial DNA synthesis in physarum polycephalum. J. Cell Biol. 49, 546–553 (1971).

Lin, H., Yue, L. & Spradling, A.C. The Drosophila fusome, a germline-specific organelle, contains membrane skeletal proteins and functions in cyst formation. Development 120, 947–956 (1994).

Fornuskova, D. et al. Novel insights into the assembly and function of human nuclear-encoded cytochrome c oxidase subunits 4, 5a, 6a, 7a and 7b. Biochem. J. 428, 363–374 (2010).

Lou, P.-H. et al. Mitochondrial uncouplers with an extraordinary dynamic range. Biochem. J. 407, 129–140 (2007).

Xu, H., DeLuca, S.Z. & O'Farrell, P.H. Manipulating the animal mitochondrial genome with targeted restriction enzymes. Science 321, 575–577 (2008).

Chance, B. & Williams, G.R. Respiratory enzymes in oxidative phosphorylation. III. The steady state. J. Biol. Chem. 217, 409–427 (1955).

Niki, Y., Chigusa, S.I. & Matsuura, E.T. Complete replacement of mitochondrial DNA in Drosophila. Nature 341, 551–552 (1989).

Spradling, A.C. in The Development of Drosophila melanogaster eds. Bate, M. & Martinez, A. 1–70 (CSHL Press, Cold Spring Harbor, NY, 1993).

Chinnery, P.F. et al. The inheritance of mitochondrial DNA heteroplasmy: random drift, selection or both? Trends Genet. 16, 500–505 (2000).

Freyer, C. et al. Variation in germline mtDNA heteroplasmy is determined prenatally but modified during subsequent transmission. Nat. Genet. 44, 1282–1285 (2012).

Ma, H., Xu, H. & O'Farrell, P.H. Transmission of mitochondrial mutations and action of purifying selection in Drosophila melanogaster. Nat. Genet. 10.1038/ng.2919 (9 March 2014).

Shoubridge, E.A. & Wai, T. Medicine. Sidestepping mutational meltdown. Science 319, 914–915 (2008).

Cox, R.T. & Spradling, A.C. A Balbiani body and the fusome mediate mitochondrial inheritance during Drosophila oogenesis. Development 130, 1579–1590 (2003).

Wai, T., Teoli, D. & Shoubridge, E.A. The mitochondrial DNA genetic bottleneck results from replication of a subpopulation of genomes. Nat. Genet. 40, 1484–1488 (2008).

Cox, R.T. & Spradling, A.C. Milton controls the early acquisition of mitochondria by Drosophila oocytes. Development 133, 3371–3377 (2006).

Kloc, M., Bilinski, S. & Etkin, L.D. The Balbiani body and germ cell determinants: 150 years later. Curr. Top. Dev. Biol. 59, 1–36 (2004).

Pepling, M.E., Wilhelm, J.E., O'Hara, A.L., Gephardt, G.W. & Spradling, A.C. Mouse oocytes within germ cell cysts and primordial follicles contain a Balbiani body. Proc. Natl. Acad. Sci. USA 104, 187–192 (2007).

Zhou, R.R., Wang, B., Wang, J., Schatten, H. & Zhang, Y.Z. Is the mitochondrial cloud the selection machinery for preferentially transmitting wild-type mtDNA between generations? Rewinding Müller's ratchet efficiently. Curr. Genet. 56, 101–107 (2010).

Yoneda, M., Tanno, Y., Tsuji, S. & Attardi, G. Detection and quantification of point mutations in mitochondrial DNA by PCR. Methods Enzymol. 264, 432–441 (1996).

Koch, E.A. & Spitzer, R.H. Multiple effects of colchicine on oogenesis in Drosophila: induced sterility and switch of potential oocyte to nurse-cell developmental pathway. Cell Tissue Res. 228, 21–32 (1983).

Calleja, M. et al. Mitochondrial DNA remains intact during Drosophila aging, but the levels of mitochondrial transcripts are significantly reduced. J. Biol. Chem. 268, 18891–18897 (1993).
Acknowledgements
We are indebted to P. O'Farrell, in whose laboratory the mt:CoIT300I fly was isolated. We thank R. Balaban, T. Finkel, A. Michelson, H. Parthasarathy, N. Rusan and R. Youle for comments on the manuscript; P. O'Farrell and A. Spradling for their insightful discussions; P. Hwang for technical assistance; the Spradling laboratory (Carnegie Institute) and the Bloomington and Vienna stock centers for Drosophila stocks; Genetic Services, Inc., for embryo injection; and the Developmental Studies Hybridoma Bank for antibodies. This work was supported by the National, Heart, Lung, and Blood Institute (NHLBI) Intramural Program.
Ethics declarations
Competing interests
The authors declare no competing financial interests.
Integrated supplementary information
Supplementary information
About this article
Cite this article
Hill, J., Chen, Z. & Xu, H. Selective propagation of functional mitochondrial DNA during oogenesis restricts the transmission of a deleterious mitochondrial variant. Nat Genet 46, 389–392 (2014). https://doi.org/10.1038/ng.2920
Received:

Accepted:

Published:

Issue Date:

DOI: https://doi.org/10.1038/ng.2920