Abstract
The molecular mechanisms underlying angioimmunoblastic T cell lymphoma (AITL), a common type of mature T cell lymphoma of poor prognosis, are largely unknown. Here we report a frequent somatic mutation in RHOA (encoding p.Gly17Val) using exome and transcriptome sequencing of samples from individuals with AITL. Further examination of the RHOA mutation encoding p.Gly17Val in 239 lymphoma samples showed that the mutation was specific to T cell lymphoma and was absent from B cell lymphoma. We demonstrate that the RHOA mutation encoding p.Gly17Val, which was found in 53.3% (24 of 45) of the AITL cases examined, is oncogenic in nature using multiple molecular assays. Molecular modeling and docking simulations provided a structural basis for the loss of GTPase activity in the RHOA Gly17Val mutant. Our experimental data and modeling results suggest that the RHOA mutation encoding p.Gly17Val is a driver mutation in AITL. On the basis of these data and through integrated pathway analysis, we build a comprehensive signaling network for AITL oncogenesis.
Access options
Subscribe to Journal
Get full journal access for 1 year
$209.00
only $17.42 per issue
All prices are NET prices.
VAT will be added later in the checkout.
Rent or Buy article
Get time limited or full article access on ReadCube.
from$8.99
All prices are NET prices.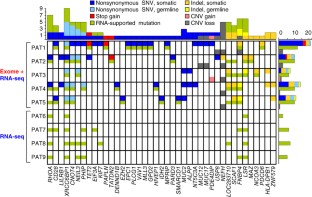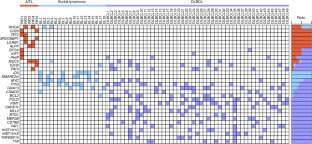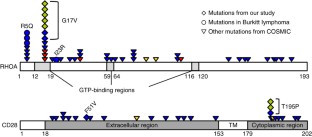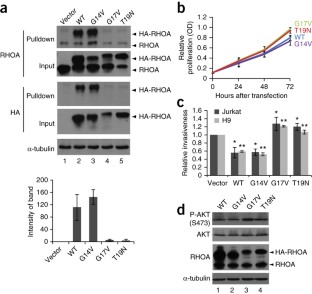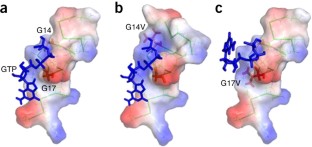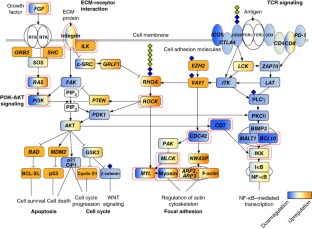 References
1

Vose, J., Armitage, J. & Weisenburger, D. International peripheral T-cell and natural killer/T-cell lymphoma study: pathology findings and clinical outcomes. J. Clin. Oncol. 26, 4124–4130 (2008).

2

Cairns, R.A. et al. IDH2 mutations are frequent in angioimmunoblastic T-cell lymphoma. Blood 119, 1901–1903 (2012).

3

Couronné, L., Bastard, C. & Bernard, O.A. TET2 and DNMT3A mutations in human T-cell lymphoma. N. Engl. J. Med. 366, 95–96 (2012).

4

de Leval, L. et al. The gene expression profile of nodal peripheral T-cell lymphoma demonstrates a molecular link between angioimmunoblastic T-cell lymphoma (AITL) and follicular helper T (TFH) cells. Blood 109, 4952–4963 (2007).

5

Richter, J. et al. Recurrent mutation of the ID3 gene in Burkitt lymphoma identified by integrated genome, exome and transcriptome sequencing. Nat. Genet. 44, 1316–1320 (2012).

6

Schmitz, R. et al. Burkitt lymphoma pathogenesis and therapeutic targets from structural and functional genomics. Nature 490, 116–120 (2012).

7

Lohr, J.G. et al. Discovery and prioritization of somatic mutations in diffuse large B-cell lymphoma (DLBCL) by whole-exome sequencing. Proc. Natl. Acad. Sci. USA 109, 3879–3884 (2012).

8

Zhang, J. et al. Genetic heterogeneity of diffuse large B-cell lymphoma. Proc. Natl. Acad. Sci. USA 110, 1398–1403 (2013).

9

Pasqualucci, L. et al. Inactivating mutations of acetyltransferase genes in B-cell lymphoma. Nature 471, 189–195 (2011).

10

Vogelstein, B. et al. Cancer genome landscapes. Science 339, 1546–1558 (2013).

11

Morin, P., Flors, C. & Olson, M.F. Constitutively active RhoA inhibits proliferation by retarding G1 to S phase cell cycle progression and impairing cytokinesis. Eur. J. Cell Biol. 88, 495–507 (2009).

12

Ghiaur, G. et al. Inhibition of RhoA GTPase activity enhances hematopoietic stem and progenitor cell proliferation and engraftment. Blood 108, 2087–2094 (2006).

13

Li, Z. et al. Regulation of PTEN by Rho small GTPases. Nat. Cell Biol. 7, 399–404 (2005).

14

Brazil, D.P., Park, J. & Hemmings, B.A. PKB binding proteins. Getting in on the Akt. Cell 111, 293–303 (2002).

15

Klink, B.U. et al. Structure of Shigella IpgB2 in complex with human RhoA: implications for the mechanism of bacterial guanine nucleotide exchange factor mimicry. J. Biol. Chem. 285, 17197–17208 (2010).

16

Piccaluga, P.P. et al. Gene expression analysis of peripheral T cell lymphoma, unspecified, reveals distinct profiles and new potential therapeutic targets. J. Clin. Invest. 117, 823–834 (2007).

17

Luo, W., Friedman, M., Shedden, K., Hankenson, K. & Woolf, P. GAGE: generally applicable gene set enrichment for pathway analysis. BMC Bioinformatics 10, 161 (2009).

18

Lemonnier, F. et al. Recurrent TET2 mutations in peripheral T-cell lymphomas correlate with TFH-like features and adverse clinical parameters. Blood 120, 1466–1469 (2012).

19

Ridley, A. Rho GTPases. Integrating integrin signaling. J. Cell Biol. 150, F107–F109 (2000).

20

Jaganathan, B.G., Anjos-Afonso, F., Kumar, A. & Bonnet, D. Active RHOA favors retention of human hematopoietic stem/progenitor cells in their niche. J. Biomed. Sci. 20, 66 (2013).

21

Vega, F.M., Fruhwirth, G., Ng, T. & Ridley, A.J. RhoA and RhoC have distinct roles in migration and invasion by acting through different targets. J. Cell Biol. 193, 655–665 (2011).

22

Cleverley, S.C., Costello, P.S., Henning, S.W. & Cantrell, D.A. Loss of Rho function in the thymus is accompanied by the development of thymic lymphoma. Oncogene 19, 13–20 (2000).

23

Forbes, S.A. et al. COSMIC: mining complete cancer genomes in the Catalogue of Somatic Mutations in Cancer. Nucleic Acids Res. 39, D945–D950 (2011).

24

Palomero, T. et al. Recurrent mutations in epigenetic regulators, RHOA and FYN kinase in peripheral T cell lymphomas. Nat. Genet. 46, 166–170 (2014).

25

Sakata-Yanagimoto, M. et al. Somatic RHOA mutation in angioimmunoblastic T cell lymphoma. Nat. Genet. 46, 171–175 (2014).

26

Su, I.H. et al. Polycomb group protein EZH2 controls actin polymerization and cell signaling. Cell 121, 425–436 (2005).

27

Li, H. & Durbin, R. Fast and accurate long-read alignment with Burrows-Wheeler transform. Bioinformatics 26, 589–595 (2010).

28

McKenna, A. et al. The Genome Analysis Toolkit: a MapReduce framework for analyzing next-generation DNA sequencing data. Genome Res. 20, 1297–1303 (2010).

29

Cibulskis, K. et al. Sensitive detection of somatic point mutations in impure and heterogeneous cancer samples. Nat. Biotechnol. 31, 213–219 (2013).

30

Saunders, C.T. et al. Strelka: accurate somatic small-variant calling from sequenced tumor-normal sample pairs. Bioinformatics 28, 1811–1817 (2012).

31

Wang, K., Li, M. & Hakonarson, H. ANNOVAR: functional annotation of genetic variants from high-throughput sequencing data. Nucleic Acids Res. 38, e164 (2010).

32

Langmead, B. & Salzberg, S.L. Fast gapped-read alignment with Bowtie 2. Nat. Methods 9, 357–359 (2012).

33

Albers, C.A. et al. Dindel: accurate indel calls from short-read data. Genome Res. 21, 961–973 (2011).

34

Trapnell, C., Pachter, L. & Salzberg, S.L. TopHat: discovering splice junctions with RNA-Seq. Bioinformatics 25, 1105–1111 (2009).

35

Trapnell, C. et al. Transcript assembly and quantification by RNA-Seq reveals unannotated transcripts and isoform switching during cell differentiation. Nat. Biotechnol. 28, 511–515 (2010).

36

Johnson, W.E., Li, C. & Rabinovic, A. Adjusting batch effects in microarray expression data using empirical Bayes methods. Biostatistics 8, 118–127 (2007).

37

Page, R.D. Visualizing phylogenetic trees using TreeView. Curr. Protoc. Bioinformatics Chapter 6, Unit 6.2 (2002).

38

Olshen, A.B., Venkatraman, E., Lucito, R. & Wigler, M. Circular binary segmentation for the analysis of array-based DNA copy number data. Biostatistics 5, 557–572 (2004).
Acknowledgements
We appreciate helpful discussion and comments from P.J. Park (Harvard Medical School). This work was supported by grants from the Samsung Biomedical Research Institute (SP2-B2-04 to Y.H.K., W.S.K. and H.Y.Y. and GE1-B2-071 to H.Y.Y.), the Samsung Cancer Research Institute (cancer genomics project SCRI-12-02), the National Research Foundation of Korea (NRF-2012M3A9D1054744 and NRF-2012M3A9B9036673 to S.L. and NRF-2011-0019745), the GIST (Gwangju Institute of Science and Technology) Systems Biology Infrastructure Establishment Grant through ERCSB (S.L. and J.K.) and the Ewha Global Top5 Grant of Ewha Womans University.
Ethics declarations
Competing interests
The authors declare no competing financial interests.
Integrated supplementary information
Supplementary information
About this article
Cite this article
Yoo, H., Sung, M., Lee, S. et al. A recurrent inactivating mutation in RHOA GTPase in angioimmunoblastic T cell lymphoma. Nat Genet 46, 371–375 (2014). https://doi.org/10.1038/ng.2916
Received:

Accepted:

Published:

Issue Date: