Abstract
Transcription factors mediate gene regulation by site-specific binding to chromosomal operators. It is commonly assumed that the level of repression is determined solely by the equilibrium binding of a repressor to its operator. However, this assumption has not been possible to test in living cells. Here we have developed a single-molecule chase assay to measure how long an individual transcription factor molecule remains bound at a specific chromosomal operator site. We find that the lac repressor dimer stays bound on average 5 min at the native lac operator in Escherichia coli and that a stronger operator results in a slower dissociation rate but a similar association rate. Our findings do not support the simple equilibrium model. The discrepancy with this model can, for example, be accounted for by considering that transcription initiation drives the system out of equilibrium. Such effects need to be considered when predicting gene activity from transcription factor binding strengths.
Relevant articles
Open Access articles citing this article.
Matthias Reisser

,

Johannes Hettich

…

J. Christof M. Gebhardt

Scientific Reports Open Access 04 February 2020

Matthias Reisser

,

Anja Palmer

…

J. Christof M. Gebhardt

Nature Communications Open Access 06 December 2018

Christophe Jung

,

Peter Bandilla

…

Ulrike Gaul

Nature Communications Open Access 23 April 2018
Access options
Subscribe to this journal
Receive 12 print issues and online access
$189.00 per year
only $15.75 per issue
Rent or buy this article
Get just this article for as long as you need it
$39.95
Prices may be subject to local taxes which are calculated during checkout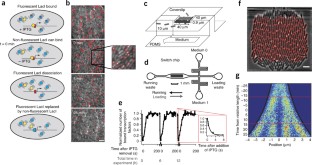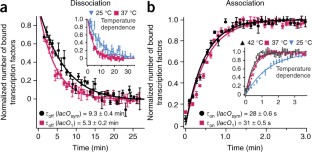 References
Bintu, L. et al. Transcriptional regulation by the numbers: applications. Curr. Opin. Genet. Dev. 15, 125–135 (2005).

Oehler, S., Amouyal, M., Kolkhof, P., von Wilcken-Bergmann, B. & Muller-Hill, B. Quality and position of the three lac operators of E. coli define efficiency of repression. EMBO J. 13, 3348–3355 (1994).

Oehler, S., Eismann, E.R., Kramer, H. & Muller-Hill, B. The three operators of the lac operon cooperate in repression. EMBO J. 9, 973–979 (1990).

Choi, P.J., Cai, L., Frieda, K. & Xie, X.S. A stochastic single-molecule event triggers phenotype switching of a bacterial cell. Science 322, 442–446 (2008).

Hammar, P. et al. The Lac repressor displays facilitated diffusion in living cells. Science 336, 1595–1598 (2012).

Riggs, A.D., Bourgeois, S. & Cohn, M. The lac repressor-operator interaction. 3. Kinetic studies. J. Mol. Biol. 53, 401–417 (1970).

Chang, W.I., Barrera, P. & Matthews, K.S. Identification and characterization of aspartate residues that play key roles in the allosteric regulation of a transcription factor: aspartate 274 is essential for inducer binding in lac repressor. Biochemistry 33, 3607–3616 (1994).

Bell, C.E. & Lewis, M. A closer view of the conformation of the Lac repressor bound to operator. Nat. Struct. Biol. 7, 209–214 (2000).

Bell, C.E. & Lewis, M. Crystallographic analysis of Lac repressor bound to natural operator O1. J. Mol. Biol. 312, 921–926 (2001).

Garcia, H.G. et al. Operator sequence alters gene expression independently of transcription factor occupancy in bacteria. Cell Reports 2, 150–161 (2012).

Sanchez, A., Osborne, M.L., Friedman, L.J., Kondev, J. & Gelles, J. Mechanism of transcriptional repression at a bacterial promoter by analysis of single molecules. EMBO J. 30, 3940–3946 (2011).

Kuhlman, T.E. & Cox, E.C. Gene location and DNA density determine transcription factor distributions in Escherichia coli. Mol. Syst. Biol. 8, 610 (2012).

Hermsen, R., ten Wolde, P.R. & Teichmann, S. Chance and necessity in chromosomal gene distributions. Trends Genet. 24, 216–219 (2008).

Vignali, M., Hassan, A.H., Neely, K.E. & Workman, J.L. ATP-dependent chromatin-remodeling complexes. Mol. Cell. Biol. 20, 1899–1910 (2000).

Seila, A.C., Core, L.J., Lis, J.T. & Sharp, P.A. Divergent transcription: a new feature of active promoters. Cell Cycle 8, 2557–2564 (2009).

Datsenko, K.A. & Wanner, B.L. One-step inactivation of chromosomal genes in Escherichia coli K-12 using PCR products. Proc. Natl. Acad. Sci. USA 97, 6640–6645 (2000).

Link, A.J., Phillips, D. & Church, G.M. Methods for generating precise deletions and insertions in the genome of wild-type Escherichia coli: application to open reading frame characterization. J. Bacteriol. 179, 6228–6237 (1997).

Ullman, G. et al. High-throughput gene expression analysis at the level of single proteins using a microfluidic turbidostat and automated cell tracking. Phil. Trans. R. Soc. Lond. B 368, 20120025 (2013).

Edelstein, A., Amodaj, N., Hoover, K., Vale, R. & Stuurman, N. Computer control of microscopes using microManager. Curr. Protoc. Mol. Biol. Chapter 14, Unit14.20 (2010).

Olivo-Marin, J.C. Extraction of spots in biological images using multiscale products. Pattern Recognit. 35, 1989–1996 (2002).

Sadler, B.M. & Swami, A. Analysis of multiscale products for step detection and estimation. IEEE Trans. Inf. Theory 45, 1043–1051 (1999).

Nagai, T. et al. A variant of yellow fluorescent protein with fast and efficient maturation for cell-biological applications. Nat. Biotechnol. 20, 87–90 (2002).

Elf, J., Li, G.W. & Xie, X.S. Probing transcription factor dynamics at the single-molecule level in a living cell. Science 316, 1191–1194 (2007).

Taniguchi, Y. et al. Quantifying E. coli proteome and transcriptome with single-molecule sensitivity in single cells. Science 329, 533–538 (2010).

Yu, J., Xiao, J., Ren, X., Lao, K. & Xie, X.S. Probing gene expression in live cells, one protein molecule at a time. Science 311, 1600–1603 (2006).
Acknowledgements
We thank K.S. Matthews for advice on LacI mutants, G.-W. Li for helpful comments, X.S. Xie (Harvard University) for the MalI-Venus strain and I. Barkefors for critical reading of the manuscript. This work was supported by the European Research Council (ERC), the Knut and Alice Wallenberg Foundation (KAW), Vetenskapsrådet (VR), the Foundation for Strategic Research (SSF) and the Göran Gustafsson Foundation.
Ethics declarations
Competing interests
The authors declare no competing financial interests.
Integrated supplementary information
Supplementary information
Supplementary Figures 1–8, Supplementary Table 1 and Supplementary Note (PDF 4833 kb)
About this article
Cite this article
Hammar, P., Walldén, M., Fange, D. et al. Direct measurement of transcription factor dissociation excludes a simple operator occupancy model for gene regulation. Nat Genet 46, 405–408 (2014). https://doi.org/10.1038/ng.2905
Received:

Accepted:

Published:

Issue Date:

DOI: https://doi.org/10.1038/ng.2905