Abstract
Allergen-specific immunoglobulin E (present in allergic sensitization) has a central role in the pathogenesis of allergic disease. We performed the first large-scale genome-wide association study (GWAS) of allergic sensitization in 5,789 affected individuals and 10,056 controls and followed up the top SNP at each of 26 loci in 6,114 affected individuals and 9,920 controls. We increased the number of susceptibility loci with genome-wide significant association with allergic sensitization from three to ten, including SNPs in or near TLR6, C11orf30, STAT6, SLC25A46, HLA-DQB1, IL1RL1, LPP, MYC, IL2 and HLA-B. All the top SNPs were associated with allergic symptoms in an independent study. Risk-associated variants at these ten loci were estimated to account for at least 25% of allergic sensitization and allergic rhinitis. Understanding the molecular mechanisms underlying these associations may provide new insights into the etiology of allergic disease.
Relevant articles
Open Access articles citing this article.
Vivek Prasad

,

Maha Abdullah

…

Sethu Thakachy Subha

The Egyptian Journal of Otolaryngology Open Access 23 December 2022

Merlijn van Breugel

,

Cancan Qi

…

Cheng-Jian Xu

Nature Communications Open Access 01 December 2022

Gengjie Jia

,

Xue Zhong

…

Julian Solway

Nature Communications Open Access 07 November 2022
Access options
Subscribe to Journal
Get full journal access for 1 year
$79.00
only $6.58 per issue
All prices are NET prices.
VAT will be added later in the checkout.
Tax calculation will be finalised during checkout.
Buy article
Get time limited or full article access on ReadCube.
$32.00
All prices are NET prices.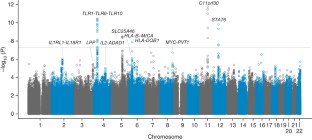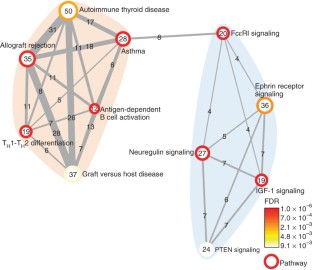 Accession codes
Accessions
ArrayExpress
Gene Expression Omnibus
References
Johansson, S.G. et al. Revised nomenclature for allergy for global use: report of the Nomenclature Review Committee of the World Allergy Organization, October 2003. J. Allergy Clin. Immunol. 113, 832–836 (2004).

Anderson, G.P. Endotyping asthma: new insights into key pathogenic mechanisms in a complex, heterogeneous disease. Lancet 372, 1107–1119 (2008).

Los, H., Postmus, P.E. & Boomsma, D.I. Asthma genetics and intermediate phenotypes: a review from twin studies. Twin Res. 4, 81–93 (2001).

Thomsen, S.F., Ulrik, C.S., Kyvik, K.O., Ferreira, M.A. & Backer, V. Multivariate genetic analysis of atopy phenotypes in a selected sample of twins. Clin. Exp. Allergy 36, 1382–1390 (2006).

Thomsen, S.F., van der Sluis, S., Kyvik, K.O. & Backer, V. A study of asthma severity in adult twins. Clin. Respir. J. 6, 228–237 (2012).

Vercelli, D. Discovering susceptibility genes for asthma and allergy. Nat. Rev. Immunol. 8, 169–182 (2008).

Ramasamy, A. et al. A genome-wide meta-analysis of genetic variants associated with allergic rhinitis and grass sensitization and their interaction with birth order. J. Allergy Clin. Immunol. 128, 996–1005 (2011).

Hinds, D.A. et al. A meta-analysis of self-reported allergy identifies shared and allergy-specific susceptibility loci. Nat. Genet. published online; 10.1035/ng.2686 (30 June 2013).

Zeller, T. et al. Genetics and beyond—the transcriptome of human monocytes and disease susceptibility. PLoS ONE 5, e10693 (2010).

Adhikary, S. & Eilers, M. Transcriptional regulation and transformation by Myc proteins. Nat. Rev. Mol. Cell Biol. 6, 635–645 (2005).

Huppi, K. et al. The identification of microRNAs in a genomically unstable region of human chromosome 8q24. Mol. Cancer Res. 6, 212–221 (2008).

Beck-Engeser, G.B. et al. Pvt1-encoded microRNAs in oncogenesis. Retrovirology 5, 4 (2008).

Sawcer, S. et al. Genetic risk and a primary role for cell-mediated immune mechanisms in multiple sclerosis. Nature 476, 214–219 (2011).

Esparza-Gordillo, J. et al. A common variant on chromosome 11q13 is associated with atopic dermatitis. Nat. Genet. 41, 596–601 (2009).

Ferreira, M.A. et al. Identification of IL6R and chromosome 11q13.5 as risk loci for asthma. Lancet 378, 1006–1014 (2011).

Anderson, C.A. et al. Meta-analysis identifies 29 additional ulcerative colitis risk loci, increasing the number of confirmed associations to 47. Nat. Genet. 43, 246–252 (2011).

Barrett, J.C. et al. Genome-wide association defines more than 30 distinct susceptibility loci for Crohn's disease. Nat. Genet. 40, 955–962 (2008).

Kormann, M.S. et al. Toll-like receptor heterodimer variants protect from childhood asthma. J. Allergy Clin. Immunol. 122, 86–92 (2008).

Lazarus, R. et al. TOLL-like receptor 10 genetic variation is associated with asthma in two independent samples. Am. J. Respir. Crit. Care Med. 170, 594–600 (2004).

Reijmerink, N.E. et al. Toll-like receptors and microbial exposure: gene-gene and gene-environment interaction in the development of atopy. Eur. Respir. J. 38, 833–840 (2011).

Tesse, R., Pandey, R.C. & Kabesch, M. Genetic variations in Toll-like receptor pathway genes influence asthma and atopy. Allergy 66, 307–316 (2011).

Potaczek, D.P. & Kabesch, M. Current concepts of IgE regulation and impact of genetic determinants. Clin. Exp. Allergy 42, 852–871 (2012).

Gudbjartsson, D.F. et al. Sequence variants affecting eosinophil numbers associate with asthma and myocardial infarction. Nat. Genet. 41, 342–347 (2009).

Savenije, O.E. et al. Interleukin-1 receptor–like 1 polymorphisms are associated with serum IL1RL1-a, eosinophils, and asthma in childhood. J. Allergy Clin. Immunol. 127, 750–756 (2011).

Ichii, H. et al. Role for Bcl-6 in the generation and maintenance of memory CD8+ T cells. Nat. Immunol. 3, 558–563 (2002).

Christensen, U. et al. Family based association analysis of the IL2 and IL15 genes in allergic disorders. Eur. J. Hum. Genet. 14, 227–235 (2006).

Howell, W.M. & Holgate, S.T. HLA genetics and allergic disease. Thorax 50, 815–818 (1995).

Franke, A. et al. Genome-wide meta-analysis increases to 71 the number of confirmed Crohn's disease susceptibility loci. Nat. Genet. 42, 1118–1125 (2010).

Martin, A.M. et al. Predisposition to abacavir hypersensitivity conferred by HLA-B*5701 and a haplotypic Hsp70-Hom variant. Proc. Natl. Acad. Sci. USA 101, 4180–4185 (2004).

Strange, A. et al. A genome-wide association study identifies new psoriasis susceptibility loci and an interaction between HLA-C and ERAP1. Nat. Genet. 42, 985–990 (2010).

Segrè, A.V., Groop, L., Mootha, V.K., Daly, M.J. & Altshuler, D. Common inherited variation in mitochondrial genes is not enriched for associations with type 2 diabetes or related glycemic traits. PLoS Genet. 6, e1001058 (2010).

Raychaudhuri, S. et al. Identifying relationships among genomic disease regions: predicting genes at pathogenic SNP associations and rare deletions. PLoS Genet. 5, e1000534 (2009).

Moffatt, M.F. et al. A large-scale, consortium-based genomewide association study of asthma. N. Engl. J. Med. 363, 1211–1221 (2010).

Paternoster, L. et al. Meta-analysis of genome-wide association studies identifies three new risk loci for atopic dermatitis. Nat. Genet. 44, 187–192 (2012).

Rabin, R.L. & Levinson, A.I. The nexus between atopic disease and autoimmunity: a review of the epidemiological and mechanistic literature. Clin. Exp. Immunol. 153, 19–30 (2008).

Pruim, R.J. et al. LocusZoom: regional visualization of genome-wide association scan results. Bioinformatics 26, 2336–2337 (2010).

Rathmann, W. et al. Incidence of type 2 diabetes in the elderly German population and the effect of clinical and lifestyle risk factors: KORA S4/F4 cohort study. Diabet. Med. 26, 1212–1219 (2009).

Mehta, D. et al. Impact of common regulatory single-nucleotide variants on gene expression profiles in whole blood. Eur. J. Hum. Genet. 21, 48–54 (2013).

Emilsson, V. et al. Genetics of gene expression and its effect on disease. Nature 452, 423–428 (2008).

Fairfax, B.P. et al. Genetics of gene expression in primary immune cells identifies cell type–specific master regulators and roles of HLA alleles. Nat. Genet. 44, 502–510 (2012).

Du, P., Kibbe, W.A. & Lin, S.M. lumi: a pipeline for processing Illumina microarray. Bioinformatics 24, 1547–1548 (2008).

Shabalin, A.A. Matrix eQTL: ultra fast eQTL analysis via large matrix operations. Bioinformatics 28, 1353–1358 (2012).

Raychaudhuri, S. VIZ-GRAIL: visualizing functional connections across disease loci. Bioinformatics 27, 1589–1590 (2011).
Ethics declarations
Competing interests
I.J., G.T., U.T. and K. Stefansson are employees of deCODE Genetics. The other authors declare no competing financial interests.
Supplementary information
Supplementary Figures 1–5, Supplementary Tables 1–19 and Supplementary Note (PDF 3106 kb)
About this article
Cite this article
Bønnelykke, K., Matheson, M., Pers, T. et al. Meta-analysis of genome-wide association studies identifies ten loci influencing allergic sensitization. Nat Genet 45, 902–906 (2013). https://doi.org/10.1038/ng.2694
Received:

Accepted:

Published:

Issue Date:

DOI: https://doi.org/10.1038/ng.2694