Abstract
Approaches exploiting trait distribution extremes may be used to identify loci associated with common traits, but it is unknown whether these loci are generalizable to the broader population. In a genome-wide search for loci associated with the upper versus the lower 5th percentiles of body mass index, height and waist-to-hip ratio, as well as clinical classes of obesity, including up to 263,407 individuals of European ancestry, we identified 4 new loci (IGFBP4, H6PD, RSRC1 and PPP2R2A) influencing height detected in the distribution tails and 7 new loci (HNF4G, RPTOR, GNAT2, MRPS33P4, ADCY9, HS6ST3 and ZZZ3) for clinical classes of obesity. Further, we find a large overlap in genetic structure and the distribution of variants between traits based on extremes and the general population and little etiological heterogeneity between obesity subgroups.
Relevant articles
Open Access articles citing this article.
Musalula Sinkala

,

Samar S. M. Elsheikh

…

Nicola J. Mulder

Communications Biology Open Access 14 January 2023

Jie Li

,

Pengxing Nie

…

Guang-Zhong Wang

Communications Biology Open Access 29 July 2022

Colinda C.J.M. Simons

,

Leo J. Schouten

…

Matty P. Weijenberg

BioData Mining Open Access 10 January 2022
Access options
Subscribe to this journal
Receive 12 print issues and online access
$189.00 per year
only $15.75 per issue
Rent or buy this article
Get just this article for as long as you need it
$39.95
Prices may be subject to local taxes which are calculated during checkout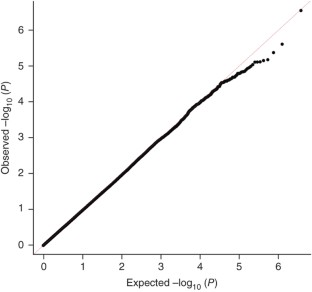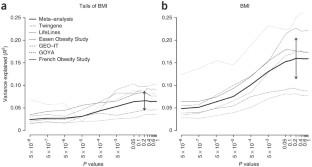 References
Maes, H.H., Neale, M.C. & Eaves, L.J. Genetic and environmental factors in relative body weight and human adiposity. Behav. Genet. 27, 325–351 (1997).

Stunkard, A.J., Foch, T.T. & Hrubec, Z. A twin study of human obesity. J. Am. Med. Assoc. 256, 51–54 (1986).

Silventoinen, K. et al. Heritability of adult body height: a comparative study of twin cohorts in eight countries. Twin Res. 6, 399–408 (2003).

Speliotes, E.K. et al. Association analyses of 249,796 individuals reveal 18 new loci associated with body mass index. Nat. Genet. 42, 937–948 (2010).

Okada, Y. et al. Common variants at CDKAL1 and KLF9 are associated with body mass index in east Asian populations. Nat. Genet. 44, 302–306 (2012).

Wen, W. et al. Meta-analysis identifies common variants associated with body mass index in east Asians. Nat. Genet. 44, 307–311 (2012).

Heid, I.M. et al. Meta-analysis identifies 13 new loci associated with waist-hip ratio and reveals sexual dimorphism in the genetic basis of fat distribution. Nat. Genet. 42, 949–960 (2010).

Lindgren, C.M. et al. Genome-wide association scan meta-analysis identifies three loci influencing adiposity and fat distribution. PLoS Genet. 5, e1000508 (2009).

Lango Allen, H. et al. Hundreds of variants clustered in genomic loci and biological pathways affect human height. Nature 467, 832–838 (2010).

Lee, S.H., Wray, N.R., Goddard, M.E. & Visscher, P.M. Estimating missing heritability for disease from genome-wide association studies. Am. J. Hum. Genet. 88, 294–305 (2011).

Zuk, O., Hechter, E., Sunyaev, S.R. & Lander, E.S. The mystery of missing heritability: genetic interactions create phantom heritability. Proc. Natl. Acad. Sci. USA 109, 1193–1198 (2012).

Duncan, E.L. et al. Genome-wide association study using extreme truncate selection identifies novel genes affecting bone mineral density and fracture risk. PLoS Genet. 7, e1001372 (2011).

Edmondson, A.C. et al. Dense genotyping of candidate gene loci identifies variants associated with high-density lipoprotein cholesterol. Circ. Cardiovasc. Genet. 4, 145–155 (2011).

Meyre, D. et al. Genome-wide association study for early-onset and morbid adult obesity identifies three new risk loci in European populations. Nat. Genet. 41, 157–159 (2009).

Scherag, A. et al. Two new loci for body-weight regulation identified in a joint analysis of genome-wide association studies for early-onset extreme obesity in French and German study groups. PLoS Genet. 6, e1000916 (2010).

Bradfield, J.P. et al. A genome-wide association meta-analysis identifies new childhood obesity loci. Nat. Genet. 44, 526–531 (2012).

Cohen, J.C. et al. Multiple rare alleles contribute to low plasma levels of HDL cholesterol. Science 305, 869–872 (2004).

Emond, M.J. et al. Exome sequencing of extreme phenotypes identifies DCTN4 as a modifier of chronic Pseudomonas aeruginosa infection in cystic fibrosis. Nat. Genet. 44, 886–889 (2012).

Harismendy, O. et al. Population sequencing of two endocannabinoid metabolic genes identifies rare and common regulatory variants associated with extreme obesity and metabolite level. Genome Biol. 11, R118 (2010).

Romeo, S. et al. Population-based resequencing of ANGPTL4 uncovers variations that reduce triglycerides and increase HDL. Nat. Genet. 39, 513–516 (2007).

Chan, Y. et al. Common variants show predicted polygenic effects on height in the tails of the distribution, except in extremely short individuals. PLoS Genet. 7, e1002439 (2011).

Cotsapas, C. et al. Common body mass index–associated variants confer risk of extreme obesity. Hum. Mol. Genet. 18, 3502–3507 (2009).

Paternoster, L. et al. Genome-wide population-based association study of extremely overweight young adults—the GOYA study. PLoS ONE 6, e24303 (2011).

Hinney, A. et al. Genome wide association (GWA) study for early onset extreme obesity supports the role of fat mass and obesity associated gene (FTO) variants. PLoS ONE 2, e1361 (2007).

Benzinou, M. et al. Common nonsynonymous variants in PCSK1 confer risk of obesity. Nat. Genet. 40, 943–945 (2008).

Jiao, H. et al. Genome wide association study identifies KCNMA1 contributing to human obesity. BMC Med. Genomics 4, 51 (2011).

den Hoed, M. et al. Evaluation of common genetic variants identified by GWAS for early onset and morbid obesity in population-based samples. Int. J. Obes. (Lond). 37, 191–196 (2013).

Willer, C.J. et al. Six new loci associated with body mass index highlight a neuronal influence on body weight regulation. Nat. Genet. 41, 25–34 (2009).

Pütter, C. et al. Missing heritability in the tails of quantitative traits? A simulation study on the impact of slightly altered true genetic models. Hum. Hered. 72, 173–181 (2011).

Williams, P.T. Quantile-specific penetrance of genes affecting lipoproteins, adiposity and height. PLoS ONE 7, e28764 (2012).

Guey, L.T. et al. Power in the phenotypic extremes: a simulation study of power in discovery and replication of rare variants. Genet. Epidemiol. Published online dx.doi.org/10.1002/gepi.20572 (9 February 2011).10.1002/gepi.20572

World Health Organization. Obesity: preventing and managing the global epidemic. Report of a WHO Consultation. in WHO Technical Report Series 8949 (World Health Organization, Geneva, 2000).

Kumanyika, S.K. et al. Population-based prevention of obesity: the need for comprehensive promotion of healthful eating, physical activity, and energy balance: a scientific statement from American Heart Association Council on Epidemiology and Prevention, Interdisciplinary Committee for Prevention (formerly the expert panel on population and prevention science). Circulation 118, 428–464 (2008).

Sarbassov, D.D. & Sabatini, D.M. Redox regulation of the nutrient-sensitive raptor-mTOR pathway and complex. J. Biol. Chem. 280, 39505–39509 (2005).

Daigo, K. et al. Proteomic analysis of native hepatocyte nuclear factor-4α (HNF4α) isoforms, phosphorylation status, and interactive cofactors. J. Biol. Chem. 286, 674–686 (2011).

Nakajima, H. et al. Hepatocyte nuclear factor-4α gene mutations in Japanese non-insulin dependent diabetes mellitus (NIDDM) patients. Res. Commun. Mol. Pathol. Pharmacol. 94, 327–330 (1996).

Cho, Y.S. et al. Meta-analysis of genome-wide association studies identifies eight new loci for type 2 diabetes in east Asians. Nat. Genet. 44, 67–72 (2012).

Dupuis, J. et al. New genetic loci implicated in fasting glucose homeostasis and their impact on type 2 diabetes risk. Nat. Genet. 42, 105–116 (2010).

Saxena, R. et al. Genetic variation in GIPR influences the glucose and insulin responses to an oral glucose challenge. Nat. Genet. 42, 142–148 (2010).

Shi, J. & Kandror, K.V. Sortilin is essential and sufficient for the formation of Glut4 storage vesicles in 3T3-L1 adipocytes. Dev. Cell 9, 99–108 (2005).

Kaddai, V. et al. Involvement of TNF-α in abnormal adipocyte and muscle sortilin expression in obese mice and humans. Diabetologia 52, 932–940 (2009).

Zhang, M. et al. Paracrine overexpression of IGFBP-4 in osteoblasts of transgenic mice decreases bone turnover and causes global growth retardation. J. Bone Miner. Res. 18, 836–843 (2003).

Liao, Y.C., Chen, N.T., Shih, Y.P., Dong, Y. & Lo, S.H. Up-regulation of C-terminal tensin-like molecule promotes the tumorigenicity of colon cancer through β-catenin. Cancer Res. 69, 4563–4566 (2009).

Milat, F. & Ng, K.W. Is Wnt signalling the final common pathway leading to bone formation? Mol. Cell Endocrinol. 310, 52–62 (2009).

Purcell, S.M. et al. Common polygenic variation contributes to risk of schizophrenia and bipolar disorder. Nature 460, 748–752 (2009).

Yang, J. et al. Conditional and joint multiple-SNP analysis of GWAS summary statistics identifies additional variants influencing complex traits. Nat. Genet. 44, 369–375 (2012).

Kilpeläinen, T.O., Bingham, S.A., Khaw, K.T., Wareham, N.J. & Loos, R.J. Association of variants in the PCSK1 gene with obesity in the EPIC-Norfolk study. Hum. Mol. Genet. 18, 3496–3501 (2009).

Willer, C.J., Li, Y. & Abecasis, G.R. METAL: fast and efficient meta-analysis of genomewide association scans. Bioinformatics 26, 2190–2191 (2010).

Morris, A.P. Direct analysis of unphased SNP genotype data in population-based association studies via Bayesian partition modelling of haplotypes. Genet. Epidemiol. 29, 91–107 (2005).

Emilsson, V. et al. Genetics of gene expression and its effect on disease. Nature 452, 423–428 (2008).

Dixon, A.L. et al. A genome-wide association study of global gene expression. Nat. Genet. 39, 1202–1207 (2007).

Zhong, H., Yang, X., Kaplan, L.M., Molony, C. & Schadt, E.E. Integrating pathway analysis and genetics of gene expression for genome-wide association studies. Am. J. Hum. Genet. 86, 581–591 (2010).

Min, J.L. et al. Coexpression network analysis in abdominal and gluteal adipose tissue reveals regulatory genetic loci for metabolic syndrome and related phenotypes. PLoS Genet. 8, e1002505 (2012).

Myers, A.J. et al. A survey of genetic human cortical gene expression. Nat. Genet. 39, 1494–1499 (2007).
Acknowledgements
A full list of acknowledgments appears in the Supplementary Note. Funding was provided by the Aarno Koskelo Foundation; the Academy of Finland; the Agency for Science, Technology and Research of Singapore; the Australian National Health and Medical Research Council; the Australian Research Council; BDA Research; the BioSHaRE Consortium; the British Heart Foundation; the Cedars-Sinai Board of Governors' Chair in Medical Genetics; the Centre for Clinical Research at the University of Leipzig; the Centre of Excellence in Genomics and the University of Tartu; the Chief Scientist Office of the Scottish government; the City of Kuopio and the Social Insurance Institution of Finland; the Department of Educational Assistance, the University and Research of the Autonomous Province of Bolzano; the Donald W. Reynolds Foundation; the Dutch Ministry for Health, Welfare and Sports; the Dutch Ministry of Education, Culture and Science; Dutch BBRMI-NL; the Dutch Brain Foundation; the Dutch Centre for Medical Systems Biology; the Dutch Diabetes Research Foundation; the Dutch Government Economic Structure–Enhancing Fund; the Dutch Inter-University Cardiology Institute; the Dutch Kidney Foundation; the Dutch Ministry of Economic Affairs; the Dutch Ministry of Justice; the Dutch Research Institute for Diseases in the Elderly; Eleanor Nichols endowments; the Emil Aaltonen Foundation; Erasmus Medical Center and Erasmus University; the Estonian government; the European Commission; the European Regional Development Fund; the European Research Council; the European Science Foundation; the Faculty of Biology and Medicine of Lausanne; Finland's Slot Machine Association; the Finnish Cultural Foundation; the Finnish Diabetes Research Foundation; the Finnish Foundation for Cardiovascular Research; the Finnish Funding Agency for Technology and Innovation; the Finnish Heart Association; the Finnish Medical Society; the Finnish Ministry of Education and Culture; the Finnish Ministry of Health and Social Affairs; the Finnish National Institute for Health and Welfare; the Finnish Social Insurance Institution; Finska Läkaresällskapet; the Folkhälsan Research Foundation; the Foundation for Life and Health in Finland; the French Ministry of Research; the French National Research Agency; the Genetic Association Information Network; the German Diabetes Association; the German Federal Ministry of Education and Research; the German Ministry of Cultural Affairs; the German National Genome Research Network; the German Research Foundation; GlaxoSmithKline; the Göteborg Medical Society; the Greek General Secretary of Research and Technology; the Gyllenberg Foundation; Health Care Centers in Vasa, Närpes and Korsholm; the Heinz Nixdorf Foundation; Helmholtz Zentrum München–German Research Center for Environmental Health; the Icelandic Heart Association; the Icelandic Parliament; the Intramural Research Program of the Division of Cancer Epidemiology and Genetics, the National Cancer Institute, NIH; Italian Ministry of Education, Universities and Research; Italian Ministry of Health; Juho Vainio Foundation; Juvenile Diabetes Research Foundation International; the Knut and Alice Wallenberg Foundation; Kuopio, Tampere and Turku University Hospital Medical Funds; the Leducq Foundation; the Lundberg Foundation; the March of Dimes; the Munich Center of Health Sciences as part of LMUinnovativ; the Municipal Health Care Center and Hospital in Jakobstad; the Municipality of Rotterdam; the Närpes Health Care Foundation; National Alliance for Research on Schizophrenia and Depression Young Investigator Awards; the Netherlands Genomics Initiative; the Netherlands Organization for Health Research and Development; UK NHSBT; US National Institutes of Health; the Nordic Center of Cardiovascular Research; the Nordic Center of Excellence in Disease Genetics; the Nordic Centre of Excellence on Systems Biology in Controlled Dietary Interventions and Cohort Studies; the Northern Netherlands Collaboration of Provinces; the Novo Nordisk Foundation; the Ollqvist Foundation; the Orion-Farmos Research Foundation; the Paavo Nurmi Foundation; the Päivikki and Sakari Sohlberg Foundation; the Perklen Foundation; the Petrus and Augusta Hedlunds Foundation; the Province of Groningen; the Republic of Croatia Ministry of Science, Education and Sport; the Reynold's Foundation; the Royal Society; Samfundet Folkhälsan; the Signe and Ane Gyllenberg Foundation; the Sigrid Juselius Foundation; the Social Ministry of the Federal State of Mecklenburg–West Pomerania; the Sophia Foundation for Medical Research; the South Tyrolean Sparkasse Foundation; the Southern California Diabetes Endocrinology Research Center; the Stockholm County Council; the Strategic Cardiovascular Program of Karolinska Institutet; Strategic Support for Epidemiological Research at Karolinska Institutet; the Susan G. Komen Breast Cancer Foundation; the Swedish Ministry for Higher Education; the Swedish Cancer Society; the Swedish Cultural Foundation in Finland; the Swedish Diabetes Association; the Swedish Foundation for Strategic Research; the Swedish Heart-Lung Foundation; the Swedish Medical Research Council; the Swedish Ministry of Education; the Swedish Research Council; the Swedish Royal Academy of Science; the Swedish Society for Medical Research; the Swedish Society of Medicine; the Swiss National Science Foundation; the Tampere Tuberculosis Foundation; The Great Wine Estates of the Margaret River Region of Western Australia; The Paul Michael Donovan Charitable Foundation; the Torsten and Ragnar Söderberg Foundation; Cancer Research UK; the UK Diabetes Association; the UK Heart Foundation; the UK MRC; the UK NIHR, Biomedical Research Centre; UK West Anglia Primary and Community Care; the University Medical Center Groningen and the University of Groningen; the Västra Götaland Foundation; VU University: the Institute for Health and Care Research and the Neuroscience Campus Amsterdam; the Wellcome Trust; and the Yrjö Jahnsson Foundation.