Abstract
The Vel antigen is present on red blood cells (RBCs) from all humans except rare Vel-negative individuals who can form antibodies to Vel in response to transfusion or pregnancy. These antibodies may cause severe hemolytic reactions in blood recipients. We combined SNP profiling and transcriptional network modeling to link the Vel-negative phenotype to SMIM1, located in a 97-kb haplotype block on chromosome 1p36. This gene encodes a previously undiscovered, evolutionarily conserved transmembrane protein expressed on RBCs. Notably, 35 of 35 Vel-negative individuals were homozygous for a frameshift deletion of 17 bp in exon 3. Functional studies using antibodies raised against SMIM1 peptides confirmed a null phenotype in RBC membranes, and SMIM1 overexpression induced Vel expression. Genotype screening estimated that ∼1 of 17 Swedish blood donors is a heterozygous deletion carrier and ∼1 of 1,200 is a homozygous deletion knockout and enabled identification of Vel-negative donors. Our results establish SMIM1 as a new erythroid gene and Vel as a new blood group system.
Relevant articles
Open Access articles citing this article.
Melania Barile

,

Ivan Imaz-Rosshandler

…

Berthold Göttgens

Genome Biology Open Access 05 July 2021

Nicole Thornton

,

Vanja Karamatic Crew

…

David J. Anstee

Nature Communications Open Access 16 July 2020

Mikael K. Christophersen

,

Magnus Jöud

…

Björn Nilsson

Scientific Reports Open Access 13 January 2017
Access options
Subscribe to Journal
Get full journal access for 1 year
$79.00
only $6.58 per issue
All prices are NET prices.
VAT will be added later in the checkout.
Tax calculation will be finalised during checkout.
Buy article
Get time limited or full article access on ReadCube.
$32.00
All prices are NET prices.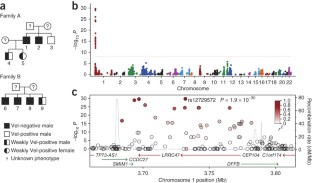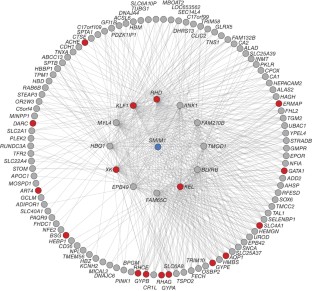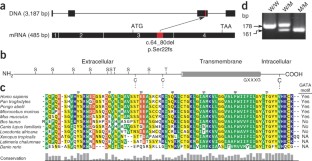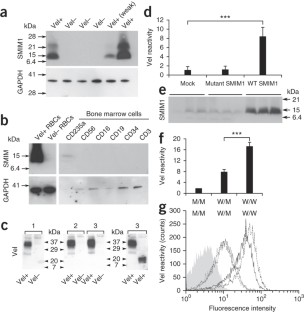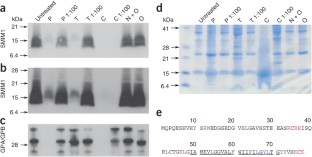 Accession codes
Primary accessions
NCBI Reference Sequence
Referenced accessions
Gene Expression Omnibus
NCBI Reference Sequence
References
Sussman, L.N. & Miller, E.B. New blood factor: Vel. Rev. Hematol. 7, 368–371 (1952).

Daniels, G. Human Blood Groups (Blackwell Science, Oxford, 2002).

Reid, M.E., Lomas-Francis, C. & Olsson, M.L. The Blood Group Antigen FactsBook (Academic Press, London, 2012).

Cedergren, B., Giles, C.M. & Ikin, E.W. The Vel blood group in northern Sweden. Vox Sang. 31, 344–355 (1976).

Levine, P., White, J.A. & Stroup, M. Seven Ve-a (Vel) negative members in three generations of a family. Transfusion 1, 111–115 (1961).

Storry, J.R., Åkerström, B. & Olsson, M.L. Investigation into the carrier molecule of the Vel blood group antigen. Transfusion 50 (suppl. 2), 28A (2010).

1000 Genomes Project Consortium. An integrated map of genetic variation from 1,092 human genomes. Nature 491, 56–65 (2012).

Haferlach, T. et al. Clinical utility of microarray-based gene expression profiling in the diagnosis and classification of leukemia. J. Clin. Oncol. 28, 2529–2537 (2010).

ENCODE Project Consortium. An integrated encyclopedia of DNA elements in the human genome. Nature 489, 57–74 (2012).

van Hoof, A. & Wagner, E.J. A brief survey of mRNA surveillance. Trends Biochem. Sci. 36, 585–592 (2011).

Shoemaker, C.J. & Green, R. Translation drives mRNA quality control. Nat. Struct. Mol. Biol. 19, 594–601 (2012).

Russ, W.P. & Engelman, D.M. The GxxxG motif: a framework for transmembrane helix-helix association. J. Mol. Biol. 296, 911–919 (2000).

Curran, A.R. & Engelman, D.M. Sequence motifs, polar interactions and conformational changes in helical membrane proteins. Curr. Opin. Struct. Biol. 13, 412–417 (2003).

MacKenzie, K.R. & Engelman, D.M. Structure-based prediction of the stability of transmembrane helix-helix interactions: the sequence dependence of glycophorin A dimerization. Proc. Natl. Acad. Sci. USA 95, 3583–3590 (1998).

Zelinski, T., Coghlan, G., Liu, X.Q. & Reid, M.E. ABCG2 null alleles define the Jr(a–) blood group phenotype. Nat. Genet. 44, 131–132 (2012).

Helias, V. et al. ABCB6 is dispensable for erythropoiesis and specifies the new blood group system Langereis. Nat. Genet. 44, 170–173 (2012).

Saison, C. et al. Null alleles of ABCG2 encoding the breast cancer resistance protein define the new blood group system Junior. Nat. Genet. 44, 174–177 (2012).

Quill, E. Blood-matching goes genetic. Science 319, 1478–1479 (2008).

Seltsam, A., Wagner, F.F., Salama, A. & Flegel, W.A. Antibodies to high-frequency antigens may decrease the quality of transfusion support: an observational study. Transfusion 43, 1563–1566 (2003).

Crosnier, C. et al. Basigin is a receptor essential for erythrocyte invasion by Plasmodium falciparum. Nature 480, 534–537 (2011).

Rowe, J.A., Opi, D.H. & Williams, T.N. Blood groups and malaria: fresh insights into pathogenesis and identification of targets for intervention. Curr. Opin. Hematol. 16, 480–487 (2009).

Moulds, J.M. & Moulds, J.J. Blood group associations with parasites, bacteria, and viruses. Transfus. Med. Rev. 14, 302–311 (2000).

Gilberger, T.W. et al. A novel erythrocyte binding antigen-175 paralogue from Plasmodium falciparum defines a new trypsin-resistant receptor on human erythrocytes. J. Biol. Chem. 278, 14480–14486 (2003).

Järvstråt, L., Johansson, M., Gullberg, U. & Nilsson, B. Ultranet: high-performance solver for the sparse inverse covariance selection problem in gene network modeling. Bioinformatics 29, 511–512 (2013).

Miller, S.A., Dykes, D.D. & Polesky, H.F. A simple salting out procedure for extracting DNA from human nucleated cells. Nucleic Acids Res. 16, 1215 (1988).

Dodge, J.T., Mitchell, C. & Hanahan, D.J. The preparation and chemical characteristics of hemoglobin-free ghosts of human erythrocytes. Arch. Biochem. Biophys. 100, 119–130 (1963).

Judd, W.J., Johnson, S.T. & Storry, J.R. Judd's Methods in Immunohematology (AABB Press, Bethesda, MD, 2008).
Acknowledgements
We thank J. Poole, J. Hamilton, H. Hustinx and the Serum, Cells and Rare Fluids (SCARF) exchange scheme for kindly providing samples for this study. We thank J. Adolfsson, L. Järvstråt and A. Hult for technical assistance. We are indebted to the individuals and their families who participated in this project. The study was supported by research grants from the Swedish Foundation for Strategic Research (ICA08-0057 to B.N.), the Swedish Research Council (14251 to M.L.O.), governmental Avtal om Läkarutbildning och Forskning (ALF) grants to the University and Regional Laboratories (Labmedicin Skåne; to J.R.S., M.J., B.N. and M.L.O.), the Medical Faculty at Lund University (B.N. and M.L.O.), the Skåne County Council's Research and Development foundation, Sweden (M.L.O.), The Crafoord Foundation (J.R.S.), Marianne and Marcus Wallenberg's Foundation (2010.0112 to B.N.), Harald Jeansson's Foundation (B.N.), the Swedish Society of Medicine (B.N.), the National Blood Foundation of the American Association of Blood Banks (J.R.S.) and Glashofs Legat (302499 to M.K.C.).
Ethics declarations
Competing interests
A patent application covering Vel typing using genetic information from SMIM1 has been filed (J.R.S., M.J., B.N. and M.L.O.).
Supplementary information
About this article
Cite this article
Storry, J., Jöud, M., Christophersen, M. et al. Homozygosity for a null allele of SMIM1 defines the Vel-negative blood group phenotype. Nat Genet 45, 537–541 (2013). https://doi.org/10.1038/ng.2600
Received:

Accepted:

Published:

Issue Date:

DOI: https://doi.org/10.1038/ng.2600