Abstract
The majority of epilepsies are focal in origin, with seizures emanating from one brain region. Although focal epilepsies often arise from structural brain lesions, many affected individuals have normal brain imaging. The etiology is unknown in the majority of individuals, although genetic factors are increasingly recognized. Autosomal dominant familial focal epilepsy with variable foci (FFEVF) is notable because family members have seizures originating from different cortical regions1. Using exome sequencing, we detected DEPDC5 mutations in two affected families. We subsequently identified mutations in five of six additional published large families with FFEVF. Study of families with focal epilepsy that were too small for conventional clinical diagnosis with FFEVF identified DEPDC5 mutations in approximately 12% of families (10/82). This high frequency establishes DEPDC5 mutations as a common cause of familial focal epilepsies. Shared homology with G protein signaling molecules and localization in human neurons suggest a role of DEPDC5 in neuronal signal transduction.
Relevant articles
Open Access articles citing this article.
R. Karge

,

C. Knopp

…

S. Wolking

Clinical Epileptology Open Access 10 March 2023

Chunyu Gu

,

Xiaowei Lu

…

Chunquan Cai

BMC Pediatrics Open Access 30 July 2022

Jia Zhang

,

Yajun Shen

…

Jing Gan

Journal of Human Genetics Open Access 11 August 2021
Access options
Subscribe to this journal
Receive 12 print issues and online access
$209.00 per year
only $17.42 per issue
Rent or buy this article
Prices vary by article type
from$1.95
to$39.95
Prices may be subject to local taxes which are calculated during checkout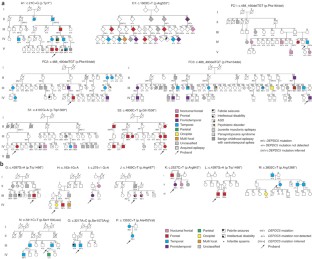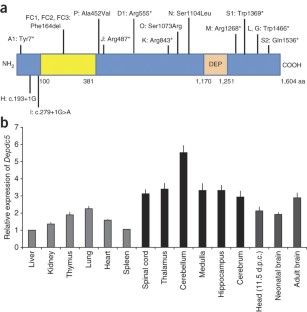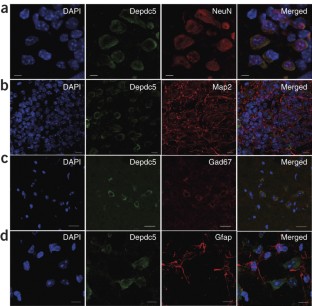 Accession codes
Accessions
NCBI Reference Sequence
References
Scheffer, I.E. et al. Familial partial epilepsy with variable foci: a new partial epilepsy syndrome with suggestion of linkage to chromosome 2. Ann. Neurol. 44, 890–899 (1998).

Xiong, L. et al. Mapping of a gene determining familial partial epilepsy with variable foci to chromosome 22q11-q12. Am. J. Hum. Genet. 65, 1698–1710 (1999).

Callenbach, P.M.C. et al. Familial partial epilepsy with variable foci in a Dutch family: clinical characteristics and confirmation of linkage to chromosome 22q. Epilepsia 44, 1298–1305 (2003).

Berkovic, S.F. et al. Familial partial epilepsy with variable foci: clinical features and linkage to chromosome 22q12. Epilepsia 45, 1054–1060 (2004).

Klein, K.M. et al. Familial focal epilepsy with variable foci mapped to chromosome 22q12: expansion of the phenotypic spectrum. Epilepsia 53, e151–e155 (2012).

Morales-Corraliza, J. et al. Familial partial epilepsy with variable foci: a new family with suggestion of linkage to chromosome 22q12. Epilepsia 51, 1910–1914 (2010).

Firth, H.V. et al. DECIPHER: Database of Chromosomal Imbalance and Phenotype in Humans using Ensembl Resources. Am. J. Hum. Genet. 84, 524–533 (2009).

Heron, S.E., Scheffer, I.E., Berkovic, S.F., Dibbens, L.M. & Mulley, J.C. Channelopathies in idiopathic epilepsy. Neurotherapeutics 4, 295–304 (2007).

Heron, S.E. et al. Missense mutations in the sodium-gated potassium channel gene KCNT1 cause severe autosomal dominant nocturanl frontal lobe epilepsy. Nat. Genet. 44, 1188–1190 (2012).

Mulley, J.C. & Dibbens, L.M. Genetic variations and associated pathophysiology in the management of epilepsy. Appl. Clin. Genet. 4, 113–125 (2011).

Chen, S. & Hamm, H.E. DEP domains: more than just membrane anchors. Dev. Cell 11, 436–438 (2006).

Simons, M. et al. Electrochemical cues regulate assembly of the Frizzled/Dishevelled complex at the plasma membrane during planar epithelial polarization. Nat. Cell Biol. 11, 286–294 (2009).

Kharrat, A. et al. Conformational stability studies of the pleckstrin DEP domain: definition of the domain boundaries. Biochim. Biophys. Acta 1385, 157–164 (1998).

Pan, W.J. et al. Characterization of function of three domains in dishevelled-1: DEP domain is responsible for membrane translocation of dishevelled-1. Cell Res. 14, 324–330 (2004).

Park, M. & Shen, K. WNTs in synapse formation and neuronal circuitry. EMBO J. 31, 2697–2704 (2012).

Kinton, L. et al. Partial epilepsy with pericentral spikes: a new familial epilepsy syndrome with evidence for linkage to chromosome 4p15. Ann. Neurol. 51, 740–749 (2002).

Scheffer, I.E. & Berkovic, S.F. Generalized epilepsy with febrile seizures plus: a genetic disorder with heterogenous clinical phenotypes. Brain 120, 479–490 (1997).

Sharp, A.J. et al. A recurrent 15q13.3 microdeletion syndrome associated with mental retardation and seizures. Nat. Genet. 40, 322–328 (2008).

Helbig, I. et al. 15q13.3 microdeletions increase risk of idiopathic generalized epilepsy. Nat. Genet. 41, 160–162 (2009).

Crompton, D.E. et al. Familial mesial temporal lobe epilepsy: a benign epilepsy syndrome showing complex inheritance. Brain 133, 3221–3231 (2010).

Reutens, D.C., Howell, R.A., Gebert, K.E. & Berkovic, S.F. Validation of a questionnaire for clinical seizure diagnosis. Epilepsia 33, 1065–1071 (1992).

Li, H. & Durbin, R. Fast and accurate short read alignment with Burrows-Wheeler transform. Bioinformatics 25, 1754–1760 (2009).

Kouadjo, K.E., Nishida, Y., Cadrin-Girard, J.F., Yoshioka, M. & St-Amand, J. Housekeeping and tissue-specific genes in mouse tissues. BMC Genomics 8, 127 (2007).

Yu, J. et al. Induced pluripotent stem cell lines derived from human somatic cells. Science 318, 1917–1920 (2007).

Dottori, M. & Pera, M.F. Neural differentiation of human embryonic stem cells. Methods Mol. Biol. 438, 19–30 (2008).

Witcher, M., Ross, D.T., Rousseau, C., Deluca, L. & Miller, W.H. Synergy between all-trans retinoic acid and tumor necrosis factor pathways in acute leukemia cells. Blood 102, 237–245 (2003).
Acknowledgements
We thank the individuals with epilepsy and their families for participating in our research. We thank B. Johns and R. Schultz for technical assistance and M. Broli, F. Provini, S. Foote and K. Praveen for assistance with family studies. We thank the Leiden Genome Technology Centre (LGTC) for exome sequencing of family D1. This work was supported by the National Health and Medical Research Council of Australia (Program grant 628952 to S.F.B., I.E.S., L.M.D., P.Q.T. and J.G., Australia Fellowship 466671 to S.F.B., Senior Research Fellowship 508043 to J.G., Practitioner Fellowship 1006110 to I.E.S., Training Fellowship 1016715 to S.E.H. and Career Development Fellowship 1032603 to L.M.D.) and by the Center of Medical System Biology (CMSB) established by the Netherlands Genomics Initiative/Netherlands Organisation for Scientific Research (NGI/NWO) to A.M.J.M.v.d.M., the Netherlands Organization for Scientific Research (NWO, 940-33-030) and the Dutch National Epilepsy Fund (98-14). P.M.C.C. received an unrestricted research grant from UCB Pharma (The Netherlands). J.S. received financial support from the Spanish government (grants EUI-EURC-2011-4325 within the EuroEPINOMICS-RES network and grant SAF2010-18586). D.E.C. received an unrestricted educational grant from UCB Pharma. P.Q.T. is a Pfizer Australia Research Fellow. K.M.K. was supported by a research fellowship from the Deutsche Forschungsgemeinschaft (KL 2254/1-1) and a scholarship from The University of Melbourne. This study makes use of data generated by the DECIPHER Consortium. A full list of centers who contributed to the generation of the data is available from the consortium website and via e-mail (decipher@sanger.ac.uk). Funding for the project was provided by the Wellcome Trust.
Ethics declarations
Competing interests
I.E.S., S.F.B., L.M.D. and S.E.H. have submitted a patent application to develop a diagnostic test for DEPDC5 sequence mutations. The application was filed by ITEK Ventures Pty. Ltd. on behalf of the University of South Australia and by The University of Melbourne.
Supplementary information
Supplementary Tables 1 and 2 and Supplementary Figures 1–3 (PDF 4924 kb)
About this article
Cite this article
Dibbens, L., de Vries, B., Donatello, S. et al. Mutations in DEPDC5 cause familial focal epilepsy with variable foci. Nat Genet 45, 546–551 (2013). https://doi.org/10.1038/ng.2599
Received:

Accepted:

Published:

Issue Date:

DOI: https://doi.org/10.1038/ng.2599