A new study in mice shows that, during meiosis, the decision to mature a double-strand break into a crossover is controlled by a dosage-sensitive regulator, RNF212. This finding provides insight into the crossover maturation process and may help explain how sequence polymorphisms in RNF212 alter the frequency of crossing over in humans.
Access options
Subscribe to Journal
Get full journal access for 1 year
$79.00
only $6.58 per issue
All prices are NET prices.
VAT will be added later in the checkout.
Tax calculation will be finalised during checkout.
Buy article
Get time limited or full article access on ReadCube.
$32.00
All prices are NET prices.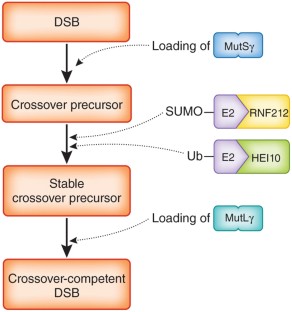 References
Page, S.L. & Hawley, R.S. Science 301, 785–789 (2003).

Keeney, S. Curr. Top. Dev. Biol. 52, 1–53 (2001).

Reynolds, A. et al. Nat. Genet. 45, 269–278 (2013).

Kong, A. et al. Science 319, 1398–1401 (2008).

Agarwal, S. & Roeder, G.S. Cell 102, 245–255 (2000).

Jantsch, V. et al. Mol. Cell Biol. 24, 7998–8006 (2004).

Bhalla, N., Wynne, D.J., Jantsch, V. & Dernburg, A.F. PLoS Genet. 4, e1000235 (2008).

Cheng, C.H., Lin, F.M., Lo, Y.H. & Wang, T.F. J. Biomed. Sci. 14, 481–490 (2007).

Wang, K. et al. PLoS Genet. 8, e1002809 (2012).

Chelysheva, L. et al. PLoS Genet. 8, e1002799 (2012).

Ward, J.O. et al. PLoS Genet. 3, e139 (2007).
Ethics declarations
Competing interests
The authors declare no competing financial interests.
About this article
Cite this article
Lake, C., Hawley, R. RNF212 marks the spot. Nat Genet 45, 228–229 (2013). https://doi.org/10.1038/ng.2559
Published:

Issue Date:

DOI: https://doi.org/10.1038/ng.2559