Abstract
X-chromosome inactivation (XCI) in mammals relies on XIST, a long noncoding transcript that coats and silences the X chromosome in cis. Here we report the discovery of a long noncoding RNA, XACT, that is expressed from and coats the active X chromosome specifically in human pluripotent cells. In the absence of XIST, XACT is expressed from both X chromosomes in humans but not in mice, suggesting a unique role for XACT in the control of human XCI initiation.
Access options
Subscribe to Journal
Get full journal access for 1 year
$59.00
only $4.92 per issue
All prices are NET prices.
VAT will be added later in the checkout.
Tax calculation will be finalised during checkout.
Rent or Buy article
Get time limited or full article access on ReadCube.
from$8.99
All prices are NET prices.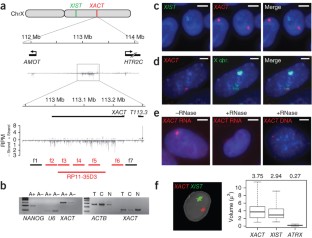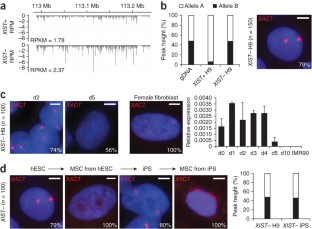 Accession codes
Primary accessions
Gene Expression Omnibus
References
1

Guttman, M. et al. Nature 458, 223–227 (2009).

2

Khalil, A.M. et al. Proc. Natl. Acad. Sci. USA 106, 11667–11672 (2009).

3

Augui, S., Nora, E.P. & Heard, E. Nat. Rev. Genet. 12, 429–442 (2011).

4

Dvash, T. & Fan, G. Epigenetics 4, 19–22 (2009).

5

The ENCODE Project Consortium. PLoS Biol. 9, e1001046 (2011).

6

Romanish, M.T., Lock, W.M., van de Lagemaat, L.N., Dunn, C.A. & Mager, D.L. PLoS Genet. 3, e10 (2007).

7

Sandelin, A. et al. Nat. Rev. Genet. 8, 424–436 (2007).

8

Silva, S.S., Rowntree, R.K., Mekhoubad, S. & Lee, J.T. Proc. Natl. Acad. Sci. USA 105, 4820–4825 (2008).

9

Mekhoubad, S. et al. Cell Stem Cell 10, 595–609 (2012).

10

Mitjavila-Garcia, M.T. et al. J. Mol. Cell Biol. 2, 291–298 (2010).

11

Shen, Y. et al. Proc. Natl. Acad. Sci. USA 105, 4709–4714 (2008).

12

Giuliani, M. et al. Blood 118, 3254–3262 (2011).

13

Okamoto, I. et al. Nature 472, 370–374 (2011).

14

Okamoto, I., Otte, A.P., Allis, C.D., Reinberg, D. & Heard, E. Science 303, 644–649 (2004).

15

Rougeulle, C. & Avner, P. Semin. Cell Dev. Biol. 14, 331–340 (2003).
Acknowledgements
We thank members of our laboratory and M. Lalande for stimulating discussion and critical reading of the manuscript. The research leading to these results has received funding from the European Research Council (ERC) under the European Community's Seventh Framework Programme (FP7/2007-2013)/ERC grant agreement 206875 and the INSERM (Avenir Program R0721HS).
Ethics declarations
Competing interests
The authors declare no competing financial interests.
Supplementary information
About this article
Cite this article
Vallot, C., Huret, C., Lesecque, Y. et al. XACT, a long noncoding transcript coating the active X chromosome in human pluripotent cells. Nat Genet 45, 239–241 (2013). https://doi.org/10.1038/ng.2530
Received:

Accepted:

Published:

Issue Date: