A new study reports whole-genome sequencing of a large collection of healthcare-associated C. difficile isolates, followed by comparative genomics and phylogenetic analyses. This work provides insight into the emergence of the current C. difficile epidemic 027/BI/NAP1 clone, which can be separated into two lineages on the basis of both SNPs and larger genetic changes mediated by mobile elements.
Access options
Subscribe to Journal
Get full journal access for 1 year
$79.00
only $6.58 per issue
All prices are NET prices.
VAT will be added later in the checkout.
Tax calculation will be finalised during checkout.
Buy article
Get time limited or full article access on ReadCube.
$32.00
All prices are NET prices.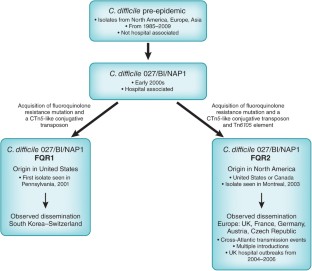 References
Bartlett, J.G. Ann. NY Acad. Sci. 1213, 62–69 (2010).

Kelly, C.P. & LaMont, J.T. N. Engl. J. Med. 359, 1932–1940 (2008).

Kuijper, E.J., Coignard, B. & Tull, P. Clin. Microbiol. Infect. 12 (suppl. 6), 2–18 (2006).

Riggs, M.M. et al. Clin. Infect. Dis. 45, 992–998 (2007).

Clements, A.C., Magalhaes, R.J., Tatem, A.J., Paterson, D.L. & Riley, T.V. Lancet Infect. Dis. 10, 395–404 (2010).

Muto, C.A. et al. Infect. Control Hosp. Epidemiol. 26, 273–280 (2005).

Pépin, J., Valiquette, L. & Cossette, B. CMAJ 173, 1037–1042 (2005).

He, M. et al. Nat. Genet. 45, 109–113 (2013).

O'Connor, J.R., Johnson, S. & Gerding, D.N. Gastroenterology 136, 1913–1924 (2009).

Brazier, J.S. et al. Euro Surveill. 13, pii: 19000 (2008).

Bauer, M.P. et al. Lancet 377, 63–73 (2011).

Kuijper, E.J. et al. Euro Surveill. 13, pii: 18942 (2008).

Stabler, R.A. et al. Genome Biol. 10, R102 (2009).

Croucher, N.J. et al. Science 331, 430–434 (2011).

Harris, S.R. et al. Science 327, 469–474 (2010).
Ethics declarations
Competing interests
The author declares no competing financial interests.
About this article
Cite this article
Rasko, D. Clostridium difficile healthcare-associated epidemics. Nat Genet 45, 6–7 (2013). https://doi.org/10.1038/ng.2499
Published:

Issue Date:

DOI: https://doi.org/10.1038/ng.2499