Abstract
We carried out whole-genome homozygosity mapping, gene expression analysis and DNA sequencing in individuals with isolated mitochondrial ATP synthase deficiency and identified disease-causing mutations in TMEM70. Complementation of the cell lines of these individuals with wild-type TMEM70 restored biogenesis and metabolic function of the enzyme complex. Our results show that TMEM70 is involved in mitochondrial ATP synthase biogenesis in higher eukaryotes.
Access options
Subscribe to Journal
Get full journal access for 1 year
$59.00
only $4.92 per issue
All prices are NET prices.
VAT will be added later in the checkout.
Tax calculation will be finalised during checkout.
Rent or Buy article
Get time limited or full article access on ReadCube.
from$8.99
All prices are NET prices.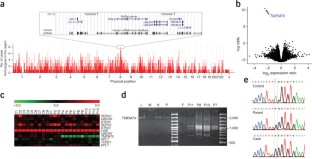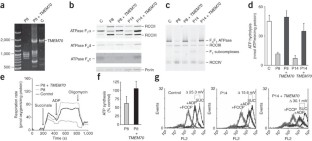 References
1

Collinson, I.R., Skehel, J.M., Fearnley, I.M., Runswick, M.J. & Walker, J.E. Biochemistry 35, 12640–12646 (1996).

2

Ackerman, S.H. & Tzagoloff, A. Prog. Nucleic Acid Res. Mol. Biol. 80, 95–133 (2005).

3

Pickova, A., Potocky, M. & Houstek, J. Proteins 59, 393–402 (2005).

4

Wang, Z.G., White, P.S. & Ackerman, S.H. J. Biol. Chem. 276, 30773–30778 (2001).

5

Zeng, X., Neupert, W. & Tzagoloff, A. Mol. Biol. Cell 18, 617–626 (2007).

6

Houstek, J. et al. Biochim. Biophys. Acta 1757, 1400–1405 (2006).

7

Schon, E.A., Santra, S., Pallotti, F. & Girvin, M.E. Semin. Cell Dev. Biol. 12, 441–448 (2001).

8

Jonckheere, A. et al. J. Med. Genet. 45, 129–133 (2007).

9

Houstek, J. et al. Hum. Mol. Genet. 8, 1967–1974 (1999).

10

Sperl, W. et al. Neuromuscul. Disord. 16, 821–829 (2006).

11

De Meirleir, L. et al. J. Med. Genet. 41, 120–124 (2004).

12

Mayr, J.A. et al. Pediatr. Res. 55, 988–994 (2004).

13

Cizkova, A. et al. BMC Genomics 9, 38 (2008).

14

Calvo, S. et al. Nat. Genet. 38, 576–582 (2006).
Acknowledgements
This study was supported by grants from Ministry of Education of Czech Republic (1M6837805002, AV0Z 50110509, MSM0021620806, Kontakt 14/2006), GAČR (305/08/H037), OeNB 12568, Päd. Forschungsverein and PMU Salzburg (06/04/022). We thank R.Gallyová, Š.Rosipal, V.Smolka, A.Hlavatá, P.Freisinger, M.Huemer and O.Bodamer, who provided samples from affected individuals for this study, and D. Seelow for bioinformatic support.
Supplementary information
Supplementary Figures 1–5, Supplementary Tables 1 and 2, Supplementary Methods (PDF 272 kb)
About this article
Cite this article
Čížková, A., Stránecký, V., Mayr, J. et al. TMEM70 mutations cause isolated ATP synthase deficiency and neonatal mitochondrial encephalocardiomyopathy. Nat Genet 40, 1288–1290 (2008). https://doi.org/10.1038/ng.246
Received:

Accepted:

Published:

Issue Date: