Three papers characterizing human germline mutation rates bolster evidence for a relatively low rate of base substitution in modern humans and highlight a central role for paternal age in determining rates of mutation. These studies represent the advent of a transformation in our understanding of mutation rates and processes, which may ultimately have public health implications.
This is a preview of subscription content
Access options
Subscribe to Journal
Get full journal access for 1 year
$59.00
only $4.92 per issue
All prices are NET prices.
VAT will be added later in the checkout.
Tax calculation will be finalised during checkout.
Buy article
Get time limited or full article access on ReadCube.
$32.00
All prices are NET prices.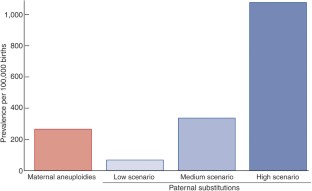 References
Campbell, C.D. et al. Nat. Genet. 44, 1277–1281 (2012).

Kong, A. et al. Nature 488, 471–475 (2012).

Sun, J.X. et al. Nat. Genet. 44, 1161–1165 (2012).

Conrad, D.F. et al. Nat. Genet. 43, 712–714 (2011).

Roach, J.C. et al. Science 328, 636–639 (2010).

Nachman, M.W. & Crowell, S.L. Genetics 156, 297–304 (2000).

Haldane, J.B.S. Ann. Eugen. 13, 262–271 (1947).

O'Roak, B.J. et al. Nature 485, 246–250 (2012).

Drost, J.B. & Lee, W.R. Environ. Mol. Mutagen. 25 Suppl 26, 48–64 (1995).

Hehir-Kwa, J.Y. et al. J. Med. Genet. 48, 776–778 (2011).

Savva, G.M., Walker, K. & Morris, J.K. Prenat. Diagn. 30, 57–64 (2010).

Office for National Statistics. Review of the National Statistician on Births and Patterns of Family Building in England and Wales, 2008 (Office for National Statistics, Newport, UK, 2009).

Huang, N., Lee, I., Marcotte, E.M. & Hurles, M.E. PLoS Genet. 6, e1001154 (2010).

Kryukov, G.V., Pennacchio, L.A. & Sunyaev, S.R. Am. J. Hum. Genet. 80, 727–739 (2007).

Boyko, A.R. et al. PLoS Genet. 4, e1000083 (2008).
Ethics declarations
Competing interests
The author declares no competing financial interests.
About this article
Cite this article
Hurles, M. Older males beget more mutations. Nat Genet 44, 1174–1176 (2012). https://doi.org/10.1038/ng.2448
Published:

Issue Date:

DOI: https://doi.org/10.1038/ng.2448
Further reading
Charles Auffray
Timothy Caulfield
Timothy Veenstra

Genome Medicine (2013)

Nature Genetics (2012)