Abstract
Chordoma is a rare malignant bone tumor that expresses the transcription factor T. We conducted an association study of 40 individuals with chordoma and 358 ancestry-matched controls, with replication in an independent cohort. Whole-exome and Sanger sequencing of T exons showed strong association of the common nonsynonymous SNP rs2305089 with chordoma risk (allelic odds ratio (OR) = 6.1, 95% confidence interval (CI) = 3.1–12.1; P = 4.4 × 10−9), a finding that is exceptional in cancers with a non-Mendelian mode of inheritance.
This is a preview of subscription content
Access options
Subscribe to Journal
Get full journal access for 1 year
$59.00
only $4.92 per issue
All prices are NET prices.
VAT will be added later in the checkout.
Tax calculation will be finalised during checkout.
Buy article
Get time limited or full article access on ReadCube.
$32.00
All prices are NET prices.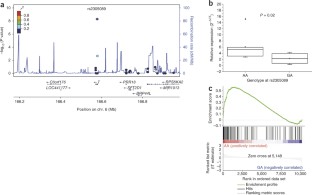 Accession codes
Primary accessions
ArrayExpress
References
McMaster, M.L. et al. Cancer Causes Control 12, 1–11 (2001).

Yang, X.R. et al. Nat. Genet. 41, 1176–1178 (2009).

Tirabosco, R. et al. Am. J. Surg. Pathol. 32, 572–580 (2008).

Stemple, D.L. Development 132, 2503–2512 (2005).

Presneau, N. et al. J. Pathol. 223, 327–335 (2011).

Le, L.P. et al. PLoS ONE 6, e18846 (2011).

Stephens, P.J. et al. Cell 144, 27–40 (2011).

Papapetrou, C. et al. FEBS Lett. 409, 201–206 (1997).

Nelson, A.C. et al. J. Pathol. published, online doi:10.1002/path.4082 (30 July 30 July 2012).

The ENCODE Project Consortium. PLoS Biol. 9, e1001046 (2011).

Tuch, B.B. et al. PLoS ONE 5, e9317 (2010).

Vujovic, S. et al. J. Pathol. 209, 157–165 (2006).

Easton, D.F. et al. Hum. Mol. Genet. 17, R109–R115 (2008).

Genin, E. et al. Mol. Psychiatry 16, 903–907 (2011).

Satagopan, J.M. et al. Cancer Epidemiol. Biomarkers Prev. 10, 467–473 (2001).
Acknowledgements
We are grateful to the study subjects for participating in the research and to the clinicians and support staff in the London Sarcoma Service involved in their care. We thank S. McLaren, C. Latimer, K. Raine and A. Butler at the The Wellcome Trust Sanger Institute for assistance with the exome sequencing. We are also grateful to L. Game (Head of Genomics Laboratory, MRC Clinical Sciences Centre) for assistance with aCGH scanning. We are particularly grateful to B. Liegl (Medical University of Graz) for providing us with the chordoma cell line, MUG-Chor1. The research was funded by the Skeletal Cancer Action Trust (SCAT), UK, The Pathological Society (N. Pillay), The Chordoma Foundation, The Rosetrees Foundation and the Wellcome Trust Sanger Institute (grant 98051). The research was part of the RNOH Musculoskeletal Research Programme and Biobank and the UCL Hospital (UCLH)/UCL Comprehensive Biomedical Research Programme and was supported by the UCL Experimental Cancer Centre.
Ethics declarations
Competing interests
The authors declare no competing financial interests.
Supplementary information
Supplementary Figures 1–8, Supplementary Tables 1–4 and Supplementary Methods (PDF 1562 kb)
About this article
Cite this article
Pillay, N., Plagnol, V., Tarpey, P. et al. A common single-nucleotide variant in T is strongly associated with chordoma. Nat Genet 44, 1185–1187 (2012). https://doi.org/10.1038/ng.2419
Received:

Accepted:

Published:

Issue Date:

DOI: https://doi.org/10.1038/ng.2419