Shigella sonnei is an important cause of bacterial dysentery in the developed world and has also recently emerged in transitional countries. Phylogenetic analysis based on whole-genome sequencing of a global sample has detailed the recent evolutionary history of this pathogen and shed light on the genetic changes associated with this epidemiological shift.
Access options
Subscribe to Journal
Get full journal access for 1 year
$79.00
only $6.58 per issue
All prices are NET prices.
VAT will be added later in the checkout.
Tax calculation will be finalised during checkout.
Buy article
Get time limited or full article access on ReadCube.
$32.00
All prices are NET prices.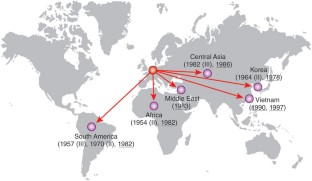 References
Niyogi, S.K. J. Microbiol. 43, 133–143 (2005).

Holt, K.E. Nat. Genet. 1056–1059 (2012).

Harris, S.R. et al. Science 327, 469–474 (2010).

Lan, R. & Reeves, P.R. Microbes Infect. 4, 1125–1132 (2002).

Nygren, B.L. et al. Epidemiol. Infect. 1–9 (2012).

McAdam, P.R. et al. Proc. Natl. Acad. Sci. USA 109, 9107–9112 (2012).

Morelli, G. et al. Nat. Genet. 42, 1140–1143 (2010).

Shepherd, J.G., Wang, L. & Reeves, P.R. Infect. Immun. 68, 6056–6061 (2000).

Liang, S.Y. et al. J. Clin. Microbiol. 45, 3574–3580 (2007).

Chiou, C.S. et al. J. Clin. Microbiol. 47, 1149–1154 (2009).

Vinh, H. et al. Trans. R. Soc. Trop. Med. Hyg. 94, 323–326 (2000).

Mammina, C., Aleo, A., Romani, C. & Nastasi, A. BMC Infect. Dis. 6, 117 (2006).

Liu, B. et al. FEMS Microbiol. Rev. 32, 627–653 (2008).

Sack, D.A., Hoque, A.T., Huq, A. & Etheridge, M. Lancet 343, 1413–1415 (1994).

Lee, L.A. et al. Am. J. Epidemiol. 133, 608–615 (1991).
Ethics declarations
Competing interests
The author declares no competing financial interests.
About this article
Cite this article
Feil, E. The emergence and spread of dysentery. Nat Genet 44, 964–965 (2012). https://doi.org/10.1038/ng.2389
Published:

Issue Date:

DOI: https://doi.org/10.1038/ng.2389
This article is cited by
Hao Chung The
Duy Pham Thanh
Stephen Baker

Nature Reviews Microbiology (2016)