Abstract
To search for new sequence variants that confer risk of cutaneous basal cell carcinoma (BCC), we conducted a genome-wide SNP association study of 930 Icelanders with BCC and 33,117 controls. After analyzing 304,083 SNPs, we observed signals from loci at 1p36 and 1q42, and replicated these associations in additional sample sets from Iceland and Eastern Europe. Overall, the most significant signals were from rs7538876 on 1p36 (OR = 1.28, P = 4.4 × 10−12) and rs801114 on 1q42 (OR = 1.28, P = 5.9 × 10−12). The 1p36 locus contains the candidate genes PADI4, PADI6, RCC2 and ARHGEF10L, and the gene nearest to the 1q42 locus is the ras-homolog RHOU. Neither locus was associated with fair pigmentation traits that are known risk factors for BCC, and no risk was observed for melanoma. Approximately 1.6% of individuals of European ancestry are homozygous for both variants, and their estimated risk of BCC is 2.68 times that of noncarriers.
Access options
Access options
Subscribe to Journal
Get full journal access for 1 year
$225.00
only $18.75 per issue
All prices are NET prices.
VAT will be added later in the checkout.
Rent or Buy article
Get time limited or full article access on ReadCube.
from$8.99
All prices are NET prices.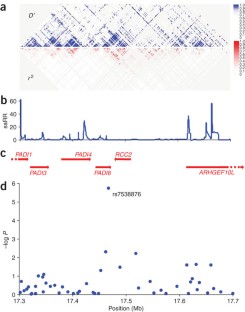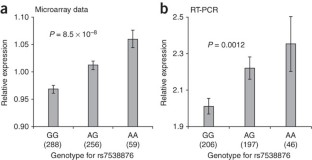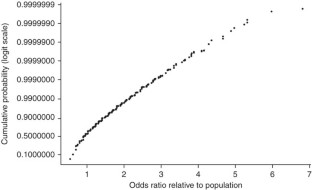 References
1

Lear, J.T., Hoban, P., Strange, R.C. & Fryer, A.A. Basal cell carcinoma: from host response and polymorphic variants to tumour suppressor genes. Clin. Exp. Dermatol. 30, 49–55 (2005).

2

Devlin, B. & Roeder, K. Genomic control for association studies. Biometrics 55, 997–1004 (1999).

3

Kutyavin, I.V. et al. A novel endonuclease IV post-PCR genotyping system. Nucleic Acids Res. 34, e128 (2006).

4

Scherer, D. et al. MC1R variants associated susceptibility to basal cell carcinoma of skin: interaction with host factors and XRCC3 polymorphism. Int. J. Cancer 122, 1787–1793 (2007).

5

Roewert-Huber, J., Lange-Asschenfeldt, B., Stockfleth, E. & Kerl, H. Epidemiology and aetiology of basal cell carcinoma. Br. J. Dermatol. 157 (Suppl. 2), 47–51 (2007).

6

Xu, L.Y. & Koo, J. Predictive value of phenotypic variables for skin cancer: risk assessment beyond skin typing. Int. J. Dermatol. 45, 1275–1283 (2006).

7

Bastiaens, M.T. et al. Melanocortin-1 receptor gene variants determine the risk of nonmelanoma skin cancer independently of fair skin and red hair. Am. J. Hum. Genet. 68, 884–894 (2001).

8

Han, J., Colditz, G.A. & Hunter, D.J. Risk factors for skin cancers: a nested case-control study within the Nurses' Health Study. Int. J. Epidemiol. 35, 1514–1521 (2006).

9

Han, J., Kraft, P., Colditz, G.A., Wong, J. & Hunter, D.J. Melanocortin 1 receptor variants and skin cancer risk. Int. J. Cancer 119, 1976–1984 (2006).

10

Gudbjartsson, D.F. et al. ASIP and TYR pigmentation variants associate with cutaneous melanoma and basal cell carcinoma. Nat. Genet. 40, 886–891 (2008).

11

Sulem, P. et al. Genetic determinants of hair, eye and skin pigmentation in Europeans. Nat. Genet. 39, 1443–1452 (2007).

12

Sulem, P. et al. Two newly identified genetic determinants of pigmentation in Europeans. Nat. Genet. 40, 835–837 (2008).

13

Markovic, S.N. et al. Malignant melanoma in the 21st century, part 1: epidemiology, risk factors, screening, prevention, and diagnosis. Mayo Clin. Proc. 82, 364–380 (2007).

14

Gyorgy, B., Toth, E., Tarcsa, E., Falus, A. & Buzas, E.I. Citrullination: a posttranslational modification in health and disease. Int. J. Biochem. Cell Biol. 38, 1662–1677 (2006).

15

Chavanas, S. et al. Peptidylarginine deiminases and deimination in biology and pathology: relevance to skin homeostasis. J. Dermatol. Sci. 44, 63–72 (2006).

16

Suzuki, A., Yamada, R. & Yamamoto, K. Citrullination by peptidylarginine deiminase in rheumatoid arthritis. Ann. NY Acad. Sci. 1108, 323–339 (2007).

17

Wysocka, J., Allis, C.D. & Coonrod, S. Histone arginine methylation and its dynamic regulation. Front. Biosci. 11, 344–355 (2006).

18

Esposito, G. et al. Peptidylarginine deiminase (PAD) 6 is essential for oocyte cytoskeletal sheet formation and female fertility. Mol. Cell. Endocrinol. 273, 25–31 (2007).

19

Mollinari, C. et al. The mammalian passenger protein TD-60 is an RCC1 family member with an essential role in prometaphase to metaphase progression. Dev. Cell 5, 295–307 (2003).

20

Winkler, S., Mohl, M., Wieland, T. & Lutz, S. GrinchGEF—a novel Rho-specific guanine nucleotide exchange factor. Biochem. Biophys. Res. Commun. 335, 1280–1286 (2005).

21

Tao, W., Pennica, D., Xu, L., Kalejta, R.F. & Levine, A.J. Wrch-1, a novel member of the Rho gene family that is regulated by Wnt-1. Genes Dev. 15, 1796–1807 (2001).

22

Yang, S.H. et al. Pathological responses to oncogenic Hedgehog signaling in skin are dependent on canonical Wnt/β-catenin signaling. Nat. Genet. 40, 1130–1135 (2008).

23

Hahn, H. et al. Mutations of the human homolog of Drosophila patched in the nevoid basal cell carcinoma syndrome. Cell 85, 841–851 (1996).

24

Johnson, R.L. et al. Human homolog of patched, a candidate gene for the basal cell nevus syndrome. Science 272, 1668–1671 (1996).

25

Emilsson, V. et al. Genetics of gene expression and its effect on disease. Nature 452, 423–428 (2008).

26

O'Driscoll, L. et al. Investigation of the molecular profile of basal cell carcinoma using whole genome microarrays. Mol. Cancer 5, 74 (2006).

27

Barrett, J.C. & Cardon, L.R. Evaluating coverage of genome-wide association studies. Nat. Genet. 38, 659–662 (2006).

28

Gretarsdottir, S. et al. The gene encoding phosphodiesterase 4D confers risk of ischemic stroke. Nat. Genet. 35, 131–138 (2003).
Acknowledgements
We thank G.H. Olafsdottir for assistance in the ascertainment of affected individuals.
Ethics declarations
Competing interests
Authors whose affiliations are listed as deCODE Genetics are shareholders and/or employees of deCODE Genetics, a biotechnology company. deCODE Genetics intends to incorporate the variants described in this paper into its genetic-testing services.
Supplementary information
Supplementary Tables 1–3 and Supplementary Figures 1 and 2 (PDF 159 kb)