Abstract
Uncertainty about the phase of strings of SNPs creates complications in genetic analysis, although methods have been developed for phasing population-based samples. However, these methods can only phase a small number of SNPs effectively and become unreliable when applied to SNPs spanning many linkage disequilibrium (LD) blocks. Here we show how to phase more than 1,000 SNPs simultaneously for a large fraction of the 35,528 Icelanders genotyped by Illumina chips. Moreover, haplotypes that are identical by descent (IBD) between close and distant relatives, for example, those separated by ten meioses or more, can often be reliably detected. This method is particularly powerful in studies of the inheritance of recurrent mutations and fine-scale recombinations in large sample sets. A further extension of the method allows us to impute long haplotypes for individuals who are not genotyped.
Access options
Subscribe to this journal
Receive 12 print issues and online access
$209.00 per year
only $17.42 per issue
Rent or buy this article
Prices vary by article type
from$1.95
to$39.95
Prices may be subject to local taxes which are calculated during checkout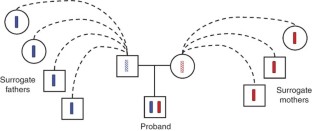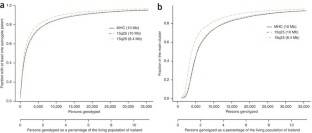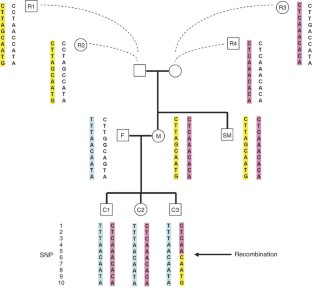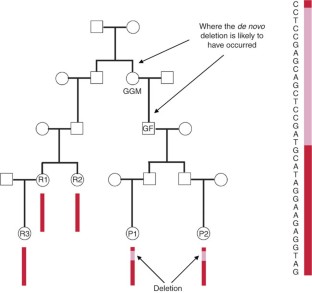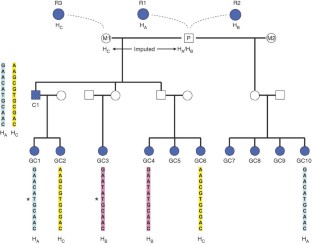 Similar content being viewed by others
References
Hawley, M.E. & Kidd, K.K. HAPLO: a program using the EM algorithm to estimate the frequencies of multi-site haplotypes. J. Hered. 86, 409–411 (1995).

Stephens, M. & Donnelly, P. A comparison of bayesian methods for haplotype reconstruction from population genotype data. Am. J. Hum. Genet. 73, 1162–1169 (2003).

Halperin, E. & Eskin, E. Haplotype reconstruction from genotype data using Imperfect Phylogeny. Bioinformatics 20, 1842–1849 (2004).

Marchini, J. et al. A comparison of phasing algorithms for trios and unrelated individuals. Am. J. Hum. Genet. 78, 437–450 (2006).

Scheet, P. & Stephens, M. A fast and flexible statistical model for large-scale population genotype data: applications to inferring missing genotypes and haplotypic phase. Am. J. Hum. Genet. 78, 629–644 (2006).

Goffman, C. And what is your Erdos number? Am. Math. Mon. 76, 791 (1969).

Kong, A. et al. A high-resolution recombination map of the human genome. Nat. Genet. 31, 241–247 (2002).

Winckler, W. et al. Comparison of fine-scale recombination rates in humans and chimpanzees. Science 308, 107–111 (2005).

Myers, S., Bottolo, L., Freeman, C., McVean, G. & Donnelly, P. A fine-scale map of recombination rates and hotspots across the human genome. Science 310, 321–324 (2005).

Jeffreys, A.J. & Neumann, R. Factors influencing recombination frequency and distribution in a human meiotic crossover hotspot. Hum. Mol. Genet. 14, 2277–2287 (2005).

Coop, G., Wen, X., Ober, C., Pritchard, J.K. & Przeworski, M. High-resolution mapping of crossovers reveals extensive variation in fine-scale recombination patterns among humans. Science 319, 1395–1398 (2008).

Weiss, L.A. et al. Association between microdeletion and microduplication at 16p11.2 and autism. N. Engl. J. Med. 358, 667–675 (2008).

Walsh, T. et al. Rare structural variants disrupt multiple genes in neurodevelopmental pathways in schizophrenia. Science 320, 539–543 (2008).

Stefansson, H. Large recurrent microdeletions associated with schizophrenia. Nature advance online publication, doi:10.1038/nature07229 (30 July 2008).

Thorlacius, S. et al. A single BRCA2 mutation in male and female breast cancer families from Iceland with varied cancer phenotypes. Nat. Genet. 13, 117–119 (1996).

Gudmundsson, J. et al. Frequent occurrence of BRCA2 linkage in Icelandic breast cancer families and segregation of a common BRCA2 haplotype. Am. J. Hum. Genet. 58, 749–756 (1996).

Saccone, S.F. et al. Cholinergic nicotinic receptor genes implicated in a nicotine dependence association study targeting 348 candidate genes with 3713 SNPs. Hum. Mol. Genet. 16, 36–49 (2007).

Thorgeirsson, T.E. et al. A variant associated with nicotine dependence, lung cancer and peripheral arterial disease. Nature 452, 638–642 (2008).

Hung, R.J. et al. A susceptibility locus for lung cancer maps to nicotinic acetylcholine receptor subunit genes on 15q25. Nature 452, 633–637 (2008).

Amos, C.I. et al. Genome-wide association scan of tag SNPs identifies a susceptibility locus for lung cancer at 15q25.1. Nat. Genet. 40, 616–622 (2008).

Burdick, J.T., Chen, W.M., Abecasis, G.R. & Cheung, V.G. In silico method for inferring genotypes in pedigrees. Nat. Genet. 38, 1002–1004 (2006).

Marchini, J., Howie, B., Myers, S., McVean, G. & Donnelly, P. A new multipoint method for genome-wide association studies by imputation of genotypes. Nat. Genet. 39, 906–913 (2007).

Lee, J.A., Carvalho, C.M. & Lupski, J.R.A. DNA replication mechanism for generating nonrecurrent rearrangements associated with genomic disorders. Cell 131, 1235–1247 (2007).
Ethics declarations
Competing interests
The authors from deCode genetics declare competing financial interests as stock holders in deCode genetics.
Supplementary information
About this article
Cite this article
Kong, A., Masson, G., Frigge, M. et al. Detection of sharing by descent, long-range phasing and haplotype imputation. Nat Genet 40, 1068–1075 (2008). https://doi.org/10.1038/ng.216
Received:

Accepted:

Published:

Issue Date:

DOI: https://doi.org/10.1038/ng.216