Abstract
We identified a strong association (P = 5.36 × 10−17) between rs492602 in FUT2 and plasma vitamin B12 levels in a genome-wide scan (n = 1,658) and an independent replication sample (n = 1,059) from the Nurses' Health Study. Women homozygous for the rs492602[G] allele had higher B12 levels. This allele is in strong linkage disequilibrium with the FUT2 nonsecretor variant encoding W143X, suggesting a plausible mechanism for altered B12 absorption and plasma levels.
This is a preview of subscription content
Access options
Subscribe to Journal
Get full journal access for 1 year
$59.00
only $4.92 per issue
All prices are NET prices.
VAT will be added later in the checkout.
Tax calculation will be finalised during checkout.
Buy article
Get time limited or full article access on ReadCube.
$32.00
All prices are NET prices.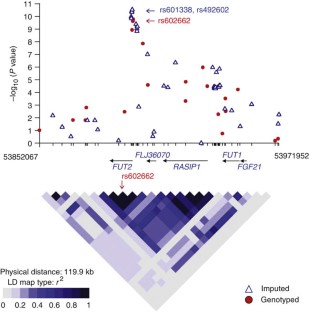 References
Siva, A. et al. QJM 100, 495–499 (2007).

Watanabe, F. Exp. Biol. Med. (Maywood) 232, 1266–1274 (2007).

Kang, J.H. et al. Epidemiology 17, 650–657 (2006).

Dahlin, A.M. et al. Int. J. Cancer 122, 2057–2061 (2008).

Tanner, S.M. et al. Hum. Mutat. 23, 327–333 (2004).

Hunter, D.J. et al. Nat. Genet. 39, 870–874 (2007).

Kelly, R.J. et al. J. Biol. Chem. 270, 4640–4649 (1995).

Koda, Y. et al. Genetics 158, 747–756 (2001).

Lindesmith, L.C. et al. PLoS Med. 5, e31 (2008).

Carmel, R. et al. J. Lab. Clin. Med. 109, 454–463 (1987).

Azevedo, M. et al. J. Pathol. 215, 308–316 (2008).

van Oijen, M.G. et al. J. Nutr. Sci. Vitaminol. (Tokyo) 50, 305–308 (2004).

Dholakia, K.R. et al. World J. Gastroenterol. 11, 7078–7083 (2005).

Annibale, B. et al. Dig. Liver Dis. 34 (Suppl. 2), S72–S77 (2002).

Tamura, A. et al. Am. J. Gastroenterol. 97, 861–866 (2002).
Acknowledgements
We thank H. Ranu, C. Chen and the staff at the Core Genotyping Facility at the National Cancer Institute for their expertise. This research is supported by the National Institutes of Health Research Grants U54 CA100971, P01 CA87969, P01 CA55075, U01 CA098233, R01 CA 065725 and CA070817. A.H. is supported in part by training grant NIH T-32 CA 09001-30.
Supplementary information
Supplementary Methods, Supplementary Figures 1–3, Supplementary Tables 1 and 2 (PDF 328 kb)
About this article
Cite this article
Hazra, A., Kraft, P., Selhub, J. et al. Common variants of FUT2 are associated with plasma vitamin B12 levels. Nat Genet 40, 1160–1162 (2008). https://doi.org/10.1038/ng.210
Received:

Accepted:

Published:

Issue Date:

DOI: https://doi.org/10.1038/ng.210