Abstract
Specific homeostatic mechanisms confer stability in innate immune responses, preventing injury or death from infection. Here we identify, from a screen of N-ethyl-N-nitrosourea–mutagenized mice, a mutation causing both profound susceptibility to infection by mouse cytomegalovirus and ∼20,000-fold sensitization to lipopolysaccharide (LPS), poly(I·C) and immunostimulatory (CpG) DNA. The LPS hypersensitivity phenotype is not suppressed by mutations in Myd88, Trif, Tnf, Tnfrsf1a, Ifnb, Ifng or Stat1, genes contributing to LPS responses, and results from an abnormality extrinsic to hematopoietic cells. The phenotype is due to a null allele of Kcnj8, encoding Kir6.1, a protein that combines with SUR2 to form an ATP-sensitive potassium channel (KATP) expressed in coronary artery smooth muscle and endothelial cells. In Drosophila melanogaster, suppression of dSUR by RNA interference similarly causes hypersensitivity to infection by flock house virus. Thus, KATP evolved to serve a homeostatic function during infection, and in mammals it prevents coronary artery vasoconstriction induced by cytokines dependent on TLR and/or MDA5 immunoreceptors.
Relevant articles
Open Access articles citing this article.
Qadeer Aziz

,

Jianmin Chen

…

Andrew Tinker

Journal of Molecular Medicine Open Access 06 July 2020

Pingxian Wu

,

Kai Wang

…

Guoqing Tang

BMC Genetics Open Access 07 January 2019

Scott T. O'Neal

,

Daniel R. Swale

&

Troy D. Anderson

Scientific Reports Open Access 17 August 2017
Access options
Subscribe to Journal
Get full journal access for 1 year
$79.00
only $6.58 per issue
All prices are NET prices.
VAT will be added later in the checkout.
Tax calculation will be finalised during checkout.
Buy article
Get time limited or full article access on ReadCube.
$32.00
All prices are NET prices.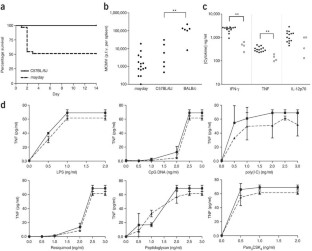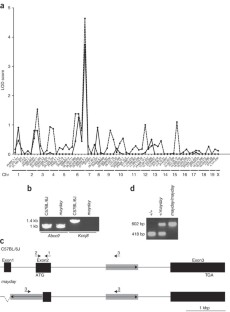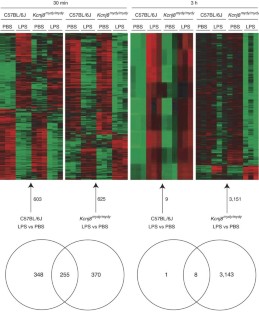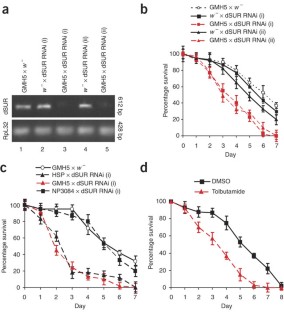 References
Beutler, B. et al. Genetic analysis of host resistance: Toll-like receptor signaling and immunity at large. Annu. Rev. Immunol. 24, 353–389 (2006).

Kawai, T. & Akira, S. Innate immune recognition of viral infection. Nat. Immunol. 7, 131–137 (2006).

Inohara, N., Chamaillard, M., McDonald, C. & Nunez, G. NOD-LRR proteins: role in host-microbial interactions and inflammatory disease. Annu. Rev. Biochem. 74, 355–383 (2005).

Hart, P.H. et al. Potential antiinflammatory effects of interleukin 4: suppression of human monocyte tumor necrosis factor α, interleukin 1, and prostaglandin E2. Proc. Natl. Acad. Sci. USA 86, 3803–3807 (1989).

Berg, D.J. et al. Interleukin-10 is a central regulator of the response to LPS in murine models of endotoxic shock and the Shwartzman reaction but not endotoxin tolerance. J. Clin. Invest. 96, 2339–2347 (1995).

Muchamuel, T., Menon, S., Pisacane, P., Howard, M.C. & Cockayne, D.A. IL-13 protects mice from lipopolysaccharide-induced lethal endotoxemia: correlation with down-modulation of TNF-α, IFN-γ, and IL-12 production. J. Immunol. 158, 2898–2903 (1997).

Hausmann, E.H., Hao, S.Y., Pace, J.L. & Parmely, M.J. Transforming growth factor β1 and γ interferon provide opposing signals to lipopolysaccharide-activated mouse macrophages. Infect. Immun. 62, 3625–3632 (1994).

Kinjyo, I. et al. SOCS1/JAB is a negative regulator of LPS-induced macrophage activation. Immunity 17, 583–591 (2002).

Nakagawa, R. et al. SOCS-1 participates in negative regulation of LPS responses. Immunity 17, 677–687 (2002).

Croker, B.A. et al. SOCS3 is a critical physiological negative regulator of G-CSF signaling and emergency granulopoiesis. Immunity 20, 153–165 (2004).

Kano, A. et al. Endothelial cells require STAT3 for protection against endotoxin-induced inflammation. J. Exp. Med. 198, 1517–1525 (2003).

Sly, L.M., Rauh, M.J., Kalesnikoff, J., Song, C.H. & Krystal, G. LPS-induced upregulation of SHIP is essential for endotoxin tolerance. Immunity 21, 227–239 (2004).

Boone, D.L. et al. The ubiquitin-modifying enzyme A20 is required for termination of Toll-like receptor responses. Nat. Immunol. 5, 1052–1060 (2004).

Kobayashi, K. et al. IRAK-M is a negative regulator of Toll-like receptor signaling. Cell 110, 191–202 (2002).

Crozat, K. et al. Analysis of the MCMV resistome by ENU mutagenesis. Mamm. Genome 17, 398–406 (2006).

Dokun, A.O. et al. Specific and nonspecific NK cell activation during virus infection. Nat. Immunol. 2, 951–956 (2001).

Brown, M.G. et al. Vital involvement of a natural killer cell activation receptor in resistance to viral infection. Science 292, 934–937 (2001).

Lee, S.H. et al. Susceptibility to mouse cytomegalovirus is associated with deletion of an activating natural killer cell receptor of the C-type lectin superfamily. Nat. Genet. 28, 42–45 (2001).

Hoebe, K. et al. Identification of Lps2 as a key transducer of MyD88-independent TIR signaling. Nature 424, 743–748 (2003).

Tabeta, K. et al. Toll-like receptors 9 and 3 as essential components of innate immune defense against mouse cytomegalovirus infection. Proc. Natl. Acad. Sci. USA 101, 3516–3521 (2004).

Krug, A. et al. TLR9-dependent recognition of MCMV by IPC and DC generates coordinated cytokine responses that activate antiviral NK cell function. Immunity 21, 107–119 (2004).

Presti, R.M., Pollock, J.L., Dal Canto, A.J., O'Guin, A.K. & Virgin, H.W. Interferon γ regulates acute and latent murine cytomegalovirus infection and chronic disease of the great vessels 1. J. Exp. Med. 188, 577–588 (1998).

Salazar-Mather, T.P., Lewis, C.A. & Biron, C.A. Type I interferons regulate inflammatory cell trafficking and macrophage inflammatory protein 1α delivery to the liver. J. Clin. Invest. 110, 321–330 (2002).

van Dommelen, S.L. et al. Perforin and granzymes have distinct roles in defensive immunity and immunopathology. Immunity 25, 835–848 (2006).

Pao, L.I. et al. Functional analysis of granzyme M and its role in immunity to infection. J. Immunol. 175, 3235–3243 (2005).

Crozat, K. et al. Jinx, an MCMV susceptibility phenotype caused by disruption of Unc13d: a mouse model of type 3 familial hemophagocytic lymphohistiocytosis. J. Exp. Med. 204, 853–863 (2007).

Miki, T. et al. Mouse model of Prinzmetal angina by disruption of the inward rectifier Kir6.1. Nat. Med. 8, 466–472 (2002).

Chutkow, W.A. et al. Episodic coronary artery vasospasm and hypertension develop in the absence of Sur2 KATP channels. J. Clin. Invest. 110, 203–208 (2002).

Kane, G.C. et al. Gene knockout of the KCNJ8-encoded Kir6.1 KATP channel imparts fatal susceptibility to endotoxemia. FASEB J. 20, 2271–2280 (2006).

Lehmann, V., Freudenberg, M.A. & Galanos, C. Lethal toxicity of lipopolysaccharide and tumor necrosis factor in normal and d-galactosamine-treated mice. J. Exp. Med. 165, 657–663 (1987).

Cherry, S. & Silverman, N. Host-pathogen interactions in Drosophila: new tricks from an old friend. Nat. Immunol. 7, 911–917 (2006).

Akasaka, T. et al. The ATP-sensitive potassium (KATP) channel-encoded dSUR gene is required for Drosophila heart function and is regulated by tinman. Proc. Natl. Acad. Sci. USA 103, 11999–12004 (2006).

Gitlin, L. et al. Essential role of mda-5 in type I IFN responses to polyriboinosinic:polyribocytidylic acid and encephalomyocarditis picornavirus. Proc. Natl. Acad. Sci. USA 103, 8459–8464 (2006).

Kato, H. et al. Differential roles of MDA5 and RIG-I helicases in the recognition of RNA viruses. Nature 441, 101–105 (2006).

Kato, H. et al. Cell type-specific involvement of RIG-I in antiviral response. Immunity 23, 19–28 (2005).

Yoneyama, M. et al. The RNA helicase RIG-I has an essential function in double-stranded RNA-induced innate antiviral responses. Nat. Immunol. 5, 730–737 (2004).

Georgel, P. et al. Vesicular stomatitis virus glycoprotein G activates a specific antiviral Toll-like receptor 4–dependent pathway. Virology 362, 304–313 (2007).

Takahashi, K. et al. Roles of caspase-8 and caspase-10 in innate immune responses to double-stranded RNA. J. Immunol. 176, 4520–4524 (2006).

Galanos, C., Freudenberg, M.A. & Reutter, W. Galactosamine-induced sensitization to the lethal effects of endotoxin. Proc. Natl. Acad. Sci. USA 76, 5939–5943 (1979).

Keppler, D.O., Schulz-Holstege, C., Fauler, J., Reiffen, K.A. & Schneider, F. Uridylate trapping, induction of UTP deficiency, and stimulation of pyrimidine synthesis de novo by D-galactosone. Biochem. J. 206, 139–146 (1982).

Leist, M. et al. Murine hepatocyte apoptosis induced in vitro and in vivo by TNF-α requires transcriptional arrest. J. Immunol. 153, 1778–1788 (1994).

Alekseev, A.E., Brady, P.A. & Terzic, A. Ligand-insensitive state of cardiac ATP-sensitive K+ channels. Basis for channel opening. J. Gen. Physiol. 111, 381–394 (1998).

Zambon, R.A., Vakharia, V.N. & Wu, L.P. RNAi is an antiviral immune response against a dsRNA virus in Drosophila melanogaster. Cell. Microbiol. 8, 880–889 (2006).

Dostert, C. et al. The Jak-STAT signaling pathway is required but not sufficient for the antiviral response of Drosophila. Nat. Immunol. 6, 946–953 (2005).

Galiana-Arnoux, D., Dostert, C., Schneemann, A., Hoffmann, J.A. & Imler, J.L. Essential function in vivo for Dicer-2 in host defense against RNA viruses in drosophila. Nat. Immunol. 7, 590–597 (2006).

Rutschmann, S. et al. PanR1, a dominant negative missense allele of the gene encoding TNF-α (Tnf), does not impair lymphoid development. J. Immunol. 176, 7525–7532 (2006).

Hoebe, K., Du, X., Goode, J., Mann, N. & Beutler, B. Lps2: a new locus required for responses to lipopolysaccharide, revealed by germline mutagenesis and phenotypic screening. J. Endotoxin Res. 9, 250–255 (2003).

Smyth, G.K. Linear models and empirical Bayes methods for assessing differential expression in microarray experiments. Stat. Appl. Genet. Mol. Biol. 3, Article 3 (2004).

Eisen, M.B., Spellman, P.T., Brown, P.O. & Botstein, D. Cluster analysis and display of genome-wide expression patterns. Proc. Natl. Acad. Sci. USA 95, 14863–14868 (1998).
Acknowledgements
We thank For M.B.A. Oldstone and J.L. Whitton (TSRI) for IFN-β– and IFN-γ–deficient mice, respectively; R. Bodmer (The Burnham Institute for Medical Research, La Jolla, California, USA) for the UAS-dSUR RNAi lines and the GMH5-Gal4 driver line; and C. Galanos and M.A. Freudenberg (Max Planck Institut für Immunbiologie, Freiburg, Germany) for LPS-free poly(I·C). This work was supported by a grant from the National Institutes of Health (AI070167). M.B. was supported by an European Molecular Biology Organization Long-Term Fellowship. This is TSRI manuscript no. 18948.
Supplementary information
About this article
Cite this article
Croker, B., Crozat, K., Berger, M. et al. ATP-sensitive potassium channels mediate survival during infection in mammals and insects. Nat Genet 39, 1453–1460 (2007). https://doi.org/10.1038/ng.2007.25
Received:

Accepted:

Published:

Issue Date:

DOI: https://doi.org/10.1038/ng.2007.25