Abstract
Hair, skin and eye colors are highly heritable and visible traits in humans. We carried out a genome-wide association scan for variants associated with hair and eye pigmentation, skin sensitivity to sun and freckling among 2,986 Icelanders. We then tested the most closely associated SNPs from six regions—four not previously implicated in the normal variation of human pigmentation—and replicated their association in a second sample of 2,718 Icelanders and a sample of 1,214 Dutch. The SNPs from all six regions met the criteria for genome-wide significance. A variant in SLC24A4 is associated with eye and hair color, a variant near KITLG is associated with hair color, two coding variants in TYR are associated with eye color and freckles, and a variant on 6p25.3 is associated with freckles. The fifth region provided refinements to a previously reported association in OCA2, and the sixth encompasses previously described variants in MC1R.
Relevant articles
Open Access articles citing this article.
Marco Antinucci

,

David Comas

&

Francesc Calafell

Human Genetics Open Access 14 June 2023

Rocio Caro-Consuegra

,

Marcel Lucas-Sánchez

…

Elena Bosch

Scientific Reports Open Access 20 May 2023

Ivie Uzamere

,

Yinqiao Wang

…

Yong Zhu

Communications Medicine Open Access 02 November 2022
Access options
Subscribe to this journal
Receive 12 print issues and online access
$209.00 per year
only $17.42 per issue
Rent or buy this article
Prices vary by article type
from$1.95
to$39.95
Prices may be subject to local taxes which are calculated during checkout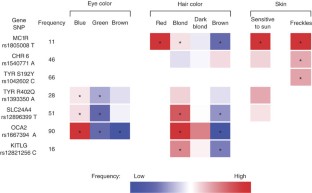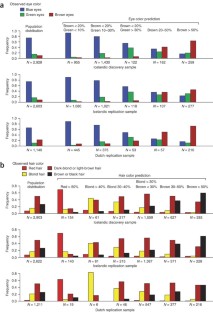 References
Relethford, J.H. Hemispheric difference in human skin color. Am. J. Phys. Anthropol. 104, 449–457 (1997).

Sturm, R.A. A golden age of human pigmentation genetics. Trends Genet. 22, 464–468 (2006).

Jablonski, N.G. & Chaplin, G. The evolution of human skin coloration. J. Hum. Evol. 39, 57–106 (2000).

Sturm, R.A., Box, N.F. & Ramsay, M. Human pigmentation genetics: the difference is only skin deep. Bioessays 20, 712–721 (1998).

Galton, F. Family-likeness in eye-colour. Nature 34, 137 (1886).

Posthuma, D. et al. Replicated linkage for eye color on 15q using comparative ratings of sibling pairs. Behav. Genet. 36, 12–17 (2006).

Barsh, G.S. What controls variation in human skin color? PLoS Biol. 1, E27 (2003).

Brauer, G. & Chopra, V.P. [Estimation of the heritability of hair and eye color.] Anthropol. Anz. 36, 109–120 (1978).

Bataille, V., Snieder, H., MacGregor, A.J., Sasieni, P. & Spector, T.D. Genetics of risk factors for melanoma: an adult twin study of nevi and freckles. J. Natl. Cancer Inst. 92, 457–463 (2000).

Eiberg, H. & Mohr, J. Major locus for red hair color linked to MNS blood groups on chromosome 4. Clin. Genet. 32, 125–128 (1987).

Hoekstra, H.E. Genetics, development and evolution of adaptive pigmentation in vertebrates. Heredity 97, 222–234 (2006).

Valverde, P., Healy, E., Jackson, I., Rees, J.L. & Thody, A.J. Variants of the melanocyte-stimulating hormone receptor gene are associated with red hair and fair skin in humans. Nat. Genet. 11, 328–330 (1995).

Rees, J.L. The genetics of sun sensitivity in humans. Am. J. Hum. Genet. 75, 739–751 (2004).

Makova, K. & Norton, H. Worldwide polymorphism at the MC1R locus and normal pigmentation variation in humans. Peptides 26, 1901–1908 (2005).

Eiberg, H. & Mohr, J. Assignment of genes coding for brown eye colour (BEY2) and brown hair colour (HCL3) on chromosome 15q. Eur. J. Hum. Genet. 4, 237–241 (1996).

Sturm, R.A. & Frudakis, T.N. Eye colour: portals into pigmentation genes and ancestry. Trends Genet. 20, 327–332 (2004).

Frudakis, T. et al. Sequences associated with human iris pigmentation. Genetics 165, 2071–2083 (2003).

Duffy, D.L. et al. A three-single-nucleotide polymorphism haplotype in intron 1 of OCA2 explains most human eye-color variation. Am. J. Hum. Genet. 80, 241–252 (2007).

Lamason, R.L. et al. SLC24A5, a putative cation exchanger, affects pigmentation in zebrafish and humans. Science 310, 1782–1786 (2005).

Norton, H.L. et al. Genetic evidence for the convergent evolution of light skin in Europeans and East Asians. Mol. Biol. Evol. 24, 710–722 (2007).

Bonilla, C. et al. The 8818G allele of the agouti signaling protein (ASIP) gene is ancestral and is associated with darker skin color in African Americans. Hum. Genet. 116, 402–406 (2005).

Shriver, M.D. et al. Skin pigmentation, biogeographical ancestry and admixture mapping. Hum. Genet. 112, 387–399 (2003).

Lao, O., de Gruijter, J.M., van Duijn, K., Navarro, A. & Kayser, M. Signatures of positive selection in genes associated with human skin pigmentation as revealed from analyses of single nucleotide polymorphisms. Ann. Hum. Genet. 71, 354–369 (2007).

McEvoy, B., Beleza, S. & Shriver, M.D. The genetic architecture of normal variation in human pigmentation: an evolutionary perspective and model. Hum. Mol. Genet. 15, R176–R181 (2006).

Myles, S., Somel, M., Tang, K., Kelso, J. & Stoneking, M. Identifying genes underlying skin pigmentation differences among human populations. Hum. Genet. 120, 613–621 (2007).

Williamson, S.H. et al. Localizing recent adaptive evolution in the human genome. PLoS Genet. 3, e90 (2007).

Lin, J.Y. & Fisher, D.E. Melanocyte biology and skin pigmentation. Nature 445, 843–850 (2007).

International HapMap Consortium. A haplotype map of the human genome. Nature 437, 1299–1320 (2005).

Wellcome Trust Case Control Consortium. Genome-wide association study of 14,000 cases of seven common diseases and 3,000 shared controls. Nature 447, 661–678 (2007).

Wehrle-Haller, B. The role of Kit-ligand in melanocyte development and epidermal homeostasis. Pigment Cell Res. 16, 287–296 (2003).

Seitz, J.J., Schmutz, S.M., Thue, T.D. & Buchanan, F.C. A missense mutation in the bovine MGF gene is associated with the roan phenotype in Belgian Blue and Shorthorn cattle. Mamm. Genome 10, 710–712 (1999).

Izagirre, N., Garcia, I., Junquera, C., de la Rua, C. & Alonso, S. A scan for signatures of positive selection in candidate loci for skin pigmentation in humans. Mol. Biol. Evol. 23, 1697–1706 (2006).

Harding, R.M. et al. Evidence for variable selective pressures at MC1R. Am. J. Hum. Genet. 66, 1351–1361 (2000).

Gulcher, J.R., Kristjansson, K., Gudbjartsson, H. & Stefansson, K. Protection of privacy by third-party encryption in genetic research in Iceland. Eur. J. Hum. Genet. 8, 739–742 (2000).

Fitzpatrick, T.B. The validity and practicality of sun-reactive skin types I through VI. Arch. Dermatol. 124, 869–871 (1988).

Gudmundsson, J. et al. Genome-wide association study identifies a second prostate cancer susceptibility variant at 8q24. Nat. Genet. 39, 631–637 (2007).

Gretarsdottir, S. et al. The gene encoding phosphodiesterase 4D confers risk of ischemic stroke. Nat. Genet. 35, 131–138 (2003).

Falk, C.T. & Rubinstein, P. Haplotype relative risks: an easy reliable way to construct a proper control sample for risk calculations. Ann. Hum. Genet. 51, 227–233 (1987).

Mantel, N. & Haenszel, W. Statistical aspects of the analysis of data from retrospective studies of disease. J. Natl. Cancer Inst. 22, 719–748 (1959).

Grant, S.F. et al. Variant of transcription factor 7-like 2 (TCF7L2) gene confers risk of type 2 diabetes. Nat. Genet. 38, 320–323 (2006).

Devlin, B. & Roeder, K. Genomic control for association studies. Biometrics 55, 997–1004 (1999).

Devlin, B., Bacanu, S.-A. & Roeder, K. Genomic control to the extreme. Nat. Genet. 36, 1129–1130 (2004).

Kutyavin, I.V. et al. A novel endonuclease IV post-PCR genotyping system. Nucleic Acids Res. 34, e128 (2006).

Seldin, M.F. et al. European population substructure: clustering of northern and southern populations. PLoS Genet. 2, e143 (2006).

Bersaglieri, T. et al. Genetic signatures of strong recent positive selection at the lactase gene. Am. J. Hum. Genet. 74, 1111–1120 (2004).

Price, A.L. et al. Principal components analysis corrects for stratification in genome-wide association studies. Nat. Genet. 38, 904–909 (2006).

Beaumont, M.A. & Nichols, R.A. Evaluating loci for use in the genetic analysis of population structure. Proc. R. Soc. Lond. B 263, 1619–1626 (1996).

Sabeti, P.C. et al. Detecting recent positive selection in the human genome from haplotype structure. Nature 419, 832–837 (2002).

Helgason, A. et al. Refining the impact of TCF7L2 gene variants on type 2 diabetes and adaptive evolution. Nat. Genet. 39, 218–225 (2007).

Voight, B.F., Kudaravalli, S., Wen, X. & Pritchard, J.K. A map of recent positive selection in the human genome. PLoS Biol. 4, e72 (2006).
Acknowledgements
We thank the study participants from Iceland and Holland whose contributions made this work possible. We also thank the nurses at Noatun (deCODE's sample recruitment center) and the personnel at the deCODE core facilities for their hard work and enthusiasm. This work was funded in part by contract number 018827 (Polygene) from the 6th Framework Program of the European Union.
Ethics declarations
Competing interests
The employees of deCODE Genetics own stocks and stock options in the company.
Supplementary information
About this article
Cite this article
Sulem, P., Gudbjartsson, D., Stacey, S. et al. Genetic determinants of hair, eye and skin pigmentation in Europeans. Nat Genet 39, 1443–1452 (2007). https://doi.org/10.1038/ng.2007.13
Received:

Accepted:

Published:

Issue Date:

DOI: https://doi.org/10.1038/ng.2007.13