Abstract
We present results from a genome-wide association study for variants associated with human pigmentation characteristics among 5,130 Icelanders, with follow-up analyses in 2,116 Icelanders and 1,214 Dutch individuals. Two coding variants in TPCN2 are associated with hair color, and a variant at the ASIP locus shows strong association with skin sensitivity to sun, freckling and red hair, phenotypic characteristics similar to those affected by well-known mutations in MC1R.
This is a preview of subscription content
Access options
Subscribe to Journal
Get full journal access for 1 year
$59.00
only $4.92 per issue
All prices are NET prices.
VAT will be added later in the checkout.
Tax calculation will be finalised during checkout.
Rent or Buy article
Get time limited or full article access on ReadCube.
from$8.99
All prices are NET prices.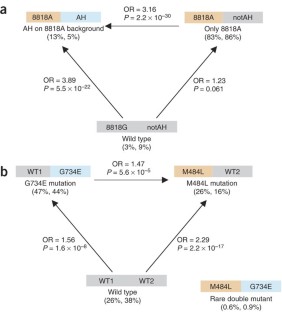 References
1

Sulem, P. et al. Nat. Genet. 39, 1443–1452 (2007).

2

Rees, J.L. Am. J. Hum. Genet. 75, 739–751 (2004).

3

Voisey, J. & van Daal, A. Pigment Cell Res. 15, 10–18 (2002).

4

Schmutz, S.M., Berryere, T.G., Barta, J.L., Reddick, K.D. & Schmutz, J.K. J. Hered. 98, 351–355 (2007).

5

Kanetsky, P.A. et al. Am. J. Hum. Genet. 70, 770–775 (2002).

6

Landi, M.T. et al. J. Natl. Cancer Inst. 97, 998–1007 (2005).

7

Meziani, R. et al. J. Dermatol. Sci. 40, 133–136 (2005).

8

Norton, H.L. et al. Mol. Biol. Evol. 24, 710–722 (2007).

9

Lamason, R.L. et al. Science 310, 1782–1786 (2005).

10

Box, N.F. et al. Mamm. Genome 9, 50–53 (1998).

11

Manga, P. et al. Am. J. Hum. Genet. 61, 1095–1101 (1997).

12

Frudakis, T. et al. Genetics 165, 2071–2083 (2003).

13

International HapMap Consortium. Nature 437, 1299–1320 (2005).

14

Fukai, K. et al. Nat. Genet. 9, 92–95 (1995).
Acknowledgements
This research was supported in part by the Intramural Research Program of the US National Institutes of Health National Cancer Institute.
Ethics declarations
Competing interests
The authors from deCODE own stock and stock options in the company.
Supplementary information
Supplementary Methods, Supplementary Figure 1 and Supplementary Tables 1–7 (PDF 223 kb)
About this article
Cite this article
Sulem, P., Gudbjartsson, D., Stacey, S. et al. Two newly identified genetic determinants of pigmentation in Europeans. Nat Genet 40, 835–837 (2008). https://doi.org/10.1038/ng.160
Received:

Accepted:

Published:

Issue Date: