Abstract
Digital clubbing, recognized by Hippocrates in the fifth century BC, is the outward hallmark of pulmonary hypertrophic osteoarthropathy, a clinical constellation that develops secondary to various acquired diseases, especially intrathoracic neoplasm1. The pathogenesis of clubbing and hypertrophic osteoarthropathy has hitherto been poorly understood, but a clinically indistinguishable primary (idiopathic) form of hypertrophic osteoarthropathy (PHO) is recognized2,3. This familial disorder can cause diagnostic confusion, as well as significant disability. By autozygosity methods, we mapped PHO to chromosome 4q33–q34 and identified mutations in HPGD, encoding 15-hydroxyprostaglandin dehydrogenase, the main enzyme of prostaglandin degradation. Homozygous individuals develop PHO secondary to chronically elevated prostaglandin E2 levels. Heterozygous relatives also show milder biochemical and clinical manifestations. These findings not only suggest therapies for PHO, but also imply that clubbing secondary to other pathologies may be prostaglandin mediated. Testing for HPGD mutations and biochemical testing for HPGD deficiency in patients with unexplained clubbing might help to obviate extensive searches for occult pathology.
Relevant articles
Open Access articles citing this article.
Tomoyuki Tanaka

,

Akira Takahashi

…

Hiroyuki Inose

Experimental & Molecular Medicine Open Access 06 June 2022

Wei Qiao

,

Dayu Pan

…

Xu Cao

Nature Communications Open Access 27 January 2022

Atsuhiko Handa

,

Gen Nishimura

…

Georges Y. El-Khoury

Japanese Journal of Radiology Open Access 25 October 2021
Access options
Subscribe to Journal
Get full journal access for 1 year
$79.00
only $6.58 per issue
All prices are NET prices.
VAT will be added later in the checkout.
Tax calculation will be finalised during checkout.
Buy article
Get time limited or full article access on ReadCube.
$32.00
All prices are NET prices.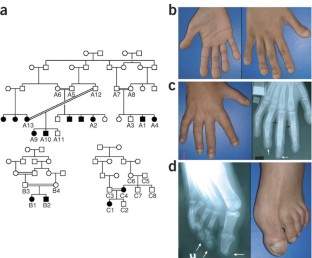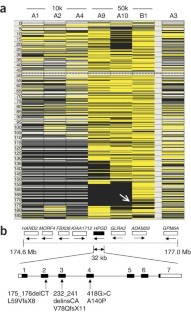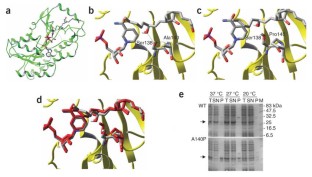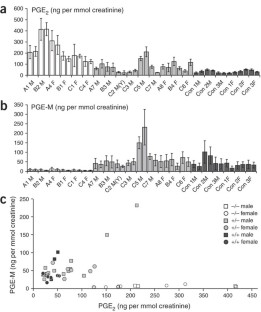 References
Coury, C. Hippocratic fingers and hypertrophic osteoarthropathy. A study of 350 cases. Br. J. Dis. Chest 54, 202–209 (1960).

Castori, M. et al. Pachydermoperiostosis: an update. Clin. Genet. 68, 477–486 (2005).

Touraine, A., Solente, G. & Gole, L. Un syndrome osteodermopathique: la pachydermie plicaturee avec pachyperiostose des extremites. Presse Med. 43, 1820–1824 (1935).

West, S. Two cases of clubbing of the fingers developing within a fortnight and four weeks, respectively, with remarks. Trans. Clin. Soc. London 30, 60–64 (1897).

Currarino, G., Tierney, R.C., Giesel, R.G. & Weihl, C. Familial idiopathic osteoarthropathy. Am. J. Roentgenol. Radium Ther. Nucl. Med. 85, 633–644 (1961).

Dabir, T. et al. Cranio-osteoarthropathy in sibs. Clin. Dysmorphol. 16, 197–201 (2007).

Forslund, T., Nyberg, A., Janne, S. & Viljanen, B. Hypertrophic osteoarthropathy and familial digital clubbing in a patient with surgical closed ductus arteriosus Botalli. Scand. J. Rheumatol. 16, 371–373 (1987).

Martinez-Lavin, M., Pineda, C., Navarro, C., Buendia, A. & Zabal, C. Primary hypertrophic osteoarthropathy: another heritable disorder associated with patent ductus arteriosus. Pediatr. Cardiol. 14, 181–182 (1993).

Joseph, B. & Chacko, V. Acro-osteolysis associated with hypertrophic pulmonary osteoarthropathy and pachydermoperiostosis. Radiology 154, 343–344 (1985).

Tai, H.-H., Ensor, C.M., Tong, M., Zhou, H. & Yan, F. Prostaglandin catabolizing enzymes. Prostaglandins Other Lipid Mediat. 68–69, 483–493 (2002).

Murphey, L.J. et al. Quantification of the major urinary metabolite of PGE2 by a liquid chromatographic/mass spectrometric assay: determination of cyclooxygenase-specific PGE2 synthesis in healthy humans and those with lung cancer. Anal. Biochem. 334, 266–275 (2004).

Chang, D.G. & Tai, H.-H. Prostaglandin 9-ketoreductase/type II 15-hydroxyprostaglandin dehydrogenase is not a prostaglandin specific enzyme. Biochem. Biophys. Res. Commun. 101, 898–904 (1981).

Tokumoto, H., Watanabe, K., Fukushima, D., Shimizu, T. & Hayaishi, O. An NADP-linked 15-hydroxyprostaglandin dehydrogenase specific for prostaglandin D2 from swine brain. J. Biol. Chem. 257, 13576–13580 (1982).

Pilbeam, C. & Raisz, L. Prostaglandins, leukotrienes and bone. in The Eicosanoids (ed. Curtis-Prior, P.) 289–298 (Wiley, Chichester, UK, 2004).

Martinez-Lavin, M. Digital clubbing and hypertrophic osteoarthropathy: a unifying hypothesis. J. Rheumatol. 14, 6–8 (1987).

Dickinson, C.J. & Martin, J.F. Megakaryocytes and platelet clumps as the cause of finger clubbing. Lancet 2, 1434–1435 (1987).

Ferreira, S.H. & Vane, J.R. Prostaglandins: their disappearance from and release into the circulation. Nature 216, 868–873 (1967).

Currie, A.E. & Gallagher, P.J. The pathology of clubbing: vascular changes in the nail bed. Br. J. Dis. Chest 82, 382–385 (1988).

Coggins, K.G. et al. Metabolism of PGE2 by prostaglandin dehydrogenase is essential for remodeling the ductus arteriosus. Nat. Med. 8, 91–92 (2002).

Ueda, K. et al. Cortical hyperostosis following long-term administration of prostaglandin E1 in infants with cyanotic congenital heart disease. J. Pediatr. 97, 834–836 (1980).

Cattral, M.S., Altraif, I., Greig, P.D., Blendis, L. & Levy, G.A. Toxic effects of intravenous and oral prostaglandin E therapy in patients with liver disease. Am. J. Med. 97, 369–373 (1994).

Backlund, M.G. et al. 15-Hydroxyprostaglandin dehydrogenase is down-regulated in colorectal cancer. J. Biol. Chem. 280, 3217–3223 (2005).

Ding, Y., Tong, M., Liu, S., Moscow, J.A. & Tai, H.H. NAD+-linked 15-hydroxyprostaglandin dehydrogenase (15-PGDH) behaves as a tumor suppressor in lung cancer. Carcinogenesis 26, 65–72 (2005).

Myung, S.J. et al. 15-Hydroxyprostaglandin dehydrogenase is an in vivo suppressor of colon tumorigenesis. Proc. Natl. Acad. Sci. USA 103, 12098–12102 (2006).

Lemen, R.J. et al. Relationships among digital clubbing, disease severity, and serum prostaglandins F2α and E concentrations in cystic fibrosis patients. Am. Rev. Respir. Dis. 117, 639–646 (1978).

Sinha, G.P. et al. Pachydermoperiostosis in childhood. Br. J. Rheumatol. 36, 1224–1227 (1997).

Latos-Bieleńska, A. et al. Pachydermoperiostosis–critical analysis with report of five unusual cases. Eur. J. Pediatr. 166, 1237–1243 (2007).

Carr, I.M., Flintoff, K.J., Taylor, G.R., Markham, A.F. & Bonthron, D.T. Interactive visual analysis of SNP data for rapid autozygosity mapping in consanguineous families. Hum. Mutat. 27, 1041–1046 (2006).

Cho, H. et al. Role of glutamine 148 of human 15-hydroxyprostaglandin dehydrogenase in catalytic oxidation of prostaglandin E2. Bioorg. Med. Chem. 14, 6486–6491 (2006).

Jung, A. et al. 15-Hydroxyprostaglandin dehydrogenase from human placenta. 1. Isolation and characterization [in German with English abstract]. Hoppe Seylers Z. Physiol. Chem. 356, 787–798 (1975).
Acknowledgements
This study was supported by the UK Medical Research Council (Clinical Research Training Fellowship to S.U.) and Cancer Research UK.
Supplementary information
Supplementary Figures 1–3, Supplementary Tables 1–2 and Supplementary Note (PDF 6347 kb)
About this article
Cite this article
Uppal, S., Diggle, C., Carr, I. et al. Mutations in 15-hydroxyprostaglandin dehydrogenase cause primary hypertrophic osteoarthropathy. Nat Genet 40, 789–793 (2008). https://doi.org/10.1038/ng.153
Received:

Accepted:

Published:

Issue Date:

DOI: https://doi.org/10.1038/ng.153