Abstract
To identify colorectal cancer (CRC) susceptibility alleles, we conducted a genome-wide association study. In phase 1, we genotyped 550,163 tagSNPs in 940 familial colorectal tumor cases (627 CRC, 313 high-risk adenoma) and 965 controls. In phase 2, we genotyped 42,708 selected SNPs in 2,873 CRC cases and 2,871 controls. In phase 3, we evaluated 11 SNPs showing association at P < 10−4 in a joint analysis of phases 1 and 2 in 4,287 CRC cases and 3,743 controls. Two SNPs were taken forward to phase 4 genotyping (10,731 CRC cases and 10,961 controls from eight centers). In addition to the previously reported 8q24, 15q13 and 18q21 CRC risk loci, we identified two previously unreported associations: rs10795668, located at 10p14 (P = 2.5 × 10−13 overall; P = 6.9 × 10−12 replication), and rs16892766, at 8q23.3 (P = 3.3 × 10−18 overall; P = 9.6 × 10−17 replication), which tags a plausible causative gene, EIF3H. These data provide further evidence for the 'common-disease common-variant' model of CRC predisposition.
Access options
Subscribe to this journal
Receive 12 print issues and online access
$209.00 per year
only $17.42 per issue
Rent or buy this article
Prices vary by article type
from$1.95
to$39.95
Prices may be subject to local taxes which are calculated during checkout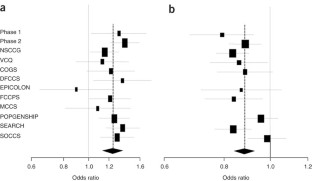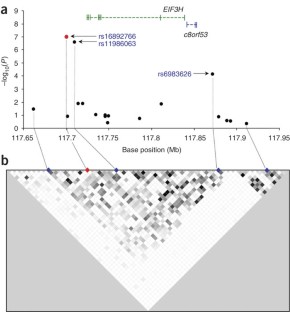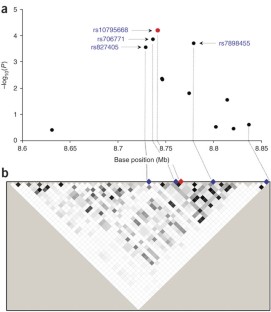 Similar content being viewed by others
References
Aaltonen, L., Johns, L., Jarvinen, H., Mecklin, J.P. & Houlston, R. Explaining the familial colorectal cancer risk associated with mismatch repair (MMR)-deficient and MMR-stable tumors. Clin. Cancer Res. 13, 356–361 (2007).

Tomlinson, I. et al. A genome-wide association scan of tag SNPs identifies a susceptibility variant for colorectal cancer at 8q24.21. Nat. Genet. 39, 984–988 (2007).

Broderick, P. et al. A genome-wide association study shows that common alleles of SMAD7 influence colorectal cancer risk. Nat. Genet. 39, 1315–1317 (2007).

Jaeger, E. et al. Common genetic variants at the CRAC1 (HMPS) locus on chromosome 15q13.3 influence colorectal cancer risk. Nat. Genet. 40, 26–28 (2008).

Antoniou, A.C. & Easton, D.F. Polygenic inheritance of breast cancer: implications for design of association studies. Genet. Epidemiol. 25, 190–202 (2003).

Houlston, R.S. & Peto, J. The future of association studies of common cancers. Hum. Genet. 112, 434–435 (2003).

Clayton, D.G. et al. Population structure, differential bias and genomic control in a large-scale, case-control association study. Nat. Genet. 37, 1243–1246 (2005).

Jaeger, E.E. et al. An ancestral Ashkenazi haplotype at the HMPS/CRAC1 locus on 15q13-q14 is associated with hereditary mixed polyposis syndrome. Am. J. Hum. Genet. 72, 1261–1267 (2003).

Shima, H. et al. Loss of heterozygosity on chromosome 10p14-p15 in colorectal carcinoma. Pathobiology 72, 220–224 (2005).

Savinainen, K.J. et al. Expression and copy number analysis of TRPS1, EIF3S3 and MYC genes in breast and prostate cancer. Br. J. Cancer 90, 1041–1046 (2004).

Okamoto, H., Yasui, K., Zhao, C., Arii, S. & Inazawa, J. PTK2 and EIF3S3 genes may be amplification targets at 8q23-q24 and are associated with large hepatocellular carcinomas. Hepatology 38, 1242–1249 (2003).

Zanke, B.W. et al. Genome-wide association scan identifies a colorectal cancer susceptibility locus on chromosome 8q24. Nat. Genet. 39, 989–994 (2007).

Haiman, C.A. et al. Multiple regions within 8q24 independently affect risk for prostate cancer. Nat. Genet. 39, 638–644 (2007).

Haiman, C.A. et al. A common genetic risk factor for colorectal and prostate cancer. Nat. Genet. 39, 954–956 (2007).

World Health Organization. International Classification of Diseases, 1975 Revision (World Health Organization, Geneva, Switzerland, 1977).

Zhou, X.P. et al. Determination of the replication error phenotype in human tumors without the requirement for matching normal DNA by analysis of mononucleotide repeat microsatellites. Genes Chromosom. Cancer 21, 101–107 (1998).

Boland, C.R. et al. A National Cancer Institute workshop on microsatellite instability for cancer detection and familial predisposition: development of international criteria for the determination of microsatellite instability in colorectal cancer. Cancer Res. 58, 5248–5257 (1998).

Petitti, D. Meta-analysis Decision Analysis and Cost-effectiveness Analysis (Oxford University Press, New York, 1994).

Higgins, J.P. & Thompson, S.G. Quantifying heterogeneity in a meta-analysis. Stat. Med. 21, 1539–1558 (2002).

Cox, A. et al. A common coding variant in CASP8 is associated with breast cancer risk. Nat. Genet. 39, 352–358 (2007).

Johns, L.E. & Houlston, R.S. A systematic review and meta-analysis of familial colorectal cancer risk. Am. J. Gastroenterol. 96, 2992–3003 (2001).

Skol, A.D., Scott, L.J., Abecasis, G.R. & Boehnke, M. Joint analysis is more efficient than replication-based analysis for two-stage genome-wide association studies. Nat. Genet. 38, 209–213 (2006).
Acknowledgements
Cancer Research UK provided principal funding for this study. We would like to thank all the individuals that participated in this study. We are grateful to colleagues at UK Clinical Genetics Centres and the UK National Cancer Research Network.
Institute of Cancer Research: Additional funding was provided by the European Union (CPRB LSHC-CT-2004-503465), CORE and the Thomas Falknor Fund. P.B. was funded by Leukaemia Research, and I.C. was in receipt of a clinical training fellowship from St. George's Hospital Medical School.
London Institute: Additional funding was provided by CORE and the Bobby Moore Fund.
Barcelona: We are sincerely grateful to all the individuals participating in this study who were recruited in 25 Spanish hospitals as part of the EPICOLON project. This work was supported by grants from the Fondo de Investigación Sanitaria (03/0070, 05/0071 and 05/2031), the Ministerio de Educación y Ciencia (SAF 04-07190 and 07-64873), the Asociación Española contra el Cáncer, Merck, the Xunta de Galicia (PGIDIT07PXIB9101209PR) and Fundación de Investigación Médica Mútua Madrileña (C.R.-P.). S.C.-B. is supported by a contract from the Fondo de Investigación Sanitaria (CP 03-0070, Ministerio de Sanidad).
Cambridge: SEARCH is funded by Cancer Research UK. P.D.P.P. is a CR-UK Senior Clinical Research Fellow; T.K. is funded by the Fondation Dr Henri Dubois-Ferriere Dinu Lipatti.
Edinburgh: The work was supported by Cancer Research UK (C348/A3758 and A8896, C48/A6361), Medical Research Council (G0000657-53203), Scottish Executive Chief Scientist's Office (K/OPR/2/2/D333, CZB/4/94) and centre grant from CORE as part of the Digestive Cancer Campaign. J.P. was funded by an MRC PhD studentship. We gratefully acknowledge the work of the COGS and SOCCS administrative teams, R. Cetnarskyj and the research nurse teams, all who recruited to the studies, the Wellcome Trust Clinical Research Facility for sample preparation and all clinicians and pathologists in NGS Scotland who made the work possible.
Extremadura: Work was supported by grants FIS 051056 from Instituto de Salud Carlos III, Madrid, Spain and FUNDESALUD, Mérida, Spain.
Finland: This work was supported by grants from Academy of Finland (Finnish Centre of Excellence Program 2006-2011), the Finnish Cancer Society, the Sigrid Juselius Foundation and the European Commission (9LSHG-CT-2004-512142).
Heidelberg: This study was supported by Deutsche Krebshilfe and the Swedish Cancer Society.
Kiel: This study was supported by the German Ministry of Education and Research through the National Genome Research Network through the POPGEN biobank project (01GS0426, 01GR0468) and the Medical Faculty Kiel. The SHIP recuitment project is funded by the Federal Ministry of Education and Research (ZZ9603), the Ministry of Cultural Affairs and the Social Ministry of the Federal State of Mecklenburg-West Pomerania.
Leiden: DFCCS was supported by Dutch Cancer Society grant UL2005-3247 and approved by the local Medical Ethical Committee (protocol P01.019); samples were handled according to Code Proper Secondary Use of Human Tissue by the Dutch Federation of Medical Sciences.
Madrid: Work was supported by the Fondo de Investigación Sanitaria (PI070316 and RD06/0020/0021).
Melbourne: The Melbourne Collaborative Cohort Study is supported by National Health and Medical Research Council (NHMRC) grants 209057, 251533 and 396414 and receives core funding and infrastructure support from The Cancer Council Victoria. J.L.H. is an NHMRC Australia Fellow and M.C.S. is an NHMRC Senior Research Fellow. We would like to acknowledge F. Odefrey for performing the genotyping.
Prague: This study was supported by the grant GACR 310/07/1430.
Supplementary information
Supplementary Figure 1, Supplementary Tables 1–6, Supplementary Note (PDF 366 kb)
About this article
Cite this article
Tomlinson, I., Webb, E., Carvajal-Carmona, L. et al. A genome-wide association study identifies colorectal cancer susceptibility loci on chromosomes 10p14 and 8q23.3. Nat Genet 40, 623–630 (2008). https://doi.org/10.1038/ng.111
Received:

Accepted:

Published:

Issue Date:

DOI: https://doi.org/10.1038/ng.111