Jumping jets move from the bathroom to the kitchen.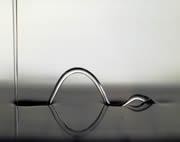 After bouncing shampoo, physicists now bring you bouncing cooking oil. A team in Texas has found that the trampolining of a liquid jet falling onto a bath of the same liquid is more common than expected.
Last year, a group in the Netherlands studied this bouncing effect for a jet of shampoo (see 'Puzzle of leaping liquid solved'). The bounce, which was first reported more than 40 years ago, happens because of the peculiar nature of shampoo, which gets thinner (less viscous) as it flows. A jet of it hitting a liquid surface is therefore lubricated by a thin layer at the interface, enabling it to bounce off rather than merge.
But the liquids now studied by Matthew Thrasher and his colleagues at the University of Texas in Austin don't have this property. The silicone oils in their experiment are viscous but have 'normal' flow behaviour, like water1.
The researchers directed a jet of oil vertically onto the surface of a tank of the same oil. They found that the jet could undergo both a 'leaping' rebound and a bizarre 'flat' bounce in which it sprang horizontally across the liquid surface.
The bounce here is due to a thin layer of air that separates the two liquid surfaces, the researchers say in an article submitted to Physical Review E.
They point out that the effect can easily be recreated in a kitchen experiment with cooking oil. Just fill a glass pie dish with about 4 centimetres of oil and pour onto it a thin stream from a cup about 3 to 6 centimetres above the surface. While pouring, move the stream in a circle about once every 2 seconds (or perhaps less messily rotate the dish on a Lazy Susan). The bounce can be encouraged by passing a chopstick or some other small rod through the stream every now and then.
Visit our newsblog to read and post comments about this story.
Related links
Related links
Related external links
About this article
Cite this article
Ball, P. Liquids bounce again. Nature (2007). https://doi.org/10.1038/news070716-17
Published:

DOI: https://doi.org/10.1038/news070716-17