NASA gets Discovery off the ground.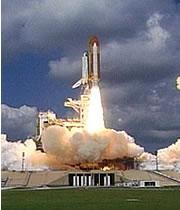 It was a perfect launch. After more than two years of effort, and several false starts, NASA has finally got a shuttle off the ground. It's the first flight since Columbia broke apart on its way back to Earth on 1 February 2003.
At 14:39 GMT, Discovery's engines sparked into life. Seconds later, the craft slowly lifted away from the launch tower at Kennedy Space Center in Florida.
Rising into the sky, its solid fuel booster rockets were released on cue after two minutes and at about 50 kilometres' altitude to splash down into the Atlantic Ocean. The shuttle reached orbit roughly nine minutes after launch, after detaching from the large, orange external fuel tank.
Earlier in the day, the troublesome fuel sensors that scuppered Discovery's first launch opportunity on 13 July passed their electronic tests as the fuel tank was loaded with 1.9 million litres of liquid hydrogen and oxygen.
In the final minutes before lift-off, mission control told Commander Eileen Collins: "Good luck, God speed, and have a little fun up there."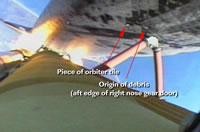 The successful launch shows that NASA has finally put the Columbia accident behind it. When foam falling from the external tank tore a hole in Columbia's wing during launch, it caused the craft to disintegrate as it re-entered the Earth's atmosphere. The inquiry that followed forced NASA into a huge shake-up of its safety procedures, and saw the shuttle fleet undergo extensive modifications (see Interactive Graphic ).
Early reports from ground radar indicate that no debris fell from the external tank in the first minutes after launch. The camera mounted on the tank itself relayed pictures back to mission control in real time, and showed that the insulating foam remained intact.
The space agency can now finish work on the International Space Station, where construction has been on hold since the Columbia accident. When Discovery docks with the space station on 28 July, it will deliver a payload of food, clothes, and scientific equipment.
Much of the rest of the mission involves making repairs to the space station, preparing for future construction flights, and testing out techniques for patching holes in the shuttle to prevent a repeat of the Columbia accident.
If all goes well, Discovery should return to Kennedy at 9:46 GMT on 7 August.
"The one thing better than the launch will be the landing in 12 days time," said shuttle launch director Mike Leinbach.
Related links
Related links
Related links in Nature Research
Related external links
About this article
Cite this article
Peplow, M. Shuttle launch succeeds. Nature (2005). https://doi.org/10.1038/news050725-5
Published:

DOI: https://doi.org/10.1038/news050725-5