Industrial nations knocked for failing to agree firm course of action.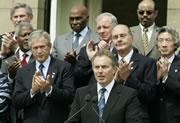 World leaders attending the G8 summit in Britain have released their eagerly awaited statement on climate change, agreeing that the issue is a "serious long-term challenge". But environmental groups have criticized their plan, saying that it lacks firm targets and timetables for action.
The group of eight industrialized nations' official position on climate change calls for "resolve and urgency" in cutting emissions of greenhouse gases. But although seven members reaffirmed their commitment to the Kyoto Protocol, which puts fixed targets on reducing emissions, the US president George W. Bush has maintained his opposition to it.
The issuing of the report tops a hard week for the British prime minister Tony Blair, who headed back to London on 7 July to help address the terrorist attack on the city. More than 50 people died following bombs that went off on the underground subways and a bus.
"While uncertainty remains in our understanding of climate science, we know enough to act now. G8 leaders "
The G8 leaders agree that investment in clean-energy technologies is important. Their statement says that some US$16 trillion of investment will be required over the coming 25 years, a period during which the world's energy demands will increase by 60%, mostly in burgeoning economies such as India and China.
Possible technologies that could be deployed to combat greenhouse-gas emissions include alternative power sources such as the Sun, wind, water and nuclear fission or fusion. Perhaps the biggest challenge will be to equip developing nations with the technology to burn fossil fuels more cleanly, for example, by 'scrubbing' carbon dioxide from coal-fired power plants.
But the summit has failed to agree on a timetable for such investment, environmental groups point out. "It's well nuanced but there's no real action," says Mark Kenber, policy director for The Climate Group, a think-tank based in Surrey, UK.
The leaders acknowledged that global warming has been caused, in large part, by human activities. The statement adds: "While uncertainty remains in our understanding of climate science, we know enough to act now."
The statement also argues that the United Nations Framework Convention on Climate Change, of which the Kyoto Protocol is part, remains the best way forwards for tackling the issue.
All G8 countries, including the United States, agreed that the overarching convention provides the appropriate framework for research into the issue. Many observers say this is not enough.
"The Bush administration has again done its best to derail international action to tackle climate change, but this is by no means the end," says Tony Juniper, vice-chairman of the pressure group Friends of the Earth International, headquartered in the Netherlands. "There are many good initiatives happening in the United States to tackle climate change and it is only a matter of time before the president will have to follow suit."
Lord May, president of the Royal Society, Britain's premier scientific academic body, says: "At the heart of this communiqué is a disappointing failure by the leaders of the G8 unequivocally to recognize the urgency with which we must be addressing the global threat of climate change."
Blair has called for the G8 nations to reassemble in November to continue discussing climate change. And Russia, which will hold the G8 presidency next year, has pledged to put the issue at the top of its agenda.
Related links
Related links
Related external links
About this article
Cite this article
Hopkin, M. G8 climate plan 'lacks bite'. Nature (2005) doi:10.1038/news050704-15
Comments
By submitting a comment you agree to abide by our Terms and Community Guidelines. If you find something abusive or that does not comply with our terms or guidelines please flag it as inappropriate.