Michael Griffin's reorganization is arriving bang on schedule.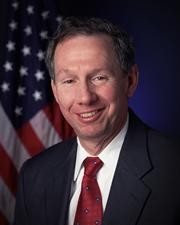 The head of NASA's exploration programme has resigned: the first casualty of a cull of senior managers set in motion by Michael Griffin, NASA's new administrator.
Craig Steidle, a retired rear-admiral, was appointed to the post by former NASA boss Sean O'Keefe in January 2004. In an e-mail sent to his staff on 8 June, Steidle wrote: "Yesterday, I was offered a reassignment to another job within NASA ... which I declined. Declining the reassignment means I will be leaving NASA at the end of the month."
The e-mail was leaked on the website NASAwatch.com, run by former NASA employee Keith Cowing, who says that more than 50 senior managers are also being offered reassignments or resignation.
"Certainly most if not all of top management in human spaceflight are going," confirms Bob Chesson, the European Space Agency's head of human spaceflight operations, in Noordwijk, the Netherlands.
Chesson thinks that Griffin will probably replace managers with people with more hands-on experience of spaceflight operations, whom he knows through his previous career as a NASA engineer. "Griffin will bring back technical leadership as well as looking after the budget," says Chesson. "He wants a similar set-up to the Apollo days."
Chesson is optimistic about the opportunity to revitalize NASA with fresh blood. "It will certainly suit us," he says. "I imagine people at the programme level will be quite excited by this too," he adds. "They'll feel that NASA is actually going somewhere rather than staggering along as it has for the last 20 years."
Chesson learned of Steidle's resignation on 8 June. He says he has heard that many other senior managers will be leaving, including Fred Gregory, the deputy administrator; Bill Readdy, who runs the Shuttle programme; Al Diaz, who heads NASA's science division; and Michael Kostelnik, who helps to manage the International Space Station programme.
The timing of the purge is prompted by federal regulations, which stipulate that a new agency head must wait for 120 days before involuntary job changes can be enforced, but that employees can be told of changes after 60 days. "That alarm clock is going off right now," says Cowing.
NASA spokesman Robert Mirelson could not confirm how many people would be affected by the shake-up, but said that "these things will come out in ones and twos over the next few weeks." He added that no decision has been made about Steidle's replacement.
The round of reassignments is not unprecedented. When Daniel Goldin took over at NASA in 1992, he instituted sweeping management reforms, cut bureaucracy and pushed a 'faster, better, cheaper' approach. As Steidle's e-mail said, "When a new organization gets a new leader, it is usually customary for that leader to bring in his or her own management team."
Since Griffin was appointed on 13 April, he and Steidle have clashed over Griffin's plans to speed up the development of a new Crew Exploration Vehicle, due to replace the ageing shuttle fleet.
Some critics had questioned Steidle's management style, which organized the exploration programme into 'spirals' that few employees understood. "It was producing nothing," says Chesson. "The system had become an aim in itself."
Cowing expects dissent among NASA's middle managers. After watching their bosses being fired, he says many might fear that they too are for the chop.
Related links
Related links
Related links in Nature Research
Related external links
About this article
Cite this article
Peplow, M. NASA boss purges senior managers. Nature (2005). https://doi.org/10.1038/news050606-11
Published:

DOI: https://doi.org/10.1038/news050606-11