Customized computers could turn your driving seat into a mobile office.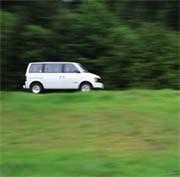 Damien Stolarz drives an automobile from the 1950s. But that hasn't stopped him from adding high-tech tools, including a web camera and computer screen, next to the wheel of his car. His family-friendly minivan is equally equipped with futuristic features, such as the ability to show DVDs on a 15-inch screen for passengers in the rear seats.
Stolarz represents a new type of technology developer who hopes to turn driving into a more entertaining experience. The idea is to make it simpler for car owners to upgrade or 'hack' their vehicles, giving them the ability to run movies and tap into wireless Internet systems for e-mail access.
Adding such features requires serious computing power, but Stolarz predicts it will soon become realistic to integrate them into almost any vehicle.
"I really think that 2005 is the year of in-car computing," says Stolarz, who is head of CarBot, a company based in Caoga Park, California. Consumers have finally realized, from using other products, what extra hard drives can do, he points out.
The TiVo box, for example, allows television viewers to automatically record and store numerous programmes to watch at their convenience. And there is Apple's iPod, which enables people to store thousands of songs on a small, portable device.
Enthusiasts want these features in their cars too. And rather than wait for such futuristic vehicles to be manufactured, they are willing to do the job themselves.
"After your home, most people's biggest investment is their car. Kevin Kealy , Security scientist, AT&T Labs"
The most basic challenge to incorporating a computer into a car involves power demands. Most computers plug into alternating electrical currents, but a car battery provides a direct current. Moreover, the energy offered by a car battery is significantly lower: around 7 volts rather than 12 volts.
CarBot has created a device that compensates for fluctuations in power and connects directly to the battery, just as a new audio amplifier would. This makes the unit simple for non-specialist mechanics to install.
The other end of the $1,500 hard drive contains the types of connections that regular computer users feel familiar with, such as Universal Serial Bus (USB) ports. These match the plugs on normal entertainment accessories, such as DVD players.
But it's not just about entertainment. Stolarz himself faces three hours of commuting each day, an amount not unusual for California residents. In his presentation on 14 March at the O'Reilly Emerging Technologies conference in San Diego, he emphasized that the push to modify cars with high-tech elements will help 'car-bound' people to use their time more valuably.
With computers on board, drivers can automatically connect to wireless services as they drive by Internet hotspots. They could have their downloaded e-mails read to them - while they keep their eyes on the road, naturally.
Stolarz also showed off his beefed-up minivan, in which a web camera and dashboard display screen allow for the possibility of Internet-based videoconferencing from the driver's seat.
Incentives to improve the driving experience will grow, specialists agree. "After your home, most people's biggest investment is their car," says Kevin Kealy, a security scientist at AT&T Labs, who has added wireless Internet features to cars in the past.
Unlike computers, which get outdated quickly, automobiles stay in the hands of their owners for a long time. This makes it important to upgrade and add special features that did not come with the car in the first place, explains Kealy. "Not everyone can afford to throw away their car every few years," he says.
He concedes that so far only a handful of enthusiasts are using the do-it-yourself approach. "I don't think the average Joe is that interested in hacking their car," he says.
But he predicts that the general public will soon be able to buy more user-friendly products to add to their cars, like the Global Positioning System modules already available.
Developers at CarBot are now working toward a product similar to TiVo that will make it possible to record and store specific radio programmes automatically. Drivers could then play these back on demand. The company has also just helped to launch a weblog and forum called Carhacks, to bring enthusiasts together.
Additional information
Security scientist, AT&T Labs
Related links
Related links
Related external links
About this article
Cite this article
Khamsi, R. Auto hackers aim to go mainstream. Nature (2005). https://doi.org/10.1038/news050314-5
Comments
By submitting a comment you agree to abide by our Terms and Community Guidelines. If you find something abusive or that does not comply with our terms or guidelines please flag it as inappropriate.