Loss of fuel puts round-the-world record attempt in jeopardy.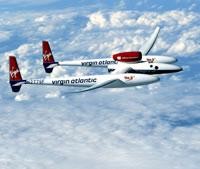 A bold, solo attempt to fly non-stop around the world is facing a nail-biting moment after the discovery that the plane is short on fuel.
By about 03:30 GMT today, GlobalFlyer and its pilot Steve Fossett had reached Hawaii, more than 50 hours after taking off from Kansas on 1 March.
The mission control team announced on 2 March that the plane had lost 1,180 kilograms of fuel during the first few hours of the flight, around 14% of the 8,200 kilograms that it took off with. The team is not sure how this happened, although it could be due to a leak or unexpected fuel evaporation. Alternatively, fuel sensors in the craft's 13 tanks may be giving faulty readings.
The only way that GlobalFlyer can now complete the journey is by gaining speed from tailwinds, which will need to be at least 58 knots (more than 100 kilometres per hour). "Steve is literally at the mercy of the winds," says project manager Paul Moore.
Fossett and the team were faced with decisions about whether to continue the record-breaking adventure before the aircraft headed out across the Pacific Ocean, and again halfway across, when the plane could have landed in Hawaii.
In order to wing its way around the world without refuelling, the slender white aircraft was tailor-made to be ultralight and carry five-and-a-half times its own weight in fuel: just enough for the journey.
The team hopes that with favourable winds, Fossett will land in Salina, Kansas, at about 18:00 GMT today.
Related links
Related links
Related links in Nature Research
Related external links
About this article
Cite this article
Pearson, H. Nerve-wracking finish for GlobalFlyer. Nature (2005). https://doi.org/10.1038/news050228-11
Comments
By submitting a comment you agree to abide by our Terms and Community Guidelines. If you find something abusive or that does not comply with our terms or guidelines please flag it as inappropriate.