A computer-controlled helicopter could use acrobatic skills in urban combat.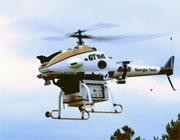 It's small, learns new tricks as it flies, and can pull off moves that would tax the most dexterous of human pilots. Meet GTMax, the 70-kilogram helicopter that flies without human input.
The craft's creators have just won a grant from the US Defense Advanced Research Projects Agency to develop their system for a real combat environment. Spear-headed by researchers at the Georgia Institute of Technology in Atlanta, the team demonstrated GTMax's prowess last August at the US Army test site at Fort Benning, Georgia.
They will now be funded in two further projects. 'Renegade' involves testing part of the autopilot technology with a larger helicopter. In the second project, GTMax will be used as part of a larger team of unmanned vehicles to perform reconnaissance, surveillance, and target acquisition missions.
A helicopter is more manoeuvrable than a winged aircraft and has the ability to hover, but these advantages are precisely what makes a chopper more difficult to fly on autopilot. It is much easier to lose control of the vehicle.
"These unmanned vehicles are usually flown very gingerly," says team member Eric Johnson, an aeronautical engineer at Georgia Tech. In contrast, he and his collaborators have focused on pushing GTMax to its limits.
For example, they ran tests simulating situations in which some of the helicopter's components had failed, which might happen if it was hit by enemy fire. In such a situation, the autopilot system might have to find a completely different way of operating the flight control mechanisms to keep the vehicle aloft. "It's like having to slow a car down without using the brakes," says Johnson.
The team has put GTMax through its paces in a range of tricky situations. They tested its ability to flee from an area as if suddenly experiencing a sniper attack. They took it into a low-altitude manoeuvre in a built-up area, out of contact with the Global Positioning System upon which it usually relies for navigation. And they made it hover by fixing its onboard camera on a particular window of a building.
GTMax, with its rotor diameter of just 3 metres, is perfect for surveillance and reconnaissance missions, says Johnson. The US Army is also looking at scaling up the control system for helicopters that are big enough carry humans, as well as installing it in a tiny, 2.25-kilogram vehicle. "Some things get easier as you scale the size up", says Johnson, "but some get harder."
Related links
Related links
Related links in Nature Research
Related external links
About this article
Cite this article
Ball, P. Robocopter team snaffles defence grant. Nature (2005). https://doi.org/10.1038/news050214-12
Published:

DOI: https://doi.org/10.1038/news050214-12