Automated method seems to spot forgeries as well as a connoisseur does.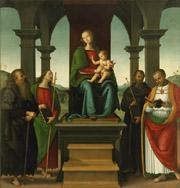 In Michael Frayn's novel Headlong, philosopher Martin Clay believes he has found a priceless painting by Pieter Bruegel the Elder in his neighbour's farmhouse. The plot follows Clay's desperately clandestine attempts to authenticate the work. He would have been saved the trouble by a computerized method developed by US researchers, which could have evaluated the painting's authenticity without an art expert setting eyes on it.
The technique, devised by computer scientist Hany Farid and colleagues at Dartmouth College in Hanover, New Hampshire, identifies the artist by analysing an individual's characteristic brush or pen strokes. It is able to distinguish eight drawings by Bruegel, deemed authentic by art experts, from five acknowledged imitations.
Art experts are always talking about painter's lines. This takes the maths out of the metaphor. Computer scientist Daniel Rockmore , Dartmouth College in Hanover, New Hampshire
Farid's program suggests that a painting attributed to the Italian Renaissance artist Pietro Perugino was in fact produced by at least four different artists (presumably Perugino's apprentices in his workshop). This analysis is also supported by the judgement of art historians.
The method, published online in the Proceedings of the National Academy of Sciences1 promises to reduce the subjectivity of art assessments made by human experts. Such judgements are currently the standard way of authenticating works of art, but they are known to be prone to error. Very recently, a painting long thought to be an imitation of the Dutch painter Jan Vermeer was found, after close scientific analysis of the pigments and technique, to be most probably genuine.
Technology has been deployed in this field before. Some forgeries of famous artists have been detected by chemical analysis of the pigments in the painting, which have showed that some of the pigments were not available at the time the work was allegedly painted. But this requires that tiny samples be removed from the painting, which art conservators prefer to avoid.
And such methods are less useful for distinguishing genuine works from those of an artist's pupils. During the Renaissance in particular, most famous painters ran workshops in which apprentices learnt to paint in the style of their master, and often completed parts of his works. In such cases, attributions rely almost entirely on the evaluations of experts.
The computer technique devised by Farid and colleagues depends on the fact that, although apprentices, imitators and forgers might be adept at copying the general appearance and style of a particular artist, no one wields a paintbrush or a pen in quite the same way as anyone else. Brush or pen strokes are as individual as a person's handwriting.
The researchers evaluate such features of an image using a mathematical technique called wavelet analysis. They scan a picture at high resolution and then use the wavelet technique to decompose the picture into sets of vertical, horizontal and diagonal lines. "The art experts are always talking about the painter's lines," explains Farid's colleague Daniel Rockmore. Their method, he says, "makes maths out of the metaphor".
From the mathematical distribution of lines, the researchers calculate a set of numbers that characterizes each picture. These numbers can be regarded as coordinates in a multi-dimensional space, like a grid reference. If two images share similarities in their use of line, the points in space defined by their coordinates will lie close together, even if the scenes depicted are totally different.
This allows different painters to be distinguished. For a set of 13 genuine and imitation Bruegel landscapes, the points corresponding to the eight pictures deemed to be authentic all sat together in a cluster, and the fakes were further away.
The method can be applied to different parts of a single painting too. That is how Farid and colleagues deduced that three of the six faces in Perugino's Madonna and child with saints were painted by the same artist, perhaps Perugino himself, whereas each of the other faces seemed to be by a different painter. This interpretation was corroborated by art historians at Dartmouth College's Hood Museum, where the picture is kept.
Rockmore does not see the computer technique replacing human judgement. "This would never be the final word for authentication," he admits. But it could provide the experts with a tool that augments and tests their evaluations.
References
LyuS., RockmoreD., FaridH., Proc. Nat. Acad. Sci. USA, published online doi:10.1073/pnas.0406398101 (2004).
Additional information
Dartmouth College in Hanover, New Hampshire
Related links
Related links
Related external links
About this article
Cite this article
Ball, P. Computers confront the art experts. Nature (2004). https://doi.org/10.1038/news041122-3
Published:

DOI: https://doi.org/10.1038/news041122-3