Legislation targets country?s growing AIDS crisis.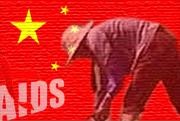 China has made it illegal to buy and sell blood, the state-run Xinhua news agency has reported. Amid fears that China faces a huge HIV epidemic, this is the country's first law targeting the disease. Discriminating against victims of infectious diseases has also been outlawed.
An estimated 840,000 Chinese are HIV positive. In some provinces, including Anhui, Henan and Shandong, the disease took off in the early 1990s when poor farmers began selling their blood plasma. Without clean needles the disease spread, and in some villages up to 60% of people are now infected.
The new law, passed on Saturday at the 11th session of the Standing Committee of the National People's Congress, builds on earlier regulations governing blood safety.
In the mid-1990s, the Chinese government established a system of centres to screen donated blood and its products for HIV. But the low cost and ready availability of unregulated rural samples kept demand high, and contaminated blood continued to slip through the net.
"The new law is recognition that the efforts and measures adopted in the past were not sufficient," says Joel Rehnstrom, China's country coordinator for the Joint United Nations Programme on HIV/AIDS (UNAIDS).

As well as blood, the sex industry and intravenous drug use are increasingly spreading HIV. An estimated 10 million people will carry the virus by 2010 unless effective action is taken, says UNAIDS.
With this in mind, a second regulation, the Law on the Prevention and Control of Infectious Diseases, has also been revised. The new law requires the government to guarantee funds for preventing infectious disease.
Another new law, also passed on Saturday, outlaws discrimination against people with, or suspected of having, an infectious disease.
"Discrimination is probably the biggest obstacle in tackling HIV," says Rehnstrom. People with the virus are commonly ostracized at work, and may find it difficult to get medical treatment. The new law gives them legal protection.
About this article
Cite this article
Pilcher, H. China bans blood trade to tackle HIV. Nature (2004). https://doi.org/10.1038/news040830-2
Comments
By submitting a comment you agree to abide by our Terms and Community Guidelines. If you find something abusive or that does not comply with our terms or guidelines please flag it as inappropriate.