Vitamin's anti-bacterial effect fights blood poisoning in mice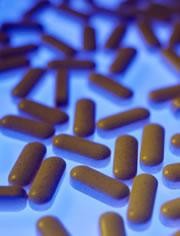 Vitamin B2 could be used to help treat patients with sepsis, a mouse study suggests. The treatment boosts survival rates in rodents with the fatal form of blood poisoning.
Sepsis occurs when an infectious agent, such as bacteria, overwhelms the body and releases toxins into the blood. One quarter of all patients in intensive care develop the condition, which can cause blood clots and multiple organ failure. Effective treatments for the problem are scarce.
Kohtarou Kodama and colleagues from Eisai Co's Tsukuba Research Laboratories in Japan decided to test the effectiveness of vitamin B2 in mice with sepsis. Vitamin B2, also called riboflavin, is best known for its ability to help the body process proteins, fats and carbohydrates. But it can also boost the activity of certain immune cells.
Rodents were infected with sepsis-causing bacteria Escherichia coli, and then either left untreated or given a vitamin injection1. After one week, 95% of the vitamin-treated animals were still alive. Only 10% of the untreated animals survived - the remainder died from multiple organ failure.
Vitamin B2 seems to speed the clearance of bacteria from the body, says Kodama. It also lowers levels of molecules that cause inflammation. Patients with sepsis suffer from an over-active inflammatory response throughout their body.
Any new treatment would be welcomed, says intensive care researcher Nigel Williams from the University of Aberdeen. Sepsis can affect anyone but tends to hit those with weakened immune systems, such as patients with AIDS, pneumonia or burns.
At present, patients typically receive antibiotics and round-the-clock intensive care.
A drug called activated protein C is also useful. This helps to thin blood, break up clots and reduce inflammation, which lowers the number of sepsis-related deaths by around 7%. Vitamin B2 may work well in combination with activated protein C, says Kodama.
But caution is needed, warns Saxon Ridley, president of the UK's Intensive Care Society. "The study is promising, but there have been many drugs that looked good in animal tests, only to fail in human clinical trials."
References
1

Toyosawa, T. et al. Highly purified vitamin B2 presents a promising therapeutic strategy for sepsis and septic shock. Infection and Immunity, 72, 1820 - 1823, doi:10.1128/IAI.72.3.1820-1823.2003 (2004).
Related links
Related links
Related external links
About this article
Cite this article
Pilcher, H. Vitamin B2 may help treat sepsis. Nature (2004). https://doi.org/10.1038/news040223-6
Comments
By submitting a comment you agree to abide by our Terms and Community Guidelines. If you find something abusive or that does not comply with our terms or guidelines please flag it as inappropriate.