A documentary film proves that laboratory rats can still survive in the wild.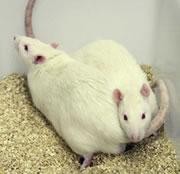 An award-winning film has created some unusual stars: lab rats. The documentary, which follows 75 lab rats after they were released into an Oxfordshire farmyard, has surprised biomedical researchers by proving that lab rats quickly recover their wild behaviour once liberated.
Manuel Berdoy, an animal behaviourist from Oxford University, didn?t set out to make a documentary. He was simply curious about whether lab rats retain some of their wild instincts. So he took 75 docile rats that had spent their lives in the laboratory and released them into the wild.
Berdoy expected the rats to cope with their new conditions, but he was impressed by how quickly they adapted. The rats found water, food and hiding holes almost immediately. They started to establish social hierarchies within days, and it was only a few weeks before they had established an extensive pattern of paths across the colony. Although the rats had spent their whole lives being fed on pellets, the females immediately prepared for pregnancy by foraging and storing appropriate food.
?They went from shuffling, like they do in a cage, to hopping around just like wild rats within a few days,? says Paul Flecknell, an veterinary scientist from Newcastle University who has seen the film.
The results won't surprise animal behaviourists, says Flecknell, but many biomedical researchers have been amazed by the film. Most believe that an animal that hasn't been outside a lab for 200 generations will be incapable of fending for itself in the wild, he says.
?This shows that while we can take the animal from the wild, we have not have taken the wild out of the animal,? says Berdoy.
Berdoy filmed the experiment to add a little something extra to his conference reports. But the footage proved so popular that he decided to edit it into a documentary-style film. He called it The Laboratory Rat: A Natural History.
The result has taken a small part of the film world by storm, netting awards at the Jackson Hole Wildlife Film Festival in the USA - often called the wildlife equivalent of Cannes - and the Living Europe film festival in Sweden. ?I didn?t expect it to have an impact like this,? says Berdoy.
Flecknell believes the findings imply that rats would have a ?better? life in the lab if provided with a more natural environment. ?Researchers ignore the wild side of these animals, and that?s not good for their welfare,? says Flecknell.
Cages can be made more like a field by adding sticks to gnaw on and tunnels to run through. But such environmental enrichment appears to alter the results of experiments. A complex cage tends to produce more individualised animals that have a broader range of behaviour, says Flecknell. And that broad range makes it more difficult to distinguish between control and experimental groups or discern trends in behaviour.
"Researchers ignore the wild side of these animals, and that's not good for their welfare Paul Flecknell , Newcastle University"
To avoid this, researchers would have to use larger numbers of animals, says Flecknell. And that introduces an interesting moral dilemma, he says ? is it better to cage fewer rats in poor welfare conditions, or many more rats in a better environment? No one yet has an answer to that, he says.
Related links
Related links
Related links in Nature Research
Related external links
About this article
Cite this article
Peplow, M. Lab rats go wild in Oxfordshire. Nature (2004). https://doi.org/10.1038/news040202-2
Comments
By submitting a comment you agree to abide by our Terms and Community Guidelines. If you find something abusive or that does not comply with our terms or guidelines please flag it as inappropriate.