Computer program makes a play for college football rankings.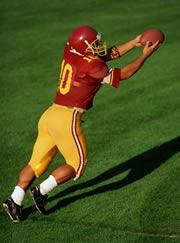 US mathematicians have a new way to select America's top two college football teams for the end-of-season showdown. They hope their simple method will appeal to fans and coaches baffled by the current system1.
Picking the top two teams is tricky. Each of the 117 sides in the élite division plays only around a dozen games a season for a place in the prestigious national championship game.
The current system, the Bowl Championship Series (BCS), produces rankings based on polls of coaches and sports writers, and on seven different statistical algorithms. These take into account wins and losses, the margin of victory, the strength of the opposition and whether it's early or late in the season.
Since its introduction in 1998, critics of the BCS have complained that its abstruse mathematics bewilder the average player or supporter.
Peter Mucha and his colleagues at the Georgia Institute of Technology in Atlanta tried to come up with a more transparent solution. "We wondered what happens if you mimic the idea of 'my team is better because my team beat your team'," Mucha explains.
The group's computer program enlists an army of 'monkeys' - virtual voters who switch allegiance depending on the outcome of their team's latest match. If a monkey's team loses, there is an arbitrary probability - 75%, say - that the fickle fan will begin to root for the team that beat it1.
The program is roughly as accurate as more complex versions. It successfully called last year's chosen match-up, the Miami Hurricanes versus the Ohio State Buckeyes. But the 2002 pairing was easy, as both teams were undefeated.
In picking apart spats such as that in 2001 - in which Miami, Nebraska, Oregon and Colorado claimed a stake - Mucha's program is just as likely to cause controversy as the BCS. "I would never claim that it's the best," he says. "From a statistical point of view it's incredibly naive."
The monkeys' advantage is their simple behaviour. They are unlikely to unseat the human pundits who contribute to the BCS, but they could replace the system's arcane statistical algorithms, Mucha argues.
Straightforwardness is key, agrees David Wilson, a programmer at the University of Wisconsin-Madison who has compiled a database of football ranking methods. "One of my objects is to have a simple system," he says.
But reliably picking the best teams is top of the agenda, Wilson adds. "Mucha's system gives a good picture, but there are several others that do too."
Mucha's system gives a good picture, but several others do too David Wilson , University of
Back in Atlanta, Mucha's monkeys are busy compiling their version of this season's standings. As in the official rankings, Oklahoma's undefeated outfit is sitting pretty at the top.
However, the program is unwittingly trumpeting its own team - rating Georgia Tech an impressive twenty-eighth in the country. "For some reason it's ranking us higher than a lot of other programs do," Mucha muses.
References
Callaghan, T., Porter, M. A. & Mucha, P. J. Random walker ranking for NCAA Division I-A football. Preprint, http://arxiv.org/abs/physics/0310148 (2003).
Additional information
University of Wisconsin-Madison
Related links
Related links
Related external links
About this article
Cite this article
Hopkin, M. Virtual voters pick best teams. Nature (2003). https://doi.org/10.1038/news031110-15
Published:

DOI: https://doi.org/10.1038/news031110-15