Arts and Crafts traditionalist manufactured and used arsenic-based greens.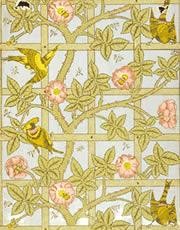 William Morris (1834-1896) was a poet, artist, designer, Romantic, socialist, advocate of a return to traditional craft styles and materials - and a peddler of poisonous wallpaper, according to a new study1.
Andy Meharg of the University of Aberdeen in Scotland has found arsenic in the green pigment in an early sample of Morris's patterned wallpaper, produced some time between 1864 and 1875. Such pigments were suspected even in the mid-nineteenth century of releasing toxic fumes if they become damp.
Morris was not ignorant of the health hazard. He was a shareholder and sometime director of his father's mining company, Devon Great Consols (DGC), the largest arsenic producer of the age. DGC workers were plagued by arsenic-related illnesses, and many died from lung disease. The company's activities caused immense environmental damage.
Nonetheless he dismissed public concerns about arsenic-based pigments in wallpapers, writing in a letter in 1885: "a greater folly is hardly possible to imagine: the doctors were bitten by witch fever." If there was really a problem, Morris asserted, "we should be sure to hear of it."
The alarm about arsenic greens in wallpaper had been raised several years earlier. For example, in the 1860s the Times newspaper in London reported that "It was not very uncommon for children who slept in a bedroom thus papered even to die of arsenical poisoning, the true nature of the malady not being discovered until it was too late."
Despite Morris's indifference to these concerns, the producers of his wallpaper, Jeffreys and Co, were sufficiently worried to switch to an arsenic-free green in 1875.
William Morris was one of the founders of the British Arts and Crafts movement, which deplored the decline in manufacturing standards brought about by machine-based mass production during the Victorian era. He called for a return to the hand-crafting of artefacts that had characterized the Middle Ages, and set up a company to produce wallpapers, printed and woven textiles, carpets, embroideries, tapestries and books using traditional methods, materials and themes.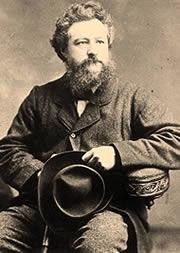 He has become something of an icon for the modern environmental movement. He condemned the dehumanizing effects of industrialization, and his book News From Nowhere (1890) presents a utopian vision of an idyllic, idealized pre-industrial world.
In producing his richly patterned printed textiles, which draw inspiration from the natural world, Morris rejected the new synthetic dyes, available since the 1850s, claiming to "have used only the dyes which are natural and simple" (based on plant and animal extracts) "because they produce beauty almost without the intervention of art."
But Meharg's chemical analysis now suggests that Morris did not always extend the same principles to the paints used on his trademark wallpaper. The green in his Trellis pattern paper - the first range produced commercially, starting in 1864 - is a synthetic compound of copper and arsenic. This identifies it either as Scheele's green, a substance discovered in 1775 by the Swedish chemist Carl Wilhelm Scheele, or emerald green, made by a German paint manufacturer in 1814.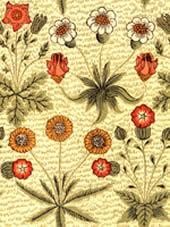 Both pigments were relatively cheap, and so were used for patterning mass-produced wallpaper. But thick areas of pigment could brush off and create toxic dust. And fungi growing in damp conditions could turn the arsenic into a volatile chemical form. According to legend, Napoleon was poisoned by such a green-painted wallpaper during his exile on the island of St Helena.
This revelation comes just as Arts and Crafts enthusiasts prepare for the re-opening of one of Morris' greatest achievements, his 'Red House' in Bexleyheath in southeast London. The young Morris commissioned and lived here during the 1850s and 60s. He decorated it himself in collaboration with Philip Webb (a cofounder of the Arts and Crafts movement) and the Pre-Raphaelites Dante Gabriel Rossetti and Edward Burne-Jones.
The house has been restored by the UK National Trust and will open for (pre-booked) public view from July. Visitors need not worry about toxic fumes: there is none of Morris's wallpaper on the walls.
References
Meharg, A. The arsenic green. Nature, 423, 688, (2003).
Related links
Related links
Related external links
About this article
Cite this article
Ball, P. William Morris made poisonous wallpaper. Nature (2003). https://doi.org/10.1038/news030609-11
Published:

DOI: https://doi.org/10.1038/news030609-11