A rub-down with a millipede deters biting insects.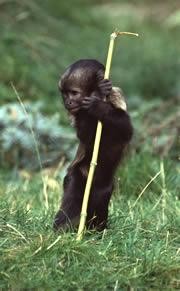 South American capuchin monkeys ward off biting insects by rubbing themselves with toxic millipedes researchers have found1. The monkeys also go ape for tissues soaked in the insect repelling chemicals.
"They rubbed the napkin on themselves and drooled profusely," says zoologist Paul Weldon at the Smithsonian Institution in Front Royal, Virginia, who led the research. Captive monkeys were so taken with the rub-down that, when Weldon next approached, they abandoned their regular keeper and went towards him with outstretched hands.
Millipedes release chemicals called benzoquinones as a defence against predators. Wild monkeys provoke the invertebrates by hitting and crushing them. Mosquitoes were reluctant to land on and feed from blood-filled containers if they were tainted with benzoquinones, Weldon's team found.
Monkeys anoint themselves most often in the wet season, when there are more biting insects. Sometimes they will share a single millipede around.
Studying animals could lead humans to useful new compounds, says chemical ecologist Thomas Eisner of Cornell University in Ithaca, New York. "One could learn a fair bit from seeing how animals use nature for their own benefit," he says.
It's possible that the monkey inflicts some damage on itself when it does this Thomas Eisner , Cornell University
But anyone looking for a jungle remedy should steer clear of millipedes, says Eisner. Benzoquinones are toxic and carcinogenic. "It's possible that the monkey inflicts some damage on itself when it does this," he says.
Many birds and animals rub themselves with plants. It's thought that this is often to deter parasites: chemicals in catnip, for example, repel insects. But little is known about the precise chemicals that trigger this behaviour, says Weldon.
References
Weldon, P. J. et al. Benzoquinones from millipedes deter mosquitoes and elicit self-anointing in capuchin monkeys (Cebus spp.). Naturwissenschaften, doi:10.1007/s00114-003-0427-2 (2003).
Additional information
 Cornell University New York
About this article
Cite this article
Whitfield, J. Bugs keep bugs off monkeys. Nature (2003). https://doi.org/10.1038/news030602-5
Published:

DOI: https://doi.org/10.1038/news030602-5