Rare birds and plants threatened by growing slick.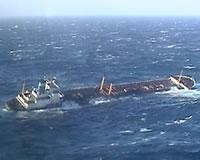 A tanker carrying 77,000 tonnes of fuel oil is threatening to spill its cargo onto one of Spain's most ecologically important coastlines. Tougher European laws might have averted the impending disaster, says a local ecologist.
The Liberian-owned, Russian-chartered tanker Prestige ran into trouble yesterday in heavy seas 50 kilometres off northwestern Spain. After losing power and control, it has been at the mercy of gale-force winds overnight. Evacuated crew members told a Spanish news agency that they felt a bump before the ship began taking on water.
The tanker is now just 8 kilometres off Spain's Costa da Morte, says Alberto Gil, a locally based member of Ecologists in Action, a leading Spanish environmental group. "The ship has started leaking oil but we hope it can be controlled," he says. Spanish radio reported a 32-kilometre slick, which is thought to be growing, around the stricken vessel.
"This is a dangerous situation," says Gil. In 1989, the tanker Exxon Valdez devastated the coastline of Prince William Sound in Alaska after spilling 34,000 tonnes of oil. Prestige holds twice this amount. It has spilled an estimated 3,000 tonnes so far.
The seas off Costa da Morte are an important fishing area, but the threatened coastline is unique. It boasts 13 ecosystem types protected by the European Union's habitats directive, including dunes and heath.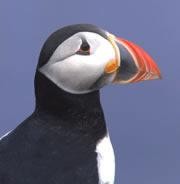 One area, Cape Vilan, is home to puffins, kittiwakes, peregrine falcons and a Spanish subspecies of guillemot of which there are only 12 breeding pairs. "Cape Vilan is important for the global conservation of these birds," says Gil.
Spain has some of the best infrastructure in Europe for dealing with oil spills, says Cam Pulham of Oil Spill Response Ltd, based in Southampton, UK. The company has fielded a consultant to advise on the spill.
Three Spanish coastguard vessels, including tugboats, are braving heavy rain and 6-metre waves in an attempt to get a line on the tanker to tow it away from the coast. Further out to sea, the vessel is easier to approach and less likely to hit rocks.
Positioning the boat further from the shore will allow more time to deal with a large spill "if the worst-case scenario does happen", says Pulham.
But Gil argues that the accident would never have happened, if old ships were banned from European waters. Prestige, sailing under a Bahamian flag from Latvia to Gibraltar, was built in 1976 - making it one of the oldest oil tankers at sea. Large oil companies have voluntarily agreed not to use tankers that are more than 15 years old.
Prestige was also a weaker, single-hulled vessel. New European Union laws require such ships to be phased out by 2015.
About this article
Cite this article
Clarke, T. Tanker spills oil on Spanish coast. Nature (2002). https://doi.org/10.1038/news021111-10
Published:

DOI: https://doi.org/10.1038/news021111-10