South African ecologists are hoping their luck holds out.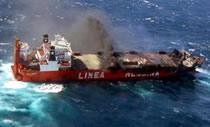 The operation to salvage the wrecked cargo ship spilling oil off South Africa's most important wetland has entered a critical phase. Damage to wildlife has so far been minimal, say local ecologists, but the potential for harm is still great.
The ship only cooled down enough for people to begin work on salvaging it on Tuesday. The best possible scenario, says marine ecologist Nicolette Demetriades of conservation group KwaZulu-Natal Wildlife, would be to pump the remaining oil out of the ship, refloat it and tow it to port. It's still unclear whether the ship is intact enough to allow this.
"We've been very fortunate so far," says Jeff Gaisford, also of KwaZulu-Natal Wildlife. "There have been strong northerly winds, and very little oil has got onto the beaches, even right opposite the wreck."
But this could all change if the weather alters or the ship breaks up. "It's a sword-of-Damocles type situation," says Gaisford.
The Jolly Rubino, an Italian freighter sailing from Durban in South Africa to Mombasa in Kenya, caught fire last Tuesday. The crew abandoned her, and she ran aground near the mouth of the St Lucia estuary, on the east coast of South Africa.
St Lucia is part of a group of seven estuaries. Together they house South Africa's largest populations of crocodiles and hippos, two species of turtle, and more than 530 species of bird, including a population of 50,000 flamingoes. In 1999 it was designated a world heritage site by the United Nations Educational, Scientific and Cultural Organization.
"It's a sword-of-Damocles type situation Jeff Gaisford, , KwaZulu-Natal Wildlife"
Migrant wading birds have just begun to arrive at the estuary. "It's a sensitive time of year," says marine ecologist Anthony Forbes of Natal University in Durban.
Conservation workers used bulldozers to block the four smallest estuaries with artificial sandbanks; floating, absorbent booms have been towed across the mouths of the other three. But Forbes is concerned that the high tides and rough seas typical of the equinox could breach these defences.
So far, about 400 of the 1,000 tonnes of fuel oil onboard have leaked into the water. In comparison, the tanker that ran aground off the Galapagos last year spilt 300 tons of fuel oil, killing about 15,000 iguanas.
Seventy containers have also fallen overboard from the Jolly Rubino, some containing industrial chemicals, including an unknown quantity of phenol, a highly toxic solvent. A few empty barrels have washed up on the shore, but Demetriades believes that waves should disperse any spillage without causing environmental damage.
About this article
Cite this article
Whitfield, J. Oil spill clean-up enters critical phase. Nature (2002) doi:10.1038/news020916-6
Further reading
Matthieu Le Corre

,

Audrey Jaeger

,

Patrick Pinet

,

Michelle A. Kappes

,

Henri Weimerskirch

,

Teresa Catry

,

Jaime A. Ramos

,

James C. Russell

,

Nirmal Shah

&

Sébastien Jaquemet

Biological Conservation (2012)
Comments
By submitting a comment you agree to abide by our Terms and Community Guidelines. If you find something abusive or that does not comply with our terms or guidelines please flag it as inappropriate.