Turning up the heat turns mutant male flies on to each other.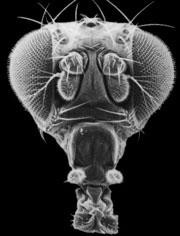 Comic-bookhero Judge Dredd's arch-enemy Mean Machine Angel could be altered from surly to brutal by turning a dial in his head. Researchers have now modified fruit flies' sexual orientation in a similar way.
By turning up the heat, Toshihiro Kitamoto of the Beckman Research Institute of the City of Hope, at Duarte, California, reversibly disrupted the function of particular nerve cells in male fruit flies, making the insects attracted to other males1.
The mating behaviour and sexuality of fruit flies is under tight genetic control. Mutations in genes with names such as fruitless, dissatisfaction or quick-to-court act in the brain, where they change flies' choice of mates. Until now, scientists have had difficulty studying this behaviour as the mutations can also affect flies' development - rendering them blind, paralysed or forgetful.
So Kitamoto's team have genetically modified flies to be completely normal as long as they are kept at around 19°C. Raising the temperature of the insects' environment to 30°C causes a subset of cells in the flies' brains to produce a mutant form of the brain protein dynamin. This stops the cells from communicating with other cells.
As the temperature climbs, male flies become increasingly interested in their fellow males. They tap males' abdomens with their forelegs, lick their genitalia and attempt to mount them. Courted males usually reject these advances, often while trying the same tactics on other flies. Chains or rings of amorous flies result.
Normally, flies detect most of the pheromones that influence their courtship by tapping or licking partners with their forelegs or proboscis. Disrupting the insects' ability to taste seems to render them unable to detect anti-aphrodisiac chemicals that other males give off.
Heated, mutant male flies were less interested than before in females, who appeared completely unaffected. Restoring the activity of a small number of neurons concerned with sexual taste returned the flies to their conventional behaviour, even at high temperatures.
Christopher Surridge is a Senior Biological Sciences Editor at the journal Nature.
References
1

Kitamoto, T. Conditional disruption of synaptic transmission induces male-male courtship behavior in Drosophila. Proceedings Of The National Academy Of Sciences USA.
About this article
Cite this article
Conditional disruption of synaptic transmission induces male-male courtship behavior in Drosophila. Nature (2002) doi:10.1038/news020916-2
Comments
By submitting a comment you agree to abide by our Terms and Community Guidelines. If you find something abusive or that does not comply with our terms or guidelines please flag it as inappropriate.